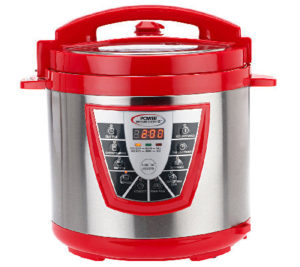 Cooking under pressure without being pressured! With so many tasks to be accomplished in such a short time, so many people feel pressured to "Git R Done." The electric pressure cooker maybe good answer to speed some cooking tasks up quickly, and to relieve those stressed cooking feelings. Often the first thing that comes to mind with pressure cookers that they are dangerous and need more attention then they are worth. Now with the new modern electric pressure cooking worries are gone, with new failsafe features to prevent possible catastrophes. The operating controls are similar to the new slow cookers only having the power of cooking foods under pressure. The advantages of using the new electric pressure cookers is at least 50% faster cooking times in many applications, without having to monitor cooking. Set-it and your able to do other tasks while cooking, many of the better electric pressure cookers also goes into a holding mode. Some have delayed timers, to prevent having overcook foods, and have them ready for you, when you want them. This is not just hype to have another kitchen gadget, but a good cooking tool to save some time, cook efficiently, have a nutritiously good food, and to enjoy some of the most moist and tender foods.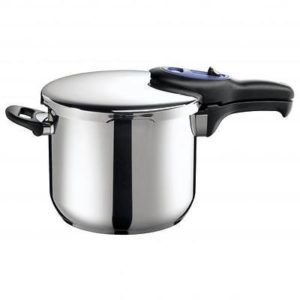 The stove top pressure cooker has been around for hundreds of years, but gained popularity about  1939 – 1940 in the USA. These where first generation pressure cookers still used today. I still use a 8 quart stainless steel one today. These are faster then the electric pressure cookers but need some attention through the cooking process. My 8 quart pressure cooker can achieve 15 pounds of pressure with internal temperature of 250°F at sea level. It takes a lot more baby-setting then the new 3rd generation electric pressure cookers. I have had a "there she blows" experience by cooking some dry beans. This happened by filling the pressure cooker too full with beans, and a bean hull blocked steam hole vent. Causing the beans to blow in 360 degrees direction for about 15 feet. I was cleaning those  beans off all my walls. So it certainly does require attendance and not overfilling the pressure cooker. The lid didn't come off but beans blow out of the seal making a very big mess. So is this safe using a pressure cooker? Yes if you are careful  and know what your doing.
There so many things you can make in pressure cooker, so I started to look at most time saving food first. The first thing that comes to mind is risotto, the amount of stirring and tending to this rice dish takes over 30 minutes of constant stirring and tending. What if you could cut this time in half or less, and not have to stir constantly for 30 minutes? Answer is just set the time for 14 minutes and not have to stir. Just set-it and do other cooking tasks, this would be totally awesome. So how about a creamy shrimp and saffron risotto with aromatics and parmesan cheese. The beauty of cooking under pressure is infusion of delicate shrimp and saffron into creamy rice dish. The goal is getting it done in under 30 minutes without tending to rice all the time. The risotto has so many possibilities, adding extra ingredients to build a favorite dish is endless, as long as you follow the fundamental ratio for making risotto. Enjoy a totally satisfying creamy rice dish without all the fuss.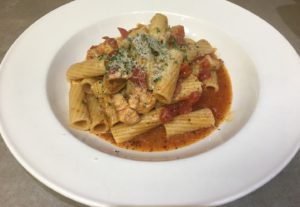 The next thought that came to my mind is to be able to make a one pot dish, that only takes a few minutes to prep, and could be on the table to eat in less then 30 minutes. Slow cookers are great for one pot dishes but all to often they take hours to do. But if we could do a very similar recipe by tweaking it to work in the new electric pressure cookers. The dish could possibly be done in under 30 minutes, with better flavor and done efficiently. A thought came to mind making a chicken and pasta dish, using minimal mise en place to get ingredients together, and about 7 minutes of cooking time. Sounds great but is this realistic in the real world of cooking? So I tried a Italian Chicken and Pasta dish in the electric pressure cooker, and it was done in around 30 minute time. I like to marinate chicken in Italian Sausage Seasoning to build flavor of the chicken, that takes a good 15 minutes time. While the chicken was marinating I cut the vegetables, open cans and gathered ingredients. I elected to brown chicken first that was a 7 minute task, then put all the ingredients into pressure cooker container. It was about 10 minutes until pressure cooker started to countdown the 7 minutes of cooking time. Then I quick released the steam, and allowed Italian Chicken Pasta to rest 5 minutes before opening the lid. This came more closer to 37 minutes from start to finish. So I opted for more flavor, cutting my own vegetables, pre seasoning meats and browning the meats before cooking them into electric pressure cooker. The result was excellent it was worth the extra 7 minutes of time. By skipping some of the extra steps and still get good results, being content that the food was on the table in less then 30 minutes, with a smile on my face, and very happy tummy too.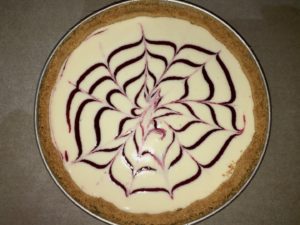 Now for the ultimate challenge making dessert in the electric pressure cooker, wow what if we could make my favorite cheesecake in pressure cooker too. So I totally enjoy taking my good basic rich vanilla cheesecake recipe and adding a swirled raspberry filling. Instead of baking the cheesecake in water bath long and slow, by putting it under pressure cooking for 1 hour.  Then quick releasing the steam and leaving cheesecake in the pressure cooker for hour get better results? Will it be perfectly smooth on top with no cracks? But cheesecake still needs to cool to room temperature and have a good 8 to 12 hours chilling time in refrigerator to develop flavors & texture. Trying a trick that good fellow pastry chef taught me, how to use a cake pan in making cheesecakes, rather then traditional spring-form pan. Will this technique work, and be able to produce wonderful cheesecakes using a unconventional techniques? Yes I tested cheesecake using the pressure cooker resulting with very little cracks, and almost smooth surface. But the crust became soggy at the very top of the crust. So next time the crust will not come all the way to top of the cheesecake, this should solve the problem. The cheesecake was so creamy, and smooth a with great raspberry taste in each bite. It was so good I had to have a second piece and increase my belt on notch.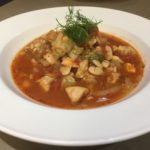 Italian Chicken and White Beans made in electric pressure cooker in about 30 minutes time. I even used dry white beans that have been pre-soaked for better flavor.
Servings

Prep Time

4

people

15

minutes
Cook Time

Passive Time

15

minutes

12

hours
Servings

Prep Time

4

people

15

minutes

Cook Time

Passive Time

15

minutes

12

hours
Italian Chicken and White Beans made in electric pressure cooker in about 30 minutes time. I even used dry white beans that have been pre-soaked for better flavor.

Servings

Prep Time

4

people

15

minutes

Cook Time

Passive Time

15

minutes

12

hours

Servings

Prep Time

4

people

15

minutes

Cook Time

Passive Time

15

minutes

12

hours
Italian Chicken & White Beans:
Prepare all ingredients getting them organized before start cooking. I like to soak my dry beans overnight for quicker better cooking results. Cut the chicken into large stew size pieces.

Turn on pressure cooker and add the garlic and olive oil to cooking container. Cook until garlic is flagrant.

Mix the Italian Sausage Seasoning with large diced chicken stirring until the chicken is well coated.

Add the seasoning Italian Chicken pieces to the cooking container, stirring occasionally to brown all the pieces of chicken.

Remove seared Italian Chicken Pieces and place on resting plate. Then place sweet peppers, onions and fennel pieces into cooking container, sweat vegetables for 2 minutes. This builds another layer of flavor.

Deglaze chicken with red wine.

Next add to sweated vegetables the soaked white beans and stir them together.

Finally add the artichokes, stock, tomato sauce, Italian Herbs, salt and pepper. Stir well to incorporate all ingredients together.

Close the lid and set the timer for 15 minutes cooking. It will take a good 10 minutes to build up pressure, then it will cook for 15 minutes automatically. When finished it will beep and go into holding temperature and slow release the steam. This is best results, but you can quick release to achieve cooking time in 30 minutes time.

Remove lid when pressure released and plate into wide rim bowls. Garnish with freshly grated parmesan cheese and fennel ferns. Enjoy!
Hits: 419