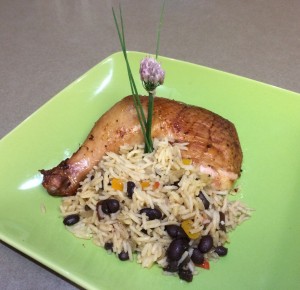 Summer is my most favorite time to use my Green Egg for smoking foods, the all time favorite is Smoked Chicken. Served with a side of Beans and Rice it's a perfect match. Finishing with a slice of banana cream pie it's perfect Sunday summer evening meal. In order to achieve that juicy smoky chicken I found the best way is smoking vertically, by using a vertical roaster. This is very similar to beer can chicken concept, but without flair ups or burning the chicken to a crisp. My favorite liquid is still beer, how can you go wrong with beer, it's perfect BBQ/Smoking liquid, to infuse great flavors.
Beans and Rice go so well with chicken, it's marriage that should never be separated. Black beans is my choice, using dried black beans get the best results, takes a little extra time but by using a slow cooker takes very little effort, just some time. Jasmine or Basmati Rice make the best rice very aromatic and full of flavor. Generally I use a French Cast Iron Pot to make rice, slow even heat makes a perfect rice every time.
I always have bananas that need to be used, so why not make banana cream pie? Topped with whipped cream and some dark chocolate and it's totally heavenly Sunday evening dinner finale.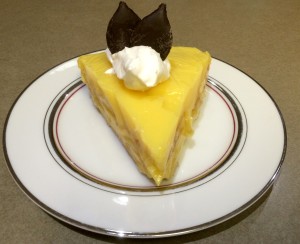 Seasoning is extremely important, making your own spice rub is key to a successful smoked chicken. By using just the right amount of spices, herbs, chilies, salt, pepper and touch of sugar will make that smoked chicken be a perfect meal.
Spice Rub for Chicken
1 teaspoon Granulated Garlic
1 teaspoon Granulated Onion
1 tablespoon Paprika, Smoked
1 teaspoon Cayenne Pepper
1 teaspoon Cumin Powder
2 teaspoon Chili Powder
1/2 teaspoon Chipolte Powder
1 teaspoon Mustard Powder
1 teaspoon Celery Salt
2 teaspoon Garlic Pepper
1 teaspoon thyme
1 teaspoon oregano
1 teaspoon Salt
1 teaspoon Sugar
Directions:
Combine all the spices, herbs, salt, pepper and sugar together that are listed in small mixing bowl. Make sure all ingredients are thoroughly mixed together.
Place in clean dry container with tight fitting lid, label and date container, keep in dry, cool dark area.
When working with chicken measure out about 2 tablespoons of this mixture into small bowl to rub onto chicken. This prevents cross contamination with remainder of spices.
Note this batch will be enough to make 2 to 3 whole chickens.
---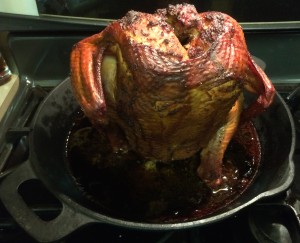 Smoked Chicken
4 1/2 to 5 pound whole chicken, rinsed well cold water
2 tablespoons Spice Rub for Chicken
1 tablespoon Olive oil
12 ounces Beer, your favorite
vertical roaster, cast iron is my favorite
Apple Wood Chunks for smoking, or your favorite
Lump Charcoal, my favorite
Note electric smoker use your favorite wood chips
Directions:
Wash the whole chicken with cold water and pat dry.
Rub under the skin of chicken 1 tablespoon Spice Rub for Chicken. Then rub the remainder of spice rub all over outside skin of chicken.
Rub olive oil all over chicken working spices and oil to cover whole chicken.
Fill the center of the vertical roaster with your favorite beer about 3/4 cup. Pour the remainder of beer in bottom of vertical roaster. Place the chicken with cavity over center of vertical roast so stands up properly.
Heat the smoker to 325° add Apple Wood Chunks and place vertical cooker with whole seasoned chicken so indirect heat. Close lid and smoke for about 1 1/2 hours or internal temperature of the chicken is 170°F. Test in middle of breast and thighs of chicken.
Remove from chicken cover with foil and let rest for 15 minutes before carving.
Carve chicken into quarters or eights. Serve with Beans and Rice.
---
Beans & Rice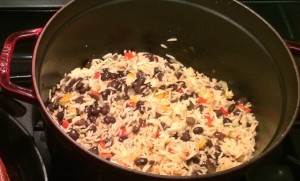 2 cloves Garlic, minced
1/2 medium Onion, chopped fine
4 small Sweet Mini Pepper, chopped fine
2 teaspoon Olive Oil
1 cup Basmati Rice
2 teaspoon Spice Rub for Chicken
1/2 teaspoon Salt
2 cups Chicken Stock
1 cup Black Beans, cooked
Directions:
Mince garlic, chop onion, seed and chop sweet mini peppers and place them into heavy duty pot add olive oil and sauté until tender about 3 minutes.
Add rice to sauté vegetables and cook for 1 minute.
Add to rice and vegetables, spice rub, salt and chicken stock bring to simmer over medium heat with tight fitting lid. When you see steam coming from edges of lid turn heat down to low. Continue cooking on low heat for 12 minutes.
After 12 minutes turn heat off and do not peak or lift lid. Remove from heat and let rest with lid on for 10 minutes.
After resting for 10 minutes open lid add black beans and fluff rice. Cover and let set 5 minutes.
Serve with Chicken or Fish dishes.
Hits: 1015