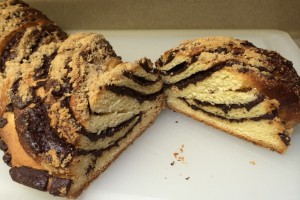 Did someone say chocolate bread for Easter? Well why not Chocolate Babka, an Eastern European holiday bread tradition often celebrated on Easter. This bread is not as commonly made like Hot Cross Buns my Mom always made for me at Easter.
So it's Chocolate Babka Bread verses classic Hot Cross Buns a fruited sweet yeast roll with a cross of frosting drizzled on each bun. I will have to dig through my Moms recipes and find her favorite Hot Cross Buns recipe.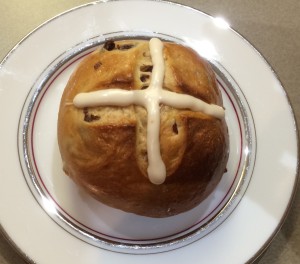 But when thinking chocolate and bread Babka comes to mind. So what is Chocolate Babka Bread? Bread with layers of chocolate often cinnamon and nuts rolled into sweet and buttery yeast dough. Sounds so good this could be a total winner if I can achieve many layers of chocolate swirls in the dough. Finding the right rich sweet dough which could be rolled with a thick chocolate and nut filling with out tearing apart.
This type of bread can be baked two different ways, twisted into free formed loaf, or baked in a large loaf pan. Most important thing to remember baking the bread long enough so it is cooked through completely. It is recommended to take the internal temperature of bread dough to 180°F, because of the chocolate is hard to tell just by look of the dough, it might look done, but the dough could be totally raw in the center.
Chocolate Babka Bread Recipe: based on Peter Reinhart's Artisan Breads every day Book
Ingredients:
Dough:
2 tablespoons dry active yeast
3/4 cup milk, scalded cooled to 100°F
6 tablespoons Unsalted Butter, softened
6 tablespoons Sugar
2 tablespoon Canola Oil
1 teaspoon Vanilla Extract
4 large Egg Yolks
2 cups King Arthur Bread Flour
1 1/3 cups King Arthur Unbleached All-purpose Flour
1 teaspoon Salt
Egg Wash:
1 large egg, for wash
1 tablespoon water, for wash
Filling:
9 ounces Dark Chocolate, chunks
1 teaspoon Vietnamese Cinnamon, ground
1/4 cup Unsalted Butter, chunks cold
1/2 cup pecans, chopped finely
Streusel Topping:
1/4 cup butter. cut into chunks
1/2 cup all-purpose flour
1/2 cup brown sugar
1 pinch salt
1/4 teaspoon Vietnamese Cinnamon, ground
Directions:
Heat milk to 100 to 110°F then add the dry active yeast and 1 teaspoon of sugar, mix until all yeast is dissolved. Set aside and allow yeast mixture to activate this should take about 5 minutes. It will become very foamy.
Meanwhile beat in mixer with paddle attachment the softened butter, sugar, egg yolks, vanilla and canola oil until creamy consistency.
Add to creamy sugar/butter and egg mixture the activated yeast mixture mix with paddle attachment until combined. Add bread flour and continue mixing for 2 to 3 minutes. Remove the paddle attachment and replace with dough hook.
Continue mixing on medium low speed adding all-purpose flour until dough comes away from bowl. Next add salt continue mixing for 5 more minutes, if the dough starts to stick to sides of bowl add a little more flour. After 5 minutes the dough should be elastic but not sticky. Remove the dough hook and cover bowl with plastic wrap. Keep in warm area and let the dough rise. This should take about  1 to 1 1/2 hours. When double in volume punch the dough down, remove dough from bowl and place in container cover with plastic wrap and refrigerate overnight.
Beat egg and 1 tablespoon water in a small bowl until foamy. Set aside to brush on bread.
Process the dark chocolate in food processor with knife attachment until consistency of cornmeal.  Then add pecans, cinnamon and cold chunks of butter to chopped chocolate and process until it becomes a paste.
Place chocolate paste mixture on sheet of plastic wrap, spreading mixture to form rectangle, place another sheet of plastic wrap on top of chocolate paste and roll with rolling pin until evenly thin chocolate rectangle is formed about 10″ by 18″ in length. Set aside
Dust work area with flour, place chilled dough on floured surface and shape into rectangle. Roll the dough to about 3/8″ thick about 14″ by 20″ rectangle. Brush off excess flour  that might be sticking to dough. Next is to adhere chocolate paste on top of rolled out dough, to do this remove top sheet of plastic wrap and place exposed chocolate paste on top of rolled out dough, press evenly all over top of chocolate paste to help mixture adhere to dough. Then remove to second piece plastic wrap from chocolate paste.
Roll dough starting from top of dough tightly to make jelly roll of chocolate and bread dough. Brush the bottom edge with egg wash to seal roll. Adjust shape by rolling back and forth until evenly distributed.
Cut the dough right through the middle length wise to make to strips of dough. To from twisted loaf, move one piece dough over the other to from twist. Pinch both ends of dough to form smooth ends. Brush bread with egg wash. Place on sheet tray with parchment paper.
In medium mixing bowl combine together the chilled butter, flour, cinnamon and salt working with hand between fingers to from streusel topping. Sprinkle the streusel topping over top of Chocolate Babka Bread. Cover bread with plastic wrap and let raise until double is size this should take about 2 1/2 hours. Pre heat oven to 325°F.
The aroma off this bread when it came out of the oven was heavenly, filling the kitchen with chocolate and cinnamon which was totally out of this world. I loved the flavor of this bread, but wished the bread was more moist. This could been my error, baking bread too long. Might rethink baking bread to only bake to 180°f, as it rests it will continue to cook.  I baked this batch to 190° making sure it wasn't  going to be doughy, longer the baking the more time it has to dry out.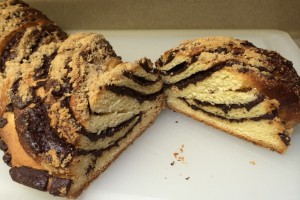 Hits: 534