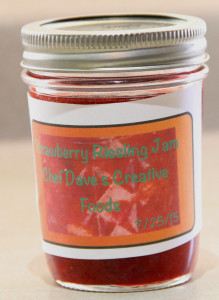 Fresh strawberries are so plentiful in the summer, one of the very best ways to preserve them is to make a jam. Because of the higher sugar and acidity in this jam, will help keep it for years. Using small 8 oz jam jars works the best. Make sure that all jars are sanitized, by placing them on the top rack of the dishwasher, and using hottest setting possible. Be sure to boil all the lids and collars of jars in water bath, before placing them on the filled jars. A very good tip is to wipe the rim of each jar, with white vinegar soaked paper towel. This will make sure after filling each jar that the rim is clean and sterilized. Make sure to use new canning lids and use good condition collars.
This recipe uses Riesling Wine and a small sprig of fresh rosemary to be infused into jam. Smashing berries well with masher or heavy wire whisk to achieve a better jam and more even consistency. Most important key to a successful jam is measuring every thing perfectly. Cooking the jam ingredients in the proper order is even more important to the achieve best results.
Cook the mashed strawberries, Riesling Wine and pectin first in a non reactive pot. I use my 5 1/2 quart cast iron Stub pot for even cooking and constant heat. The mixture should come to full boil for about 3 to 4 minutes. Then add sugar and bring back to a boil for 1 minute, remove from stove, skim foam off jam and fill each sanitized jar leaving about 1 inch clearance. Again be sure to wipe each rim with paper towel soaked in white vinegar, cleaning any substances off the rim of jar. Place lid that has been boiled in water on each jar. Next fasten down each lid with jar collar tighten just so it is snug. Finally place each filled jar in hot water bath and boil for 10 minutes to get a good lid seal. Remove from water bath with jar lifter and place on wire rack. Cool jars for 8 to 12 hours on rack, then label and date each jar. For best storage place in cool dark area. The basement works best because it's has more constant cool temperature.

Sterilize jam jars in dishwasher the on top rack.

Boil all the lids and jar collars in water just before you start canning.

Fill a stock pot with 2" water, bring to a boil, ready for hot water bath.
Cooking Strawberry Riesling Jam
Mash strawberries and measure mashed berries accurately. Pour mashed berries into heavy duty stock pot, I used cast iron 5 1/2 quart.

Add to the mashed strawberries, Riesling Wine, sprig Rosemary and Pectin powder, stir until combined. Bring mixture to full boil and cook for 2 to 3 minutes. The bubbles with get larger and thicker.

Add to cooked strawberry mixture the sugar, bring back to full boil and cook for one minute. Then remove from burner.
Canning Strawberry Riesling Jam
Fill each sterilized jar with Strawberry Riesling Jam leaving about 1 inch from rim of jar.

Wipe each filled jar rim with vinegar soaked paper towel, removing any substance left on jars.

Place sterilized jar collar onto each jar and tighten until snug.

Place each jar into boil water bath using jar lifter, process jars for 10 minutes in boiling water bath.

Remove sealed jars from water bath using jar lifter and place on wire rack to cool. Allow the jars to cool on wire rack for 8 to 12 hours.

Label and date each Strawberry Riesling Jam, then store in dark cool area. These should last for at least 2 years. Always check for seal, if seal is broken discard jam.
Nutrition Facts
Strawberry Riesling Jam
Amount Per 20g
Calories 28
% Daily Value*
Sodium 0mg 0%
Potassium 0mg 0%
Total Carbohydrates 7g 2%
Protein 0g 0%
* Percent Daily Values are based on a 2000 calorie diet.
Hits: 1182