It's taco time; tired of having to go and buy taco season packets filled with all those additives and unknown fillers. This Taco Seasoning Recipe has come to the rescue, which can be modified to different spicy profiles.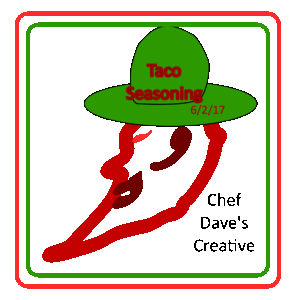 Make a good size batch of this mixture, always having this  Taco Seasoning on hand to be added to any choice of meats. My preference now is lean ground turkey keeping my Weight Watcher Smart Points down. Realistically the Taco Seasoning could be added to lean ground pork or beef with just as good results.
To make a great taco seasoning it needs to be broken down into the following key profile components. Which are main up front aromatics, spiciness, savory, thickener or binder, and adjusting the balance of flavors.
The up front aromatics to this seasoning should have a good cumin flavor profile. Also by adding a little whole coriander seed will give a sweeter and slightly citrus spicy flavor. To achieve a good peppery flavor using whole peppercorns will give extra boost to the profile.  Toasting all these whole spices in a dry skillet until fragrant, turbo charges the flavor profile.  Then freshly grinding the whole spices in a mortar and pestle will produce the best possible seasoning.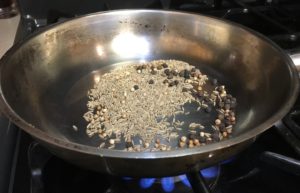 Building some spiciness  into the taco seasoning profile choose a good quality chili powder. This will give this mixture a little extra punch.  If  you like a little extra kick, use some cayenne pepper which has a modernly high amount of heat. Finally by adding a smoky flavor with some chipotle powder. This will add even more punch to the spicy blend, giving it a slight smoky profile. Choosing the right mixture of a chili powder, with just the right amount of cayenne, or chipotle powder is all a matter of personal preference.
To build the savory and somewhat earthy profile, I go to the saying "when in doubt add garlic". Garlic powder and onion powder is a perfect choice for taco seasoning. If you can find some Mexican Oregano this will really add a earthiness to the profile, this type of oregano can be found in Mexican Markets.
A thickener or binder is often added to taco seasoning to achieve right taco consistency when cooked.  Using masa harina a special corn flour, used in making corn tortillas works perfectly. This gives taco seasoning that special little flavor that's hard to pinpoint, but makes this seasoning great.
Balancing all the flavors together needs a few key ingredients. Using kosher salt, and sugar in the raw, which is a natural unprocessed sugar. Brings all the flavors together to make a good Taco Seasoning Recipe marriage.
My suggestion in finding great quality spices that has not been sitting on grocery store shelf for a long time, is to use Penzeys Spices. For over 20 years I have been using Penzeys spices, they are expensive but well worth the price for building the best possible flavors.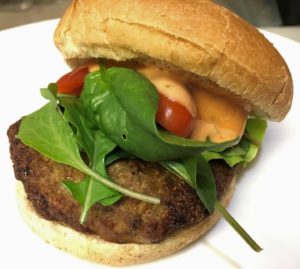 One of my very favorite things to make with Taco Seasoning is Taco Burgers, made with lean ground turkey. This is a healthy great tasting burger that doesn't taste like turkey. This is great for summer grilling, placed on a light  hamburger bun, with fresh arugula and tomatoes. Keeping the whole burger down to Weight Watcher 6 Smart Points.

Measure all the ingredients keeping whole spices separated from ground spices and herbs.

Using a dry skillet heat cumin seed, coriander seed and black peppercorns shaking skillet often. Heat over medium high until fragrant. Do Not Burn Spices. Remove from heat immediately.

Place toasted whole spices in mortar and pestle.

Grind the toasted spices in mortar and pestle until almost fine texture.

Add the remaining spices and herbs to ground toasted spices, mixing with mortar and pestle until combined.

Finally adding to taco seasoning masa flour mixing in mortar and pestle.

Mixing the all the ingredients in mortar and pestle until all is combined.

Make a label with date for extra taco seasoning mixture.

Use 2 -3 tbsp of Taco Seasoning for every pound of meat. When making taco meat, brown meat first in skillet. Drain excess fat off, then add taco seasoning with 1/2 cup of water. Continue cooking until meat thickens this should be about 2 minutes.
Hits: 453