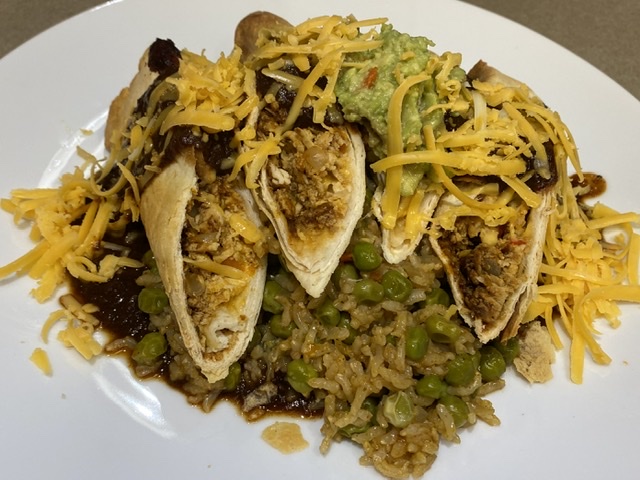 Enchilada Sauce:
Enchilada sauce is heart of making chicken enchiladas in the air fryer. The supermarket short cut is buying enchilada sauce, but the best is homemade. The sauce lays down the fundamentals to wonderful chicken enchiladas.
Best way to cook chicken breasts:
Chicken breasts is great choice lower in fats and less cholesterol making A better healthier selection. The trick of cooking flavorful filling is using proper Mexican seasoning and slow cooking chicken breasts. My first test was using the Instant Pot, this worked fast but can result in dryer texture. The best result takes a longer but results moist and tender flavorful meat, using cast iron braising pan.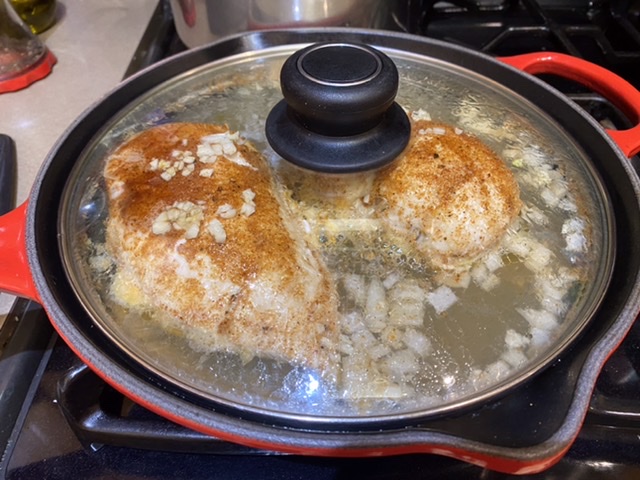 Braising chicken breast is a winner, slowly infusion of Mexican Seasonings into the chicken. The key to success is keeping braising temperature low, somewhere between 190 to 210 degrees. By using cast iron braising pan with lid and induction burner the temperature can be kept perfect. Slow cooker works also, but you don't often have the control that induction range keeps. Many of the slow cooker just offer high and low temperature, all to often the high temperature is too fast and low temperature takes too long. Braised chicken should take about 90 minutes, to reach to safe temperature of 170 degrees. Cooking chicken breasts slowly reduce moisture loss, but still builds flavors and promotes tenderness.
Cool the cooked seasoned chicken breasts in the cooking liquid. When chicken breasts are cool drain off cooking liquid and reserve the liquid. Place chicken breasts in standmixer fitted with paddle attachment, and mix on low speed until shredded. Another way to shred chicken breast using two large forks pulling the meat into shreds.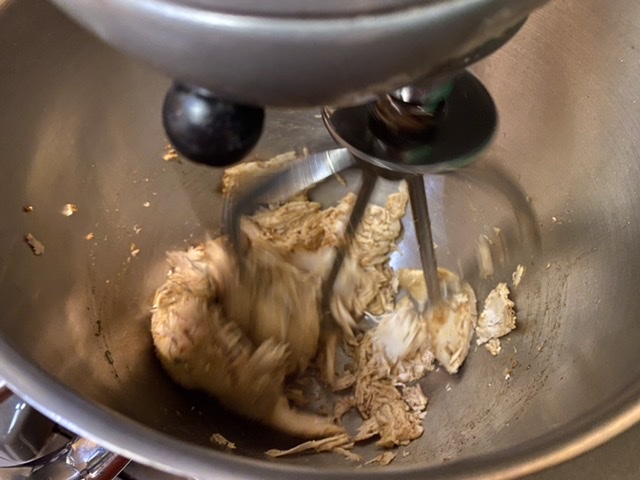 Chicken Enchilada Filling:
Creative ways to make the chicken enchilada filling is by starting with the core ingredients. First start with the shredded seasoned chicken, and selection of cheeses. The cheese selection can range from a wide variety, like Monterey Jack, Colby Cheese, Cheddar Cheese to Pepper Jack Cheese. Choosing a low fat Colby Cheese rather than higher fat Monterey Jack or Cheddar cheeses promotes healthy choices. But add what ever you enjoy the most, be sure to shred your own cheese for a fresher taste. Pre shredded cheese has additives to prevent sticking and prevents mold, doesn't enhance the profile.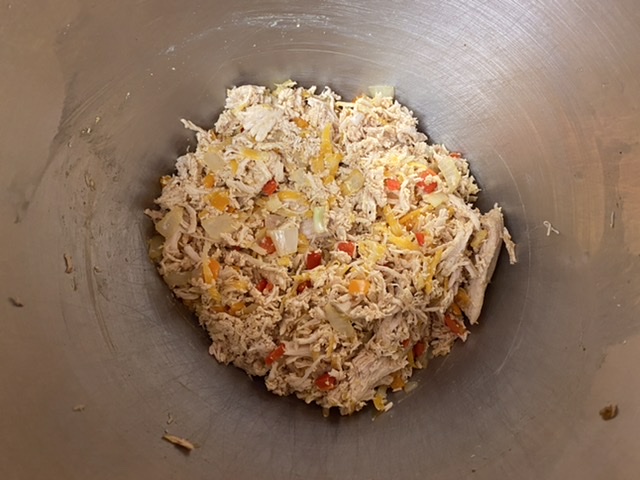 Next building even more flavor into chicken enchilada filling profile by adding, aromatic vegetables. This is option that adds another layer of flavors to the chicken enchilada filling. Start with, garlic, onions and chilies, choosing right amount of each will determine spicy profile to your liking.
Assembling Chicken Enchiladas:
First choose the type wrapper to roll chicken enchilada filling around, using corn tortillas or flour tortillas. The soft flour tortillas are easy to roll and have less chances of breaking. Where to corn tortillas can be brittle and crack quick easy. To prevent cracking heating corn tortillas in hot oil or hot enchilada sauce soften them for easy rolling. Corn tortillas are a little more messy to work with but have wonderful flavor and texture. But the flour tortillas become more crispy in air fryer giving a more crunchy texture to enchiladas. So choices are all to your preference and ease of preparation.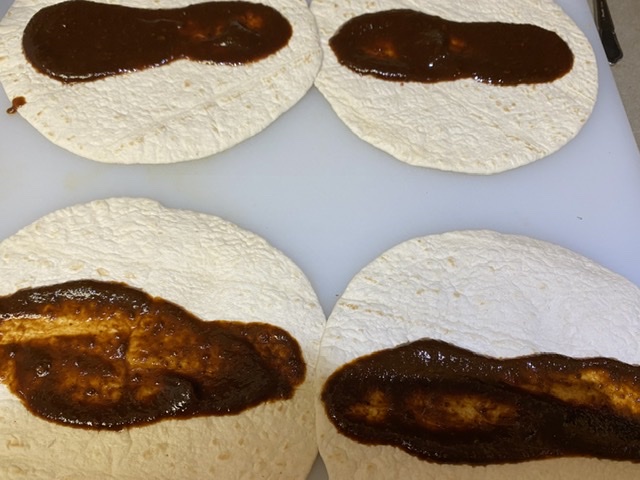 Continue on to rolling of enchiladas, lay the Soften tortilla flat onto work surface and scoop right amount of filling for size of tortillas. Carefully rolling up tortillas so they don't crack.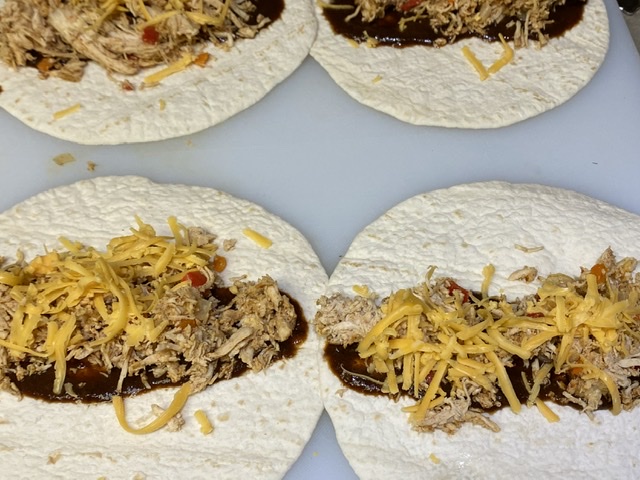 Using Air Fryer To quickly cook and crisp enchiladas:
The air fryer makes quick work in final cooking of the enchiladas, giving you some crunchy texture to tortillas. Enjoy the contrast of spicy enchilada sauce, with flavorful Moist shredded chicken and aromatics. Set the air fryer to 350 degrees and timer to 10 minutes. Resisting putting too much enchilada sauce while air frying, the enchiladas brown quickly. Put extra Warm enchilada sauce after plating, giving a nicely presented plate. Enjoy ?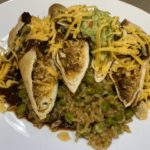 Quick recipe to use shredded chicken or pork leftovers, wrapped up in tortillas covered with enchilada sauce and topped with cheese. Air fryer is easy way to quickly cook enchiladas.
Servings

Prep Time

8

Servings

10

Minutes
Servings

Prep Time

8

Servings

10

Minutes
Quick recipe to use shredded chicken or pork leftovers, wrapped up in tortillas covered with enchilada sauce and topped with cheese. Air fryer is easy way to quickly cook enchiladas.

Servings

Prep Time

8

Servings

10

Minutes

Servings

Prep Time

8

Servings

10

Minutes
Filling Enchilada Tortillas
Chicken Enchilada Filling
Trim chicken breasts with knife, removing excess fat and cartilage.

Season each chicken breast with Mexican Seasoning, sprinkling well on both sides of each breast.

Place seasoned chicken breasts into cast-iron braising pan or skillet. Add enough water to come half way up on chicken breasts. Then sprinkling aromatics (onions, garlic) overall chicken.

Cover braising pan with lid, I like glass lids then you can see how cooking process is coming along. The goal is to simmer 200 to 210 degrees, just below boiling point 212 degrees. Simmer for about 90 minutes.

Remove cooking lid and check the internal temperature 170 to 190 degrees. This depends on sizes of chicken breasts. Try not to get internal temperature over 190 degrees. Cool chicken breasts in the cooking liquid.

Place just the cooked chicken breasts into stand mixer fitted with paddle attachment. Mix on medium speed until nicely shredded. Note you can use two large forks and manually shredded chicken, this technique is quick and easy.

Sauté your choice of aromatics, (onions, peppers, garlic and chilies). Cook the aromatics until tender and translucent.

Combine together the cheeses, aromatics and shredded chicken. Add so extra Mexican Seasoning to taste. Note if you're using large chicken breasts this should be enough to fill 12 + tortillas.
Coat each tortilla by dipping the tortilla into warm enchilada sauce. Place onto plate for easy filling. This keep messy sauce getting everywhere.

Add enough filling to each tortilla. Roll tortilla up and place in air fryer. Note don't be tempered to put extra enchilada sauce over enchiladas in air fryer, this will cause the enchiladas to get very brown and possibly burn.

Set air fryer to 350 degrees and timer to 10 minutes. Check half way into cooking progress see how browning. Adjust time accordingly.
Place some hot enchilada sauce onto plate first. Then add accompaniment like Mexican Rice. Next carefully lift enchiladas out of air fryer basket on top of rice. Spoon extra enchilada sauce over enchiladas. Top with cheeses and herbs. Enjoy
Hits: 1866
Chicken Enchilada Air Fryer