Fruit Crisps are very easy to make, but all to often they have high amounts of butter and carbohydates that make them such a great comfort food. So goes the quest to make a healthier version.
Choosing the right fruits with more antioxidants, like blueberries, black berries and raspberries have perfect flavor combinations. Adding some apple to the fruit filling helps with with it's natural pectin thickening properties to improve flavor and consistency.  Minute© Tapioca Brand1 mixed in with the fruits will provided just enough thickening power for perfect crisp filling.  This will maintain good stability in the refrigerator for up to a week.
Berries and apples are often very tart so they need some sweetener added to the crisp, this gives a balance of sweet and tartness to it's profile. The best sweeteners are blends of granulate sugar with a sweetener, my favorite choice is the Splenda® Sugar Blend3. This type of sweetener bakes very well without becoming too bitter. By using Splenda® Sugar Blend3 and Splenda® Brown Sugar Blend2 provided best overall balance of flavor and sweetness.
Crisps need a good topping, classically made with a butter, sugar flour mixture making it a very rich crumb topping. All to often the crumb topping is over half the the calories in a crisp. To cut those calories down considerably my thoughts came to using a granola. Which have more whole grains like oatmeal, giving crisp a good crunchy topping.
The quest is on to find a good tasting granola that has whole grains, with almonds and also be lower in fats yet still taste excellent. After reading many of food labels the best tasting granola I found is Bear Naked V'nilla Almond Fit. With only 2.5 grams fat to 30 grams of granola that only has about 120 calories fits the needs perfectly. I discovered that it only takes about 15 grams or 2 tablespoons of granola for one portion of crisp that's only 60 calories and 1.25 gram of fat.
With only 9 ingredients and about 10 minutes prep time, 30 to 35 minutes cooking time will yield a warm crisp that can be on the table in under 1 hour.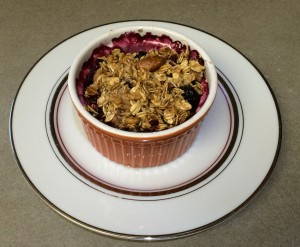 Quick Light Fruit Crisp Recipe
Ingredients:
2 tbsp Kraft Minute© Tapioca Brand1
2 tbsp Splenda® Brown Sugar Blend2
2 tbsp Splenda® Sugar Blend3
¼ tsp nutmeg, ground
3 cups frozen Berry Blend Fruits
1 large Granny Smith Apple, cored and medium dice
12 tbsp Bear Naked® V'nilla Almond Fit Granola4
PAM® Spray5
Kraft Cool Whip Lite6
6 ramekins
Directions:
Preheat oven to 350 degrees.
1. Combine the dry ingredients in a medium mixing bowl. Add the fruit and toss, coating fruit well with the dry ingredients.
2. Spray each individual baking ramekins with PAM® Spray5. Divide evenly the fruit filling between the ramekins.
3. Top each fruit filled cup with 2 tablespoons of Bear Naked® V'nilla Almond Fit Granola.4
4. Place crisps on tray and bake in 350 degree oven for 35 minutes, or until fruit filling is bubbly and the topping is golden brown.
5. Cool crisps on a wire rack until it becomes room temperature. Cover with plastic wrap, and place in the refrigerator.
6. Serve each crisp topped with a dollop of Kraft Cool Whip Lite.5
References:
Minute© Tapioca Brand1 http://www.kraftrecipes.com/recipes/search/SearchResults.aspx?incl=minute+tapioca&searchtype=min&

Splenda® Brown Sugar Blend2 https://www.splenda.com/products/brown-sugar-blend

Splenda® Sugar Blend3 https://www.splenda.com/products/sugar-blend

Bear Naked® V'nilla Almond Fit Granola4 https://www.bearnaked.com/en_US/products/bear-naked-reg-v-nilla-almond-fit-granola.html

PAM® Spray5 http://www.pamcookingspray.com/non-stick-spray-products/original-spray-oil/

Kraft Cool Whip Lite6 http://www.kraftrecipes.com/coolwhip/coolwhip.aspx#/products
Hits: 536