Tapioca how can it be taken to a new level in making large pearl tapioca pudding recipe?  Thinking of a new twist to this classic dessert by turning it into a new adult dessert with a true kick. It's party time! Remembering well how much I enjoyed Margaritas inspired me to create this dessert.
Choosing the right tapioca for this intoxicating creative dessert, texture is something more then just a simple thickener. Using an over the top ingredient like larger pearl tapioca, will give this dessert a slightly chewy texture. By soaking the tapioca pearls over night in milk to soften their starch is important to achieve the desired texture. The Minute Tapioca works equally well but doesn't have the unique texture and look of large pearls.
Fond memories of "frog eyed pudding" comes to life with actual green lime color and flavor, infused with liquors. Thus the Margarita Tapioca Dessert was born which almost knock me flat!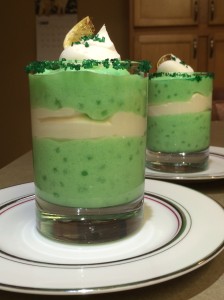 Margarita Tapioca Dessert
Ingredients:
1/2 cup large tapioca pearls
1 cup milk, to soak
2 cups water
1 pkg lime jello
12 pkts sweetener, optional
1 oz of tequila
1 oz of triple sec
1 carton lime greek yogurt
whipped cream, garnishing
green sugar, garnishing
candied lime slices
Directions:
1. Soak for 24 hours large pearl tapioca with milk covered in refrigerator.
2. Drain milk off soaked tapioca rinsing with cold water. Place tapioca in saucepan and add water bring to slow boil, stirring often cook tapioca for 20 minutes. Note the larger pearl tapioca might have to cook longer depending on size of pearls, when tapioca pearls become translucent they are fully cooked.
3. Remove cooked thickened tapioca and sprinkle evenly the lime jello over thickened tapioca. Stirring the mixture until jello is dissolved. Add the sweetener, yogurt, tequila and triple sec whisking until combine and creamy. Let rest for 10 to 15 minutes.
4. To assemble wet the edge of dessert glass and dip rim of glass into green sugar. Then layer tapioca alternately with whipped cream, finally garnish with whipped cream sprinkles of green sugar and candied lime slice. Chill until service time.
Yield: 2 large desserts or 4 smaller shooters
Prep Time: 24 hours
Cook Time: 25 minutes
Assemble Time: 1 to 2 minutes


Hits: 518