Air Fryer Potato Crusted Fish Filets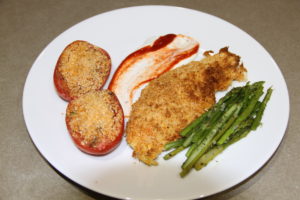 Potato Crusted Fish Filets using Air Fryer accomplishes quick and easy way to prepare fish filets with manual use of oil. Baking fish filets takes time and heating up oven and the kitchen. Using the Air Fryer to fry bake fish accomplishes quick and crunchy top crust with moist tender and delicious fish filets.
Choosing the right fish filets to Air Fry is all the preferred taste. If you are on a budget Pollock Fish Filets are very inexpensive about $4.00 a pound. That's 4 servings of Fish at $1.00 is a great value. Cod Filets are around $7.00 to $8.00 a pound almost double the cost. Tilapia Filets are around $7.00 a pound again this depend on if you buy fresh or frozen. Remember sometimes what seems a good value could end up not being very good quality.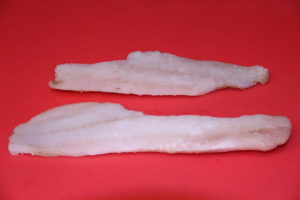 For this test I choose Pollock Filets surprising they tasted very good for price. The key to having good tasting fish is preseason filets. Just using simple good quality lemon pepper will do wonders. I use my own lemon pepper seasoning called Citrus Blast sprinkled on each filet of fish.
Encrusting the fish filets with mashed potatoes is next step. Potato mixture enriched with egg yolks and hint of nutmeg and dill. This keeps the a fish filets from over cooking and maintains it's moisture.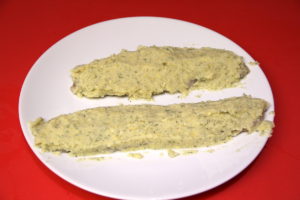 A quick and easy way to make potato mixture is to use dry instant potato flakes, salted boiling water, dill weed, nutmeg and fortified with egg yolk. This sounds like a lot on ingredients to put into potato mixture, but it's very important to build potato mixtures flavor profile.
Let the mixture cool and spread a even half inch coating of this mixture onto seasoned fish filets.
The final step is to put a crunchy crumb topping over potato crusted fish filets. This step gives Air Fryer Potato Crusted Fish Filets to super crunchy texture. It's a simple extra task but well worth the extra step process. The crumb topping contains primary Panko bread crumbs.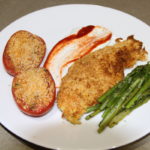 Air Fryer Potato Crusted Fish Filets recipe has super crunchy air fried fish filets. They have a topping crisp with a moist creamy potato filling that's covering fish filets.
Servings

Prep Time

2

Servings

15

Minutes
Servings

Prep Time

2

Servings

15

Minutes
Air Fryer Potato Crusted Fish Filets recipe has super crunchy air fried fish filets. They have a topping crisp with a moist creamy potato filling that's covering fish filets.

Servings

Prep Time

2

Servings

15

Minutes

Servings

Prep Time

2

Servings

15

Minutes
Portion fish filets into 4 ounce filets, note the fish filet pieces if they are small can be placed together to from one fish filet. Next sprinkle the tops and bottoms of each filet with lemon pepper seasonings and dill weed. Place the seasoned fish filets on greased sheet pan.

To make the potato filling bring water to boil in pan. Mean while as water coming to boil mix potato flakes, dill weed, onion powder, garlic powder together in mixing bowl.

Pour the boiling water over the top of the seasoned potato flake. Stir potato mixture until mashed potato filling mixture is formed. Add the egg yolks and stir until all the yolk is evenly mixed into mashed potato filling. Cool seasoned potato filling mixture for 5 to 10 minutes.

Spread a even coating of the seasoned potato filling covers each fish filet about 1/2 inch thick. My favorite way to cover filets using pastry bag fitted with wide decorator tip filled with potato mixture.

Combine in small bowl panko breading, paprika, parmesan cheese mixing ingredients well. Next sprinkle the Crunchy topping over top of each potato filling covered fish filet.

Spray canola oil over top of the Crunchy Topped Fish filets. I recommend using the EVO Sprayer filled with canola oil. Each pump of sprayer is 1/4 tsp of oil. This way you can control the amount of oil evenly sprayed onto Fish filets. About 2 pumps of spray per fish filet works very well.

Carefully lift the fish filets with fish spatula or off-set spatula off the tray into the Air Fryer basket. Set the Air Fryer to as hot as it can go 400°f. Air Fry for 10 to 12 minutes the top crunchy topping of the fish filets should be golden brown. A alternate method of cooking fish filets is in 375°F convection oven on greased sheet tray for 20 minutes or until golden brown color.

Plating the Air Fryer Potato Crusted Fish Filets onto warm plate with baked tomatoes and asparagus spears.
A wonderful baked tomato is perfect accompaniment to Potato Crusted Fish Filets. Cut Roma Tomatoes in half lengthwise. Sprinkle with kosher salt, black pepper, garlic powder and Herbs Provence.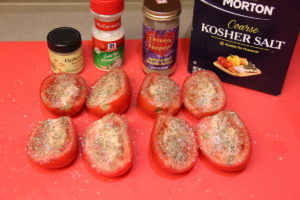 Then sprinkle seasoned bread crumbs mixture over top. Panko Breading works perfectly this can be same breading mixture used to coat the tops of Air Fryer Potato Crusted Fish Filets.  Using EVO oil sprayer pumping 2 to 4 sprays of canola oil to just coat top of each tomato. Note each spray only uses quarter teaspoon of oil. Bake on sheet tray for 25 to 30 minutes at 400°F. The tops of tomatoes should be golden brown with soft center, a knife should go through center easy.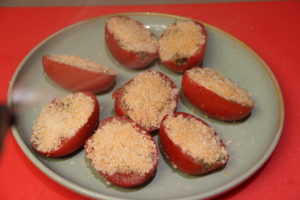 Adding cooked asparagus spears gives Air Fry Fish and Baked Tomatoes good balance of flavors and colors. Trim asparagus spears removing excess woody bottoms. Then cut asparagus spears in half lengthwise. Cook asparagus in skillet with small amount of water along with some Herbs Provence or Penszey's Sunny Paris Seasoning. Heat to simmer for about 5 to 8 minutes covered on medium heat. The asparagus should be nice and green and tender texture.
Hits: 2601
Air Fryer Potato Crusted Fish Filets