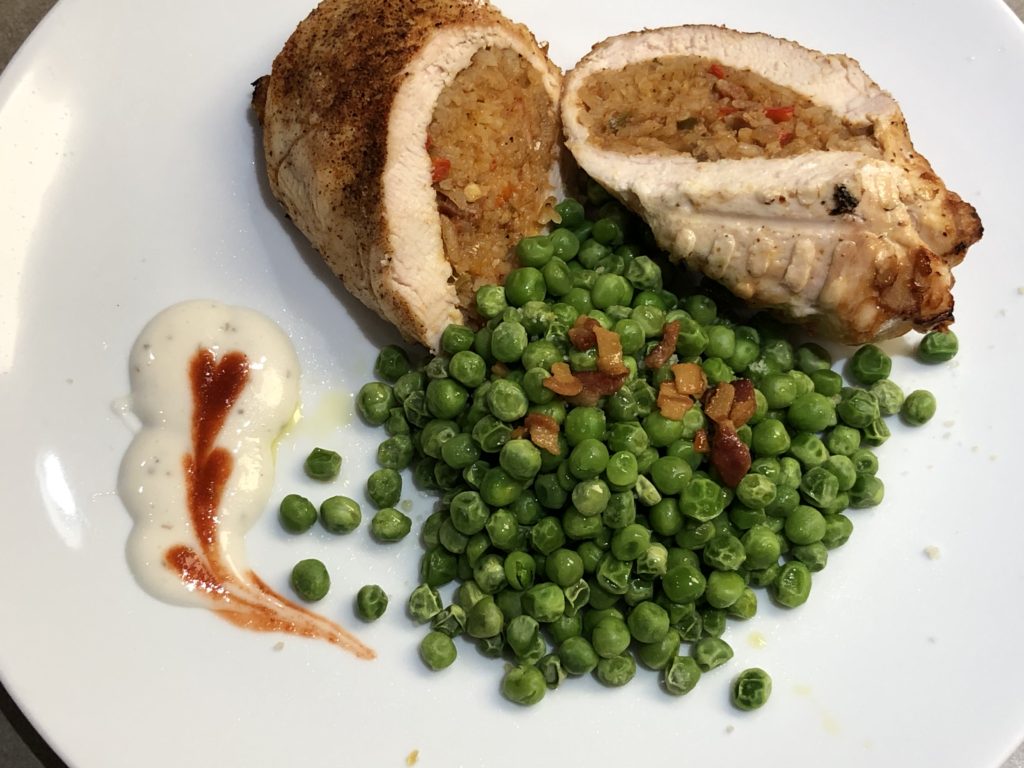 Bacon Tomato Rice stuffed Chicken Breast is a perfect healthy meal choice. Using a air fryer speeds up cooking time and helps keep the stuffed chicken stay moist and tender. This recipe uses healthy brown rice, fresh tomatoes, with some bacon to added A little extra boost to the flavor profile. Serve this Bacon Tomato Rice Stuffed Chicken with some tomato sauce and choice of green vegetable. Making a wonderful satisfying comfort healthy meal in under an hours time.
Perfecting a rice stuffing: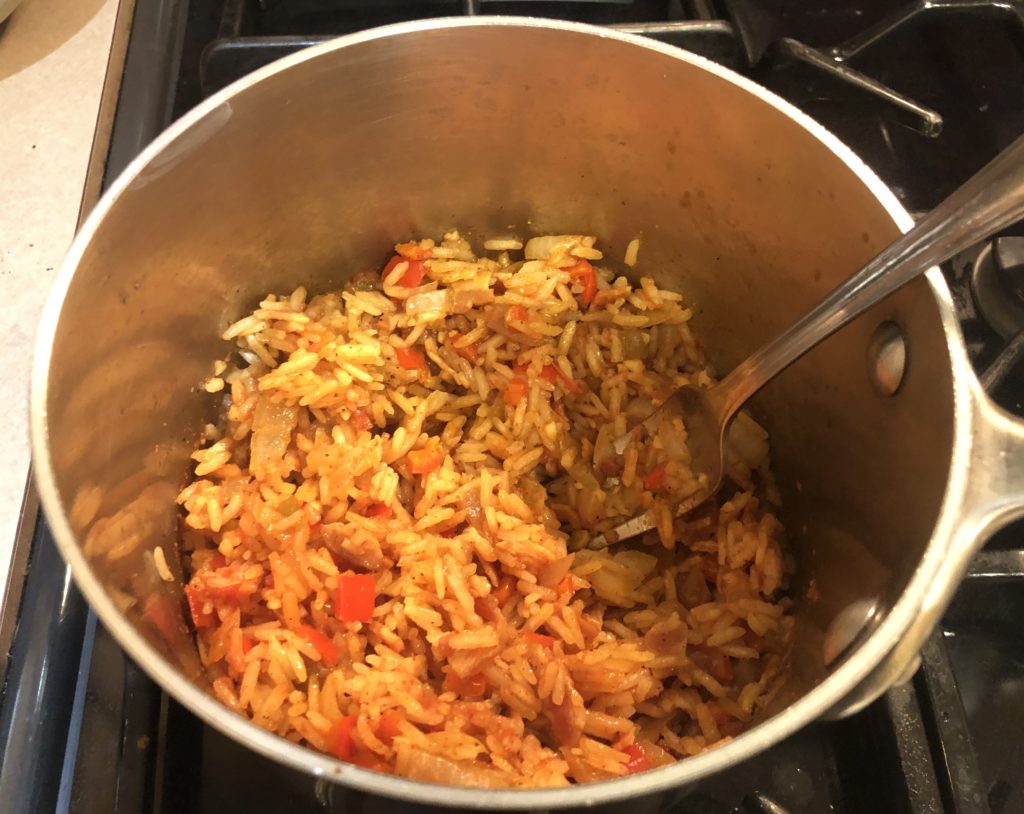 Choosing the right rice keeping healthy and flavorful is key to successful stuffing. The grocery store has large sections of shelves with all different choices. A big portions of selections are pre-cooked or instant rice. These are good choices if you want quick preparation. But all too often you loose flavor and texture, if you need Stuffing in just minutes take good look these varieties.
The Brown Basmati Rice or Brown Jasmine Rice are too wonderful choices, they are very aromatic and have outstanding flavors. But they have a very long slow cooking time about 45 minutes. Wow 45 minutes to cook rice is too long for most fast paced families. The solution is using the Instant Pot, in about 10 minutes of cooking time and about 15 minutes overall time to make perfect rice. That's cutting the cooking time down to a third of the time.
Just plain Brown Basmati Rice needs more supporting flavors for the stuffing. Bacon, Tomatoes, Onions and garlic are wonderful flavor boosters. The combination of these flavors transform this into a classic taste often called Spanish Rice or Mexican Rice. Adding just a few spices like cumin, chili powder and some herbs, oregano, cilantro finishes the rice profile.
Fabricating Chicken Breasts: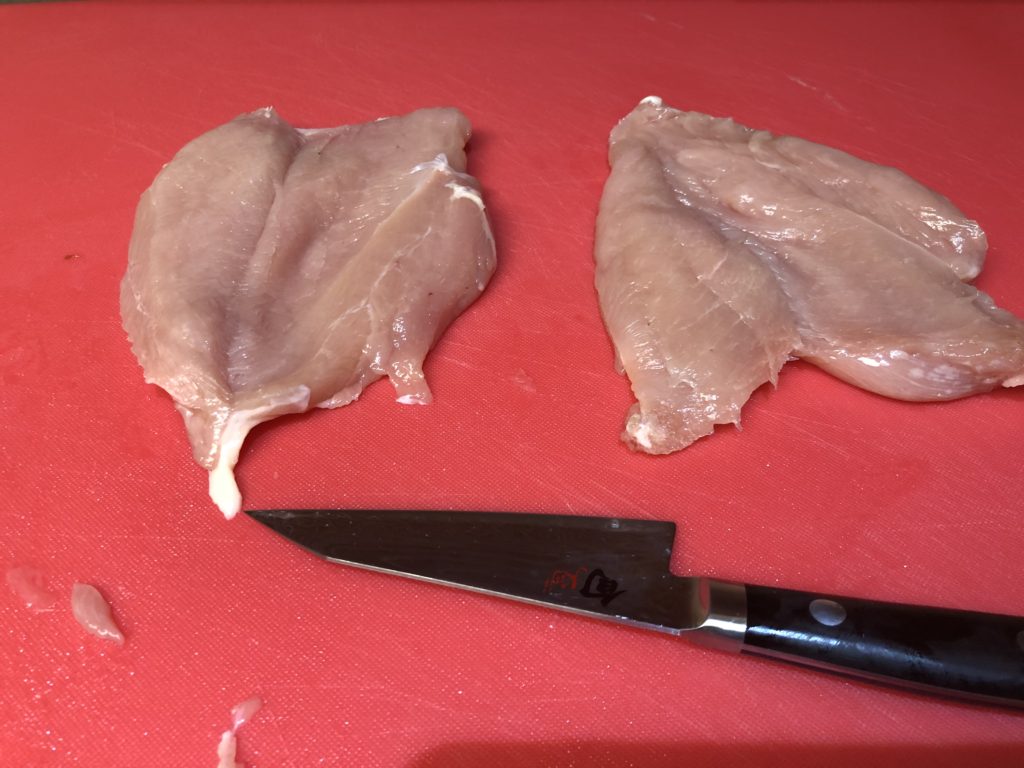 Fabrication is fancy terminology used if trimming and cutting chicken to meet preparation needs. Sanitation is upmost importance, when handling poultry products. First start with wiping down all areas including cutting boards with sanitizer (1 tbsp bleach with gallon water). Be sure to let the sanitizer stand on surface for 15 to 30 seconds, before wiping dry. Put on some disposable gloves before handing chicken.
Butterfly chicken breasts with sharp knife, a pairing knife or boning knife. Cutting the chicken breast almost in half horizontally, so opens up like butterfly wings. Then place a piece of plastic wrap over chicken and pound with meat mallet until evenly flat. The breast should be about half inch thick, with no holes in meat.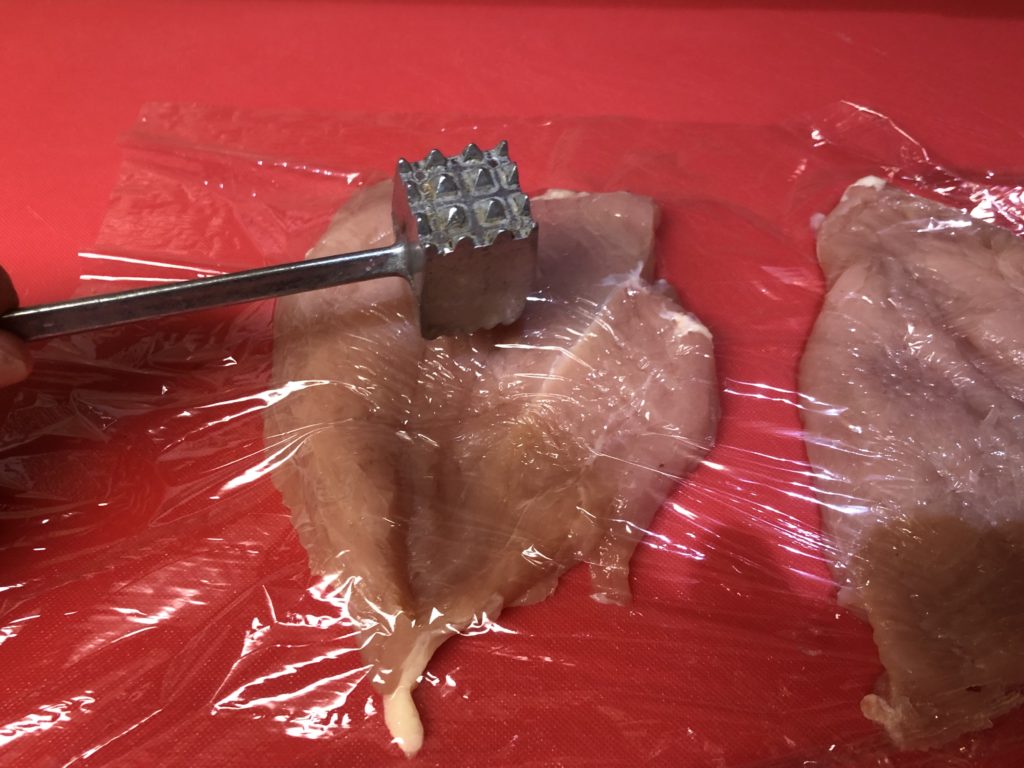 Stuffing Chicken Breasts: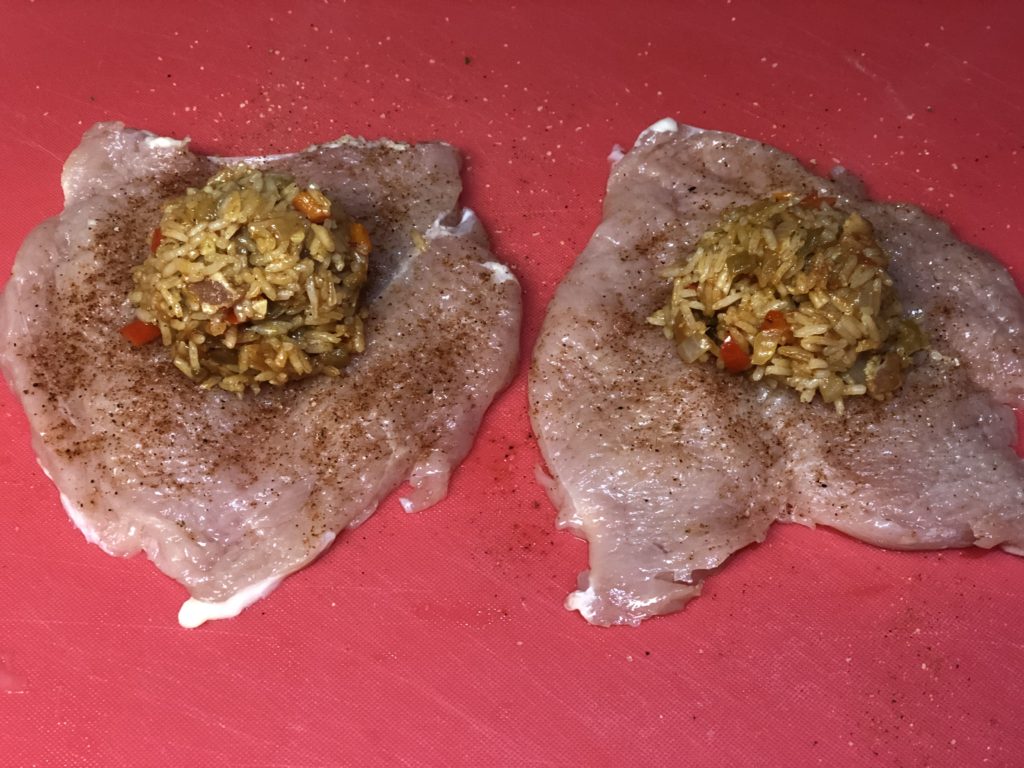 Stuffing chicken breasts is made easy by using a number 12 scoop of the Bacon Tomato Rice Stuffing. Then carefully wrap chicken breasts around stuffing. Be sure to season both sides of the chicken breast with Mexican seasoning. Store bought Mexican Seasoning works out as quick short cut or make your own blend.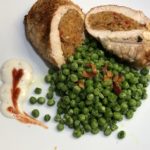 Bacon Tomato Rice stuffed chicken breast using Air Fryer makes a delicious moist and tender entree cooked in 20 minutes. Enjoy having all flavors of chicken and rice in one encased breast.
Servings

Prep Time

2

Portions

35

Minutes
Servings

Prep Time

2

Portions

35

Minutes
Bacon Tomato Rice stuffed chicken breast using Air Fryer makes a delicious moist and tender entree cooked in 20 minutes. Enjoy having all flavors of chicken and rice in one encased breast.

Servings

Prep Time

2

Portions

35

Minutes

Servings

Prep Time

2

Portions

35

Minutes
Bacon Tomato Rice Stuffing:
Bacon Tomato Rice Stuffing:
In heavy duty sauce pan cook the diced bacon with some olive oil. Cook bacon until it's crisp, about 5 minutes.

Drain off excess bacon fat leaving just small amount fat left in sauce pan with crisp bacon pieces.

Next add onions, peppers and garlic to bacon. Cook vegetables mixture for about 2 to 3 minutes on medium heat, stir often.

Continue cooking mixture adding rice, stirring well to coat all rice well. This should take about 1 minute.

Now add the stock and tomatoes chili sauce to rice mixture stirring well. Season this mixture with Mexican seasoning, taste liquid mixture to see if seasoned properly. Adjust with Mexican seasoning and salt to taste.

Cover rice mixture with lid and turn the heat to medium heat. When steam comes out, reduce heat to low. Cook on low for 18 to 20 minutes.

Remove the lid from rice and fluff with fork. Set aside while fabrication of chicken breasts.
Using a sharp knife butterfly chicken breasts. Cutting half way through middle almost to end opening chicken breast like butterfly.

Next cover butterfly chicken with plastic wrap, pound with meat mallet. Just pound hard enough to flatten chicken breasts, but do not put holes into breasts.

Remove plastic wrap that covers chicken, sprinkle with Mexican seasoning generously.

Now scoop 1/3 cup of bacon tomato rice stuffing into center of the chicken breasts.

Rap the chicken breasts around rice stuffing, then sprinkle generously with Mexican seasoning.
Cooking Bacon Tomato Rice stuffed chicken breast:
Place the stuffed chicken breasts into air Fryer basket. Spray with olive oil. I like to use EVO sprayer to spay oil onto food. Push basket into air fryer

Set air fryer temperature to 350 degrees.

Set timer to 20 minutes, this is just guidelines for cooking time depending on size of stuffed chicken could take longer.

Use a instant reading thermometer, place probe into thickest part of breast. The temperature should read at least 170 degrees.

To serve cut stuffed chicken breasts in half on bias. Serve with green vegetables of your choice. Be creative with sauce, my favorite Sriracha sauce.
Nutrition Facts
Bacon Spanish Rice stuffed Chicken in Air Fryer
Amount Per Serving
Calories 615
Calories from Fat 207
% Daily Value*
Total Fat 23g 35%
Cholesterol 130mg 43%
Sodium 1180mg 49%
Potassium 151mg 4%
Total Carbohydrates 56g 19%
Protein 44g 88%
* Percent Daily Values are based on a 2000 calorie diet.
Mexican Seasoning Recipe 
Hits: 467
Bacon Tomato Rice Stuffed Chicken using Air Fryer