There is nothing like smoking your own Homemade Pastrami Recipe using good beef with lot's of marbling in the beef. This time I used beef chuck tender, which is best part of the beef chuck roast. This has a wonderful marbling of beef, with great muscle tissue.  Making it as good as the traditional beef brisket which sometimes has so much fat that needs to be trimmed.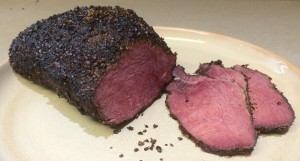 To made pastrami you need to cure this for about 5 days in cure call the pickle. Using lots of spices, brown sugar and curing salt and water for brine. Using meat tenderizer to cut small channels into meat so brine will go through out the whole meat as it cures. Vacuum packaging the beef and pickle will insure even curing process.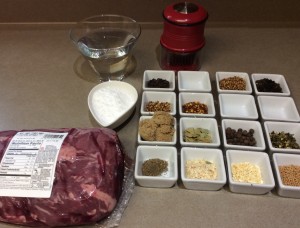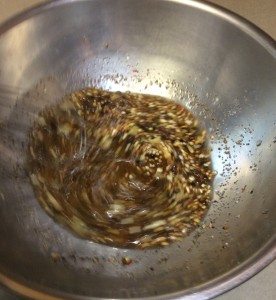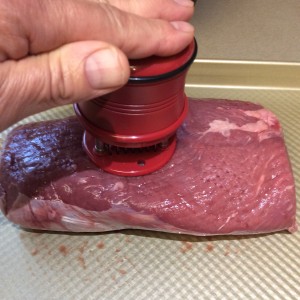 After 5 days need to rinse off brine, pat excess moisture off meat and rub the whole beef with freshly crushed black peppercorns and coriander seeds encrusted on all sides of beef. Ready to be smoked for at least 6 to 8 hours. The Green Egg smokes at temperatures somewhere between 250 to 300° using lump charcoal and apple wood chunks. Every time opened the smoker to reload more wood chunks the aroma was breathtaking, it was all I could do to resist cutting a chunk off and devouring. After 6 1/2 hours the temptation was just to great submitting pulling it out of smoker letting it rest to waiting patiently to try the prized pastrami.
The wait was well worth every second, perfectly cooked through was quit moist for just using Chuck Eye Roast, slicing through meat without falling apart or crumbling, yet tender and smokey with just enough bang from pickle brine then all that crushed peppercorns and coriander seed. This was so good I could lick my lips backwards.
So many things could be made with this wonderful pastrami, tasty hors d'eouvre with spicy crackers comes to mind thinking of Jason Woods creative Prairie Fire Pastrami – Jalapeno Cheddar Cracker, mixed Berry Habanero Jam, Pastrami wrapped Marinated Cucumber, topped with an Herb and Pepper mixed Goat Cheese, with an Arugula Leaf Topper.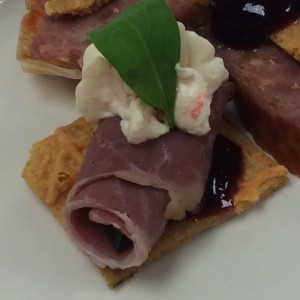 Another possibly is making Spicy Rueben Pizza using Smoked Pastrami, inspired from tasting Cedar Ridge Winery Rueben Pizza.
Jason Wood's spicy crackers are out of the world, there super crisp, extra thin and has just enough zap to make someone toes cruel just a little. To me there perfect, for some this is not cracker to be snacking on. Jason was so nice to me letting me in on his secret, Rice Krispies yes crushed Rice Krispies gives that super crisp crunch along with butter, flour and spices, and of course chilies and cheese too. This produced includable cracker so good I personally eat handful of trimmings that Jason shared. Jason also made this chile infused berry jam that went incredibly well with crackers and pastrami. I never be able to compete with his work but instead be inspired to create my own version to enjoy and share.
Hits: 1082