Italian Beef Sandwich made with Sous Vide Beef Chuck Tender Roast, cooked long and slow between 18 to 24 hours. Produces the most tender lean moist roast beef, perfect for Italian Beef Sandwich. Slicing the Chuck Tender Roast thinly, and heating meat with Italian seasoned au jus. Sandwich has heaping amounts of hot Italian sliced beef, provolone cheese and pickled vegetables served on soft hoagie bun.
What meat works well for Italian Roast Beef?
The Chuck Tender Roast works perfectly if cooked long very low heat. To achieve this used Sous Vide technique at 135 degrees for 18 to 24 hours. This technique cooks the meat in it's own juices in water bath controlled by Sous vide immersion circulator. The Chuck Tender Roast Meat is seasoned and placed in vacuum bag, where vacuum packaging machine draws all the air out of the bag. Food Saver is common brand works well and not too expensive. These type of bags can be used to cook or reheated in simmering water bath.
Seasoning the meat:
Seasoning the Chuck Tender Roast before vacuum packing, is important process. First used kosher salt sprinkled all over the Chuck Tender Roast wrap in plastic and refrigerate overnight. Next morning remove plastic wrap and season with black pepper, fresh rosemary, Italian Herbs blend and oil. Place in the vacuum bag and seal with Food Saver or Vacuum machine.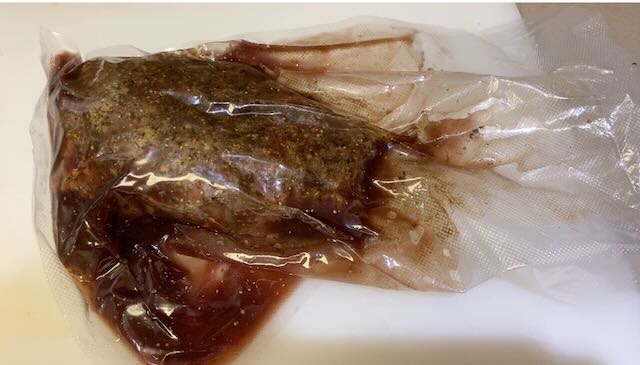 Vacuum packaging:
Vacuum packaging meat for Sous Vide works outstandingly well, helps with infusing seasoning into meat and removes air out of the bags. it's important not to over vacuum, causing liquids out of the bags. Watching carefully the vacuuming process, stopping vacuuming and sealing bag. Look for liquids coming up to vacuum packaging machine, stop and seal at that point.
Sous Vide Cooking Techniques:
The Sous Vide cooking is perfect way to achieve tender moist roasted meat using more tougher meat like Chuck Tender Roast. Using Sous Vide method cooks the meat very slowly for very long period of time at extremely low temperature. Setting circulation immersion machine to 135° F with timer set for 18 to 24 hours depending on size of roast. This done by placing circulation immersion machine into 12 quart stock pot filled with warm water about 2/3rd full. Turning on machine waiting for temperature of the water to reach 135°F. Then placing vacuum bag of Chuck Tender Roast into circulating hot water. Covering the stock pot with plastic wrap to prevent extra evaporation of the hot water bath as it cooks for extended long period of time.
The whole process of cooking by Sous Vide uses phone app. This makes the cooking easy to monitor at any point of time. An alert on phone tells when cooking process is completed. At this point remove vacuum package from water. Then then cutting open the package, reserving cooking juices, place Sous Vide meat onto roasting rack. Roast the Chuck Tender Beef in 425°F oven for 15 to 20 minutes. The roast should have nice bark or caramelization on outside.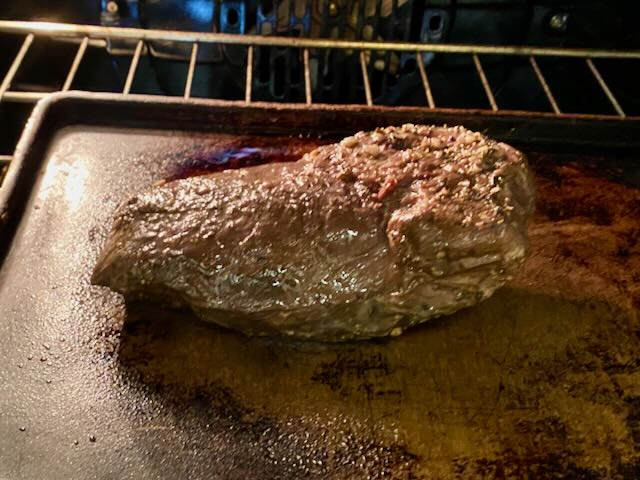 The Making of Italian Beef Sandwich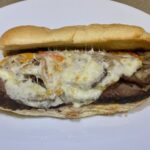 Hits: 1486
Italian Sous vide Beef Sandwich
Description
This blog and recipe goes through the steps making wonderful melt in your mouth Italian Sandwiches. Sous Vide beef takes time to cook, but done effortlessly using Joule app. Plus any leftover beef can be made into other sandwiches, classic hot beef sandwich my Father-in-law favorite. Maybe Philly Cheese steak sandwich, on the spicy side with jalapeños peppers. Enjoy this wonderful recipe.
Italian Sous Vide Chuck Tender Beef Meat:
Sous Vide Chuck Tender Roast
Italian Beef Sous Vide
Assembling Italian Sous Vide Chuck Tender Beef Sandwich:
Sous Vide Beef Chuck Tender Roast
Sous Vide Beef Chuck Tender roast
Seasoning Beef Chuck Tender Roast

Season the beef chuck tender roast with kosher salt, black pepper and Italian herbs on all sides of the roast. Tenderizing with Demi tenderizer 

Be sure to rub the seasonings into beef roast.

Place the seasoned beef chuck tender roast into a vacuum bag. Then pour some Worcestershire sauce into bag. Then seal the bag with vacuum package machine like Food Saver. 

If you don't have vacuum package machine like food saver. Use heavy duty freezer zip bags. Remove all the possible air out of the bag. I use a straw and suck all air out then zip it shut.

Set up Sous Vide

Set the water temperature to 135°F and timer for 20 hours. When the water temperature hits 135°F place the vacuum bag of seasoned beef chuck tender roast into the water. Make sure it is totally in the water bath. Then turn on the timer for 20 hours. Cover the pot or container with plastic wrap.

After 20 hours of cooking, heat oven to 425°F. Open vacuum bag beef chuck tender roast. Save the juices that are in the bag, set juices aside. Place Sous Vide beef in roasting pan or cast iron skillet and roast in hot oven for 15 t0 20 minutes to form brown coat.

Allow the chuck tender roast to rest after comes out of the oven before slicing.
Italian Sous Vide Chuck Tender Beef Meat:
Slice cold Beef Chuck Tender Roast into thin slices. Measure out 4 ounces of sliced meat. Slice sweet red peppers and onions into julienne pieces. Place each portion into individual vacuum package bags.

Sauté the sweet peppers and onions with olive oil in skillet for about 3 minutes that is al dente. Divide sautéed peppers and onion, place into each portion of vegetables into each vacuum package bags with meat.

Combine Au jus with Italian Herbs to make Italian Au Jus. Pour equal amounts of Italian Au Jus into each vacuum bag with beef and vegetables.

Seal each Italian Chuck Tender Meat, vegetables and Italian Au Jus with vacuum packer machine.

The Italian Sous Vide Chuck Tender Meat and Vegetable bag can be refrigerated for 1 week before made into sandwich. Be sure label and date each bag before refrigerated.
Slice Hoagie bun with bread knife, be sure not to cut all the way through the bun.

Reheat the Italian Chuck Tender Roast and vegetable in bag, by placing in simmering water. Or best method is to use Sous Vide set at 165°F water bath for 30 to heat gently. If just using hot simmering water keep water below boiling temperature.

Cut open the bag with Italian Meat and vegetable.

Place meat and vegetables between sliced Hoagie bun. If you like sprinkles some hot pepper flakes over meat as option.

Next top each Sandwich with 2 slice provolone cheese.

Then place into air fryer set at 400 degrees and bake for 3 to 4 minutes until cheese is melted and slightly brown.

Remove Italian Chuck Tender Beef Sandwich from Air Fryer and place on plate.

Garnish Italian Beef Sandwich

Sweet Pickles and choice of favorite sides
Sous Vide, Italian Beef Sandwich,