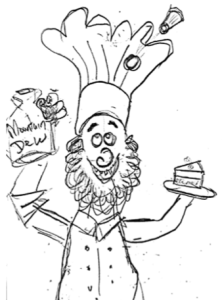 Over the years I have used a secret ingredient in many of my culinary creations using Mountain Dew®1 . Remembering well of consuming many pitchers of this soda to keep me rolling, inspiring me to create a new twist to this dessert. "It's Dew Time!" bringing more "ya hoo"  with a different twist, not just a cake but torte with layers of Mountain Dew®1 , cake, cheesecake, ganache and chocolate. This should be enough to keep anyone going for hours or may be even days.
The bottom layer will have to have a Mountain Dew®1  flavor, so the only choice is to make a Mountain Dew®1  Chiffon Cake. To intensify the flavor the Mountain Dew®1  needs to be reduced by half, then adjust sugar in the cake formula.
The second layer is going to be a classic rich and creamy cheesecake, flavored with lemon and lime, making it a little on the tangy side. To provide a balance with the sweeter chiffon cake base.
Between the two layers will be held together with white chocolate ganache lightly beaten to creamy consistency. Then topping the torte with Mountain Dew®1  Mousse. Garnishing with rosettes of mousse, placing on each each rosette a Chocolate Dew Cork or Chocolate Classic Mountain Dew®1  Jug from artwork of the 1960s.
I can feel the sweet, tangy and ever so tasty dessert send you to a new culinary highs. Ya Hoo!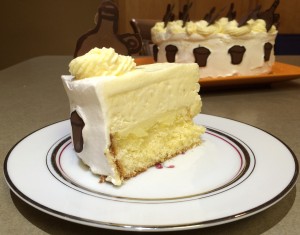 Mountain Dew Torte Recipe
Ingredients: Mountain Dew®1  Chiffon Cake
1 3/4 cups cake flour
1/2 cup sugar
1 tsp salt
2 tsp baking powder
3/8 cup vegetable oil
3/8 cup egg yolks
1 tbsp lemon zest
1 tbsp lime zest
5 oz Mountain Dew reduction** see notes
7/8 cup egg whites
1/2 cup sugar
1/2 tsp cream of tarter
Directions:
1. Scale all ingredients accurately. Have all ingredients at room temperature. Use a good-quality, flavorless vegetable oil.
2. Sift the dry ingredients (cake flour, including first part of the sugar, salt and baking powder) into the mixer bowl. Mix together in another bowl oil, egg yolks, lemon and lime zest and mountain dew reduction well
3. Mixing with the paddle attachment at second speed, dry ingredients gradually add the oil, then the egg yolks, mountain dew reduction, and zests, all in a slow, steady stream. While adding the liquids, stop the machine several time and scrape down the bowl and the beater. Mix until smooth, but do not over-mix.
Notes: Take 2 liters of Mountain Dew®1  and reduce liquid to 1 liter or by half.
4. Whip the egg whites until they form soft peaks. Add the cream of tartar and sugar in a stream and whip to firm, moist peaks using mixer with whisk attachment.
5. Fold the whipped egg whites into the flour-liquid mixture.
6. Immediately deposit batter into cake pans lined with parchment paper.
7. Bake in 350°F oven until toothpick comes out clean about 20 to 25 minutes. Cool on wire rack, run share pairing knife around cake and remove cake from pan then peel parchment paper off cake set aside.
---
Lime Lime Cheesecake Layer
Ingredients:
Three 8-ounce packages Philadelphia Cream Cheese Kraft Foods2 (use only full fat), at room temperature
1 1/3 cups sugar
3 tablespoons cornstarch
1 tablespoon lemon zest
1 tablespoon lime zest
1 tablespoon lime juice fresh squeezed
2 tablespoon lemon juice fresh squeezed
2 large eggs
2/3 cup heavy whipping cream
Directions: for lemon & lime cheesecake
1. Preheat oven to 325°F adjust wire rack to middle position. Line a greased 9″ spring form pan with parchment paper. Then on outside of the pan line with heavy duty foil, note this is to prevent water from coming in contact with cheesecake.
2. Process in food processor 8 oz of cream cheese 1/3 cup of sugar, cornstarch, lemon zest and lime zest until well combined.  Scrape bowl down with spatula and process again to from evenly smooth constancy. Add 8 oz of cream cheese and process until smooth scrape down the sides with spatula then add the final 8 oz of cream cheese process until smooth consistency.
3. Continue to process cheesecake mixture adding remainder of sugar, lemon juice and lime juice with processor running. Next add one egg at a time mix well after each addition, scrape sides of bowl down and finally add cream for final processing. The filling will look light, creamy, airy, and almost like lemony billowy cloud.
4. Pour the cheesecake filling into lined spring form pan spreading evenly. Place the filled spring form pan into deep baking pan, make a water bath  with 1 inch on bottom of baking pan. Place water bath cheesecake in oven and bake for about 1 1/4 hours or until light brown top and center of cheesecake still giggles a little. Turn oven off and let set in oven for 10 to 15 more minutes with door closed. Remove cheesecake from oven and place on wire rack to cool for 2 hours undisturbed. Cover loosely with plastic wrap and refrigerate overnight.
5. After 12 to 24 hours carefully run pairing knife around edge of cheesecake and remove the ring. Carefully remove parchment paper from bottom of cheesecake. Set aside for assembly.
---
Lemon Lime Mountain Dew®1  Mousse Filling
Ingredients:
1 cup sugar
1/2 cup Mountain Dew®1  Reduction
1 tablespoon corn syrup
4 egg yolks
2 teaspoon unflavored gelatin
1/4 cup cold water
2 cups heavy cream
2 tablespoons lemon juice
1 tablespoon lime juice
Directions: for Lemon Lime Mousse filling
1. In a sugar pot or heavy duty saucepan bring mountain dew reduction and sugar to boil. Add corn syrup and continue cooking sugar mixture until it reaches 240°F. Make sure that you brush the sides of pot with water to keep the sugar from crystallizing on sides of pot.
2. Soak unflavored gelatin with the cold water in a bowl.
3. While the sugar is boiling beat the egg yolks in mixer with whisk attachment until light and fluffy. When the sugar reaches 240°F pour the cooked syrup slowly into beating egg yolks scraping the slides of bowl regularly. Add the softened gelatin to egg yolk sugar mixture and continue beating egg yolks until mixture cools this could take 15 minutes.
4. Whip the heavy cream in mixer bowl with whisk attachment until just stiff, but not into butter.
5. Fold 1/3rd of whipped cream into cooled egg sugar mixture folding gently. Then pour egg sugar mixture into whipped cream and fold gently. Fold more mountain dew reduction to adjust the flavor if needed.
6. When mousse constancy is very thick, light and fluffy it's ready to use as a dessert filling. Set filling aside until assembly note filling will become firmer when refrigerated, keeping it near room temperature will have better handling properties.
---
White Creamy Chocolate Ganache
Ingredients:
14 oz. White Chocolate, pieces
4 tbsp. Heavy Cream
2 tbsp Mountain Dew Reduction
2 tbsp Butter, soften
Directions: for white chocolate ganache topping
1. Bring the heavy cream to boil in small sauce pan.
2. Remove from heat and add the white chocolate pieces, butter and place lid on sauce pan. Let chocolate rest for 5 minutes.
3. Whisk the chocolate mixture until smooth add Mountain Dew Reduction and coloring if needed.
4. As the ganache cools whisk into light fluffy consistency.
5. For easy handling this should be last thing made and ready to use because the consistency firms up quickly, make and apply to the cake when consistency is perfect.
---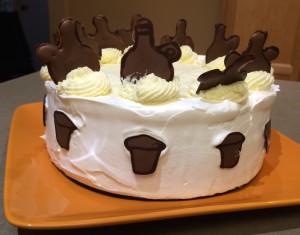 Chocolate Decorations
Ingredients:
300 grams 35% Couverture Milk Chocolate
3 grams Cocoa Butter Beta Crystals
300 grams 51% Couverture Dark Chocolate
3 grams Cocoa Butter Beta Crystals
Directions: tempering couverture chocolate and apply design.
1. Place milk couverture chocolate in bowl over warm 160° F hot water bath stirring constantly until all chocolate is melted important that chocolate never goes over 106 degrees while melting. When chocolate reaches between 91° to 95° degrees add the beta crystals and stir until chocolate reaches 88°  The chocolate is tempered and ready to be put into a piping bag, to decorate with.
2. Mean while place dark couverture chocolate in bowl over warm water 160°F hot water bath stirring constantly until all chocolate is melted, important that the chocolate never goes over 115° F while melting. When the chocolate reaches 91° to 95° degrees add the beta crystals and stir until chocolate reaches 88°. The chocolate is now tempered and ready to be put into a piping bag, to decorate with.
Templates below can be used as guide to pipe chocolate, place these templates under acetate sheets and pipe dark chocolate on heavy lines and words then fill in with milk chocolate. Let crystalize for 2 hours then remove chocolate figures from sheets to decorate.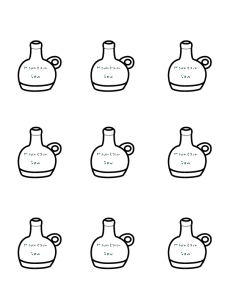 References:
Mountain Dew®1 Pepsi Co Beverage http://www.pepsicobeveragefacts.com/Home/Product?formula=44316*01*01-09&form=RTD&size=20
Philadelphia Cream Cheese Kraft Foods2 https://www.facebook.com/philadelphiacreamcheese/info?tab=page_info
Hits: 596