Blueberry Oatmeal Muffins with very low Smart Points
Fresh blueberries are packed with wonderful goodness and antioxidants is a perfect match for making a great blueberry oatmeal muffins. The problem is most muffins have so many Smart Points that you use all them up in just a few bites and still not be satisfied. So my quest is to make healthy and satisfying Blueberry Oatmeal Muffins, that only be 5 to 6 Smart Points and be Texas size.?
Having fond memories of picking wild blueberries in Eagle River Wisconsin when I was about 10 years old, spending some time at my Uncles cabin. Mom was a outstanding baker and cook, up in those woods of Wisconsin we used an old fashion wood fired range to make some best tasting Blueberry Muffins. I not sure if it was baking in the wood fired oven or the taste of wild blueberries, that brings on the craving for Blueberry Muffins.  Hungry for muffins and wanting something satisfying brings on the quest to get the Smart Points down below 6 points.
Choosing the right flour is important, electing to make my own oatmeal flour using Quaker Old Fashion Rolled Oats and grinding it in my VitaMix. It's a simple process, just put all the dry ingredients in the VitaMix and blend at high speed until it forms a flour.
Next is selecting the right sweetener, trivia baking blend works very well with baked goods, better then Splenda, it adds a extra point but tastes better, well the worth extra point.
For the liquid ingredients, using a banana to replace fat, plus a container of Chobani Simply 100 Blueberry Greek Yogurt, as well as egg makes a winning combination. The yogurt helps keep the muffin to be moist and tender. The egg acts as binder and also a leavener too, giving the muffins some body and a better texture.
Using VitaMix Blender to puree the ingredients into smooth liquid for about 45 seconds, making the perfect liquid ingredients.
Using the muffin method of mixing it's important to remember to put dry ingredients first into a good size bowl. Then put fresh blueberries on top of dry ingredients and stir to coat all the blueberries. This is what mom's extra touch in making wonderful blueberry muffins. Make sure that you make a well in the center of dry ingredients first, then pour in the liquid ingredients. Mom was always careful not to over mix muffin batter. She mixed it just enough to moisten the dry ingredients into the batter.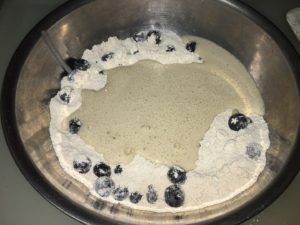 Do not over stir it can be just a little lumpy. I learned the hard way, remembering making 300 muffin batches for Peacock Tea Room and getting over developed muffins with their tong sticking out.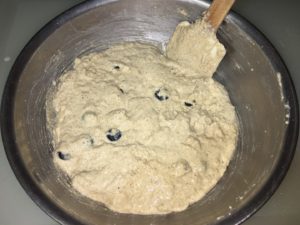 Just remember every time you scoop the batter it's stirring the mixture one more time. By only making small batches at one time will not become over mixed. This recipe comes out perfect, with only 6 scoops to a batch.
I love Texas size muffins giving me more to enjoy, compared to a regular muffin with only a few bites, and when finished eating leaving me hungry for another muffin.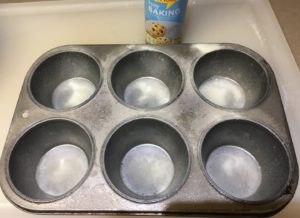 Be sure to spray each muffin well with PAM Baking Spray, no need to use muffin liners, that's one less thing to buy, and all to often you loose some the muffin to the liner, with less to enjoy.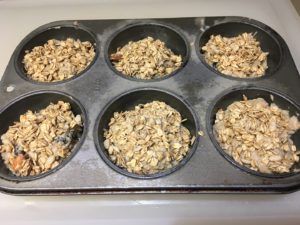 Fill each muffin well with 1/6th of the Blueberry Oatmeal Batter, about a rounded number 12 scoop of batter into each well. Then top with Bear Naked Vanilla Almond for extra crunchy topping.
Baking muffins in 325°F convection oven works perfectly, they don't become overly brown and bake perfectly through. If you have slower conventional oven bake at 350°F, the muffins will take a little longer to bake. Baking time should be around 18 to 20 minutes in convection oven, 20 to 25 minutes in conventional oven. Note every oven is different, use toothpick test, if the toothpick comes out clean it's done.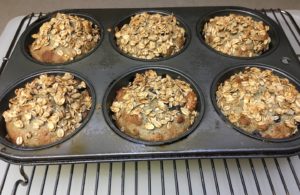 Cool the muffins on a wire rack, then wrap each with plastic wrap, then wrap them in foil, they can be frozen for up to 2 months. If you don't eat them all first.
The Blueberry Oatmeal Muffins are only 5 Smart Points for Texas size muffin. I love to cut the muffins in half and spread some of my homemade apple butter which is 0 Smart Points.
Enjoy!
Place rolled oats, baking powder, baking soda, salt and cinnamon in VitaMix blender. Process dry ingredients until forms flour.

Pour the dry ingredients into mixing bowl, set aside.

Blend together the chobani yogurt, egg and banana until it becomes a puree. This should be about 45 seconds on high speed.

Add blueberries to dry ingredients and mix to coat blueberries. Then make well in center of the mixture.

Pour the liquid ingredients in center of the bowl. Sir the muffin mixture until dry ingredients are just moist.

Spray the Texas size muffin pan with PAM Baking Spray coated each well.

Using a rounded full number 12 scoop of muffin batter fill each well. Note this recipe should make 6 Texas size muffins. Then top each muffin with 1 tbsp granola.

Bake in 325°F convection oven or 350°F conventional oven for 18 to 20 minutes or until toothpick come out clean. Cool on wire rack.

My favorite way to enjoy breakfast is blueberry oatmeal muffin with homemade apple butter zero points.
Note you could use 2 packages of Weight Watchers oatmeal instead of rolled oats no need to make your own oatmeal flour. This is short cut, I am old school chef that loves to do things from scratch.
Hits: 588