How to use up those bananas before they go bad. Here is my recipe for outstanding pie.
INGREDIENTS: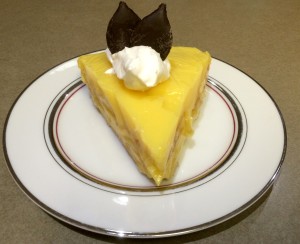 PASTRY CREAM:
3 ¾ cup milk, whole
4 large egg yolks
1 cup sugar
4 tbsp cornstarch
½ tsp salt
1 tsp vanilla
½ cup heavy whipping cream, whipped
FLAVORINGS:
2 large bananas, peeled & sliced
1 tsp lemon juice
TOPPING:
1 cup heavy whipping cream
2 tbsp sugar
1 tsp vanilla
2 oz dark chocolate
CRUST:
2 cup graham cracker crumbs
¼ cup sugar
6 tbsp butter, melted
DIRECTIONS:
1 Heat whole milk to scald temperature 150 degrees using heavy duty saucepan.
2 Combine egg yolks, sugar, cornstarch together in bowl whisking well. Add small amount of scalded milk to yolk mixture, to temper.
3 Add the tempered yolk mixture to the scalded milk whisk hard, scraping sides and bottom of saucepan. Continue to cook pastry cream until thicken. Just to hard simmer, to prevent pastry cream from scorching.
4 Cover top of pastry cream with plastic wrap so touches the mixture, refrigerate for 1 hour.
5 Mean while make crust by mixing together, graham cracker crumbs, sugar and melted butter in a bowl. Working the mixture so becomes consistency of wet sand.
6 Press the graham cracker mixture into 9 inch pie pan. Bake at 350° for 5 minutes to set crust. Cool
7 Mix together ½ cup of whipped cream into cool pastry cream until combined.
8 Put layer of lightened pastry cream on bottom of pie crust.
9 Next layer sliced bananas coated with lemon juice covering evenly the whole pie.
10 Top sliced bananas with remainder of pastry cream making sure no exposed bananas.
11 Whip heavy cream with sugar and vanilla until just stiff. Note if want to stabilize whipped cream add 1 tbsp aspic just melted to cream as whipping.
12 Garnish with rosettes whipped cream and dark chocolate decorations.
Slice each pie into ⅛ th.
Hits: 354