Scalloped Potatoes and Ham is a perfect way to use that leftover ham. Bringing back fond memories of Mom's homemade scalloped potatoes with lots of leftover ham. Growing up in Wisconsin on a farm we had lots of cheddar cheese, butter, milk and cream. We had a large garden, as a 4H member gardening was my thing. I usually planted more then 100+ hills of potatoes. These are some of the main ingredients in making a wonderful scalloped potatoes and ham dish. Just thinking about those days makes my mouth watering for Mom's great Scalloped potatoes and ham dish.
Scalloped Potatoes is different form Gratin Potatoes
The potatoes in scalloped potatoes and Gratin potatoes are the same. Russet potatoes or Yukon Gold potatoes are better choices. The trending choice is using the Yukon Gold potatoes. Especially the B size Yukon Gold potatoes, with their thin tender skin and golden slightly cream texture. Both the Yukon Gold and the Russet potatoes are starchy potatoes. Starchy potatoes make perfect choice for either Scallop potatoes or Gratin potatoes. With Russets potatoes need to be peeled, that's time consuming and really not that fun of a task to do. Where the Yukon Golds skin is tender and nutritious, just remember to get B size, about the size of a golf ball.

These potatoes need to be sliced evenly, so using mandolin or food processor is best choice. Even slices will provide even cooking process throughout the whole dish. Hand sliced could result in some potatoes to be mushy or partially raw potato dish. The slices should be about 1/8th inch thick or 2 to 4 mm setting.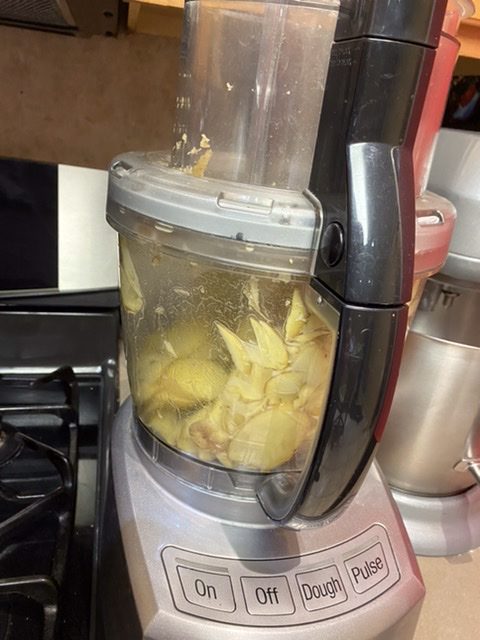 What's Scalloped Potatoes:
Scalloped Potatoes is what Mom made me, with potato slices tossed in some flour, Salt and pepper, scallions, whole milk, melted butter, and lots of shredded Wisconsin Cheddar Cheese. Often she would add leftover ham from special holiday dinner. Oh this bring back the memories again, thinking of big plate of those potatoes.

Why Gratin Potatoes:
Culinary School introduction Gratin Potatoes, with sliced potatoes, heavy cream, shallots, white pepper, kosher salt and Gruyère cheese shredded. Wow this really brings back memories, introduced me to whole different approaches to cooking, with a little more flair. The rich melting properties of Gruyère cheese, sweetness and mild shallots, gave different meaning to Gratin Potatoes.

The Choice is Yours:
The choice is totally up to the individual, if you like more country home style potato dish go for scalloped potatoes. But if you're into a little more sarcastic potato dish with some culinary flair Gratin Potatoes is perfect choice. Either way they are both winner potato dish to enjoy and don't forget to use some of that leftover ham.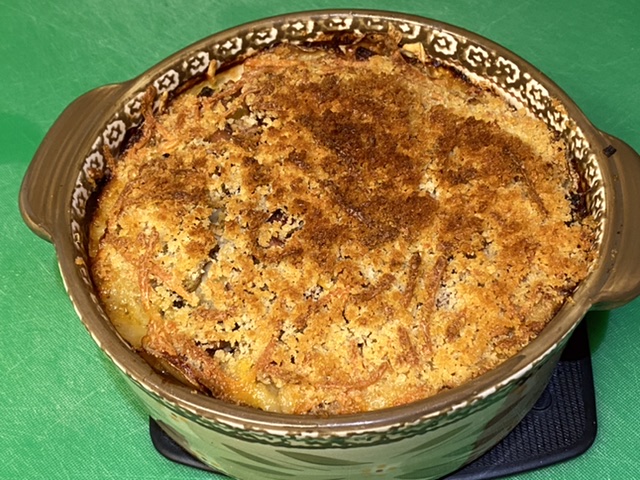 Scalloped Potatoes and Ham is childhood favorite, made with potatoes, cheese, milk and leftover holiday ham.
Servings

Prep Time

6

Serving

20

Minutes
Servings

Prep Time

6

Serving

20

Minutes
Scalloped Potatoes and Ham is childhood favorite, made with potatoes, cheese, milk and leftover holiday ham.

Servings

Prep Time

6

Serving

20

Minutes

Servings

Prep Time

6

Serving

20

Minutes
Wash potatoes and slice them with food processor or mandolin. Set the slicing between 2 to 4 mm, using slicing blade.

Slice ham and then dice into medium size pieces.

Using a large bowl combine the sliced potatoes with flour, salt and pepper. Mixing potatoes so they are coated with flour and seasoning.

Adding the diced ham to floured potatoes.

Mixing the ham into the potatoes until evenly distributed.

Grease a casserole dish with food spray, then place about half of the potatoes mixture into casserole dish.

Next sprinkle about half of cheese mixture over sliced potatoes mixture. The place the other half of the sliced potatoes mixture over cheese layer.

Continue with pouring melted butter over all potato mixture layers. Then sprinkle more cheeses over buttered potatoes layers.

Place in small bow, soften butter, cheddar cheese, and panko breading. Now mix together the crumb topping in small mixing bowl.

Sprinkle the crumb topping over all the layered potatoes evenly.

Cover the top of the scalloped potatoes and ham with foil. Bake in 350 degree oven for 60 to 90 minutes. This depends on how deep of casserole dish filled with scalloped potatoes and ham.

Remove the foil for last 15 to 20 minutes to get nice golden brown crumb topping on scalloped potatoes and ham. Remove from oven when potatoes reach 200 degrees or knife goes through potatoes disdain easy. Cool on trivet for 15 minutes.

Plate good size portions try to get good height and some of the crunchy crumb topping on top of the potatoes.
For spicy Scalloped Potatoes and Ham, add some chilies, and replace some cheddar cheese with pepper jack cheese. 
Hits: 1336
Scalloped Potatoes and Ham