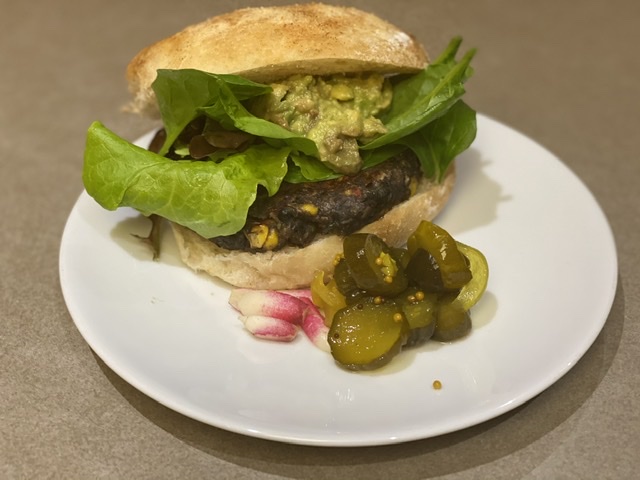 Griddled Black Bean Burger is great substitute for healthy plant based meat sandwich. Quick easy and inexpensive alternative meat, that can taste surprisingly great. The key to having a successful alternative plant meat is to use beans that have good protein and higher fiber. The black beans are perfect choice, given good texture and color. But to get superior burger flavor profile cook your own black beans.

Getting Beans Right:
Beans play a very important part in helping get the meaty profile of a burger. Texture of the Grilled black bean burger is crucial to obtain the proper bite associated with burger. The first try in making Grilled Black Bean Burger was somewhat successful, favors where right, moist but too soft in texture. Using Instant Pot to cook my dry black beans worked but there was too much liquid left after cooking for 30 minutes. The flavor was perfect and color of beans where nice and black. Left with having to reduce excess moisture off beans. Still after cooking black beans for another 20 minutes still left a lot of moisture in the beans. A solution was to wash off the extra liquid. But this would greatly reduce flavor and black color of the beans.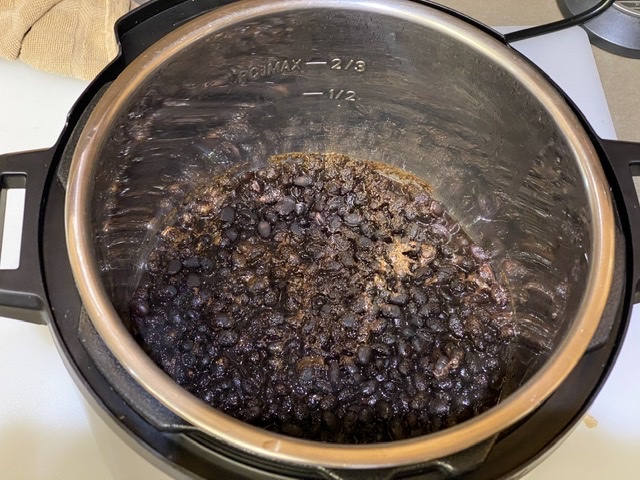 Persevere Black Beans Integrity:
The challenge was drying the cooked black beans moist out without loosing its integrity. Looking at other recipes I found a solution in baking cooked beans. By spreading cooked black beans on a sheet tray and baking them in 325 degrees oven for 20 minutes accomplish the right texture. The length of time baking depends on type of oven, convection ovens are quicker. Also achieve better results because of the circulation of air. Air Fryer works too but in limited space with small batch of cooked black beans. Solution baking cooked black beams, even if your using canned drained black beans.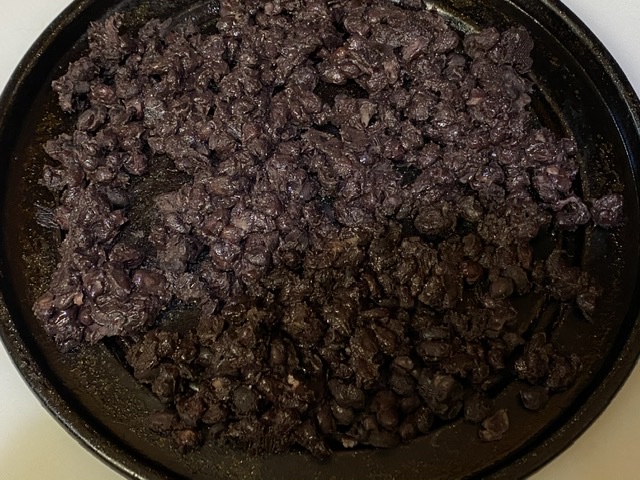 Grilled Black Bean Burger Mixture:
Black beans is heart of the burger mixture, but creativity starts by adding supporting ingredients. Let your imagination go, keeping the integrity of the burger intact. So begin with meaty veggies like mushrooms, carrots and flavor builders like corn, chilies, onions and garlic. Then binder ingredients to hold burgers together, like eggs, bread crumbs. Now choose the type of spice and herb blend to boost flavors. When in doubt always go for Mexican Seasons, or Cajun seasons for spicy taste. If your taste is more mild try Greek Seasoning, Herb to Provence or Italian Seasons.
Making good Black Bean Burger Patty:
Mashing the cooked black beans after they dried some excess moisture until good consistency. The texture needs to be meaty, mashing beans too far makes a more pasty burger, leaving bad mouth feel.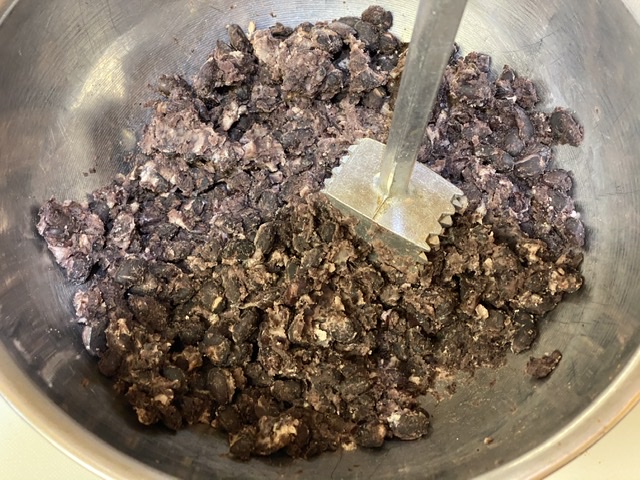 Next mix all the black bean burger ingredients together in large bowl. The black bean burger mixture needs to be mixed long enough to become slightly sticky. The long mixture is mixed the more sticky burger mixture becomes. The key is to mix until burger mixture holds together enough to hold it's shape when cooked.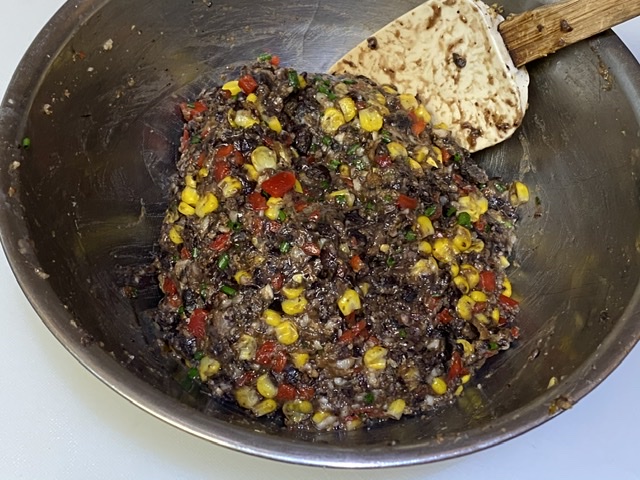 Shaping Black Bean Burgers:
Portion Black Bean Burger Mixture using scoop or using 1/2 cup Measure, onto plastic wrap. Using plastic wrap helps mold burgers and keeps them from sticking together when stacked.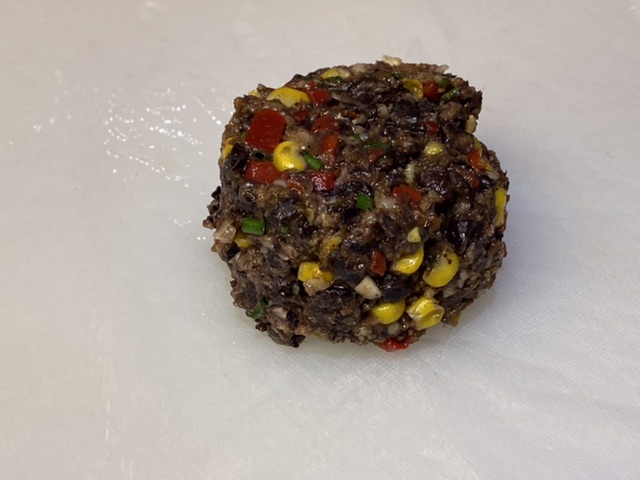 Try Air Fryer Wax Bean Fries: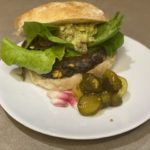 Griddled Black Bean Burger is great substitute for healthy plant based meat sandwich.
Servings

Prep Time

6

Servings

20

Minutes
Cook Time

Passive Time

8

Minutes

2

Hours
Servings

Prep Time

6

Servings

20

Minutes

Cook Time

Passive Time

8

Minutes

2

Hours
Griddled Black Bean Burger is great substitute for healthy plant based meat sandwich.

Servings

Prep Time

6

Servings

20

Minutes

Cook Time

Passive Time

8

Minutes

2

Hours

Servings

Prep Time

6

Servings

20

Minutes

Cook Time

Passive Time

8

Minutes

2

Hours
Sort through black beans picking any bad beans or debris out of the beans on tray.

Wash beans in colander or strainer. Be sure to drain off water.

Place in the black beans into instant pot, add Mexican Seasoning, and stock. Place lid on instant pot, make sure the steam valves is closed on older version instant pot. Note new instant pots don't have atomically closed. Set on beans button, or pressure high for 30 minutes.

After 30 minutes cooking open steam valve to remove excess steam. Open lid when steam releases stops. Be careful of steam it burns handle in instant. Give beans good stir.

Place beans onto sheet tray and bake in oven for 15 minutes or until moisture removed.

Notice that bean are dried out a little and have nice black color. Don't dry to be hard just so beans can mash nicely.

Place black beans into mixing bowl and mash with potatoes masher or meat mallet works well too. Mash to a meaty consistency. It's important to have some texture to beans.

Combine mashed black beans, bread crumbs, egg, Mexican Seasoning, peppers, garlic, chives, corn and optional mushrooms together.

Mixing the burger ingredients until mixture becomes slightly sticky. The black bean burger mixture needs to hold together. Adjust with bread crumbs if mixture becomes too sticky. If burger mixture too dry add bean cooking liquid or water, just enough for the burger mixture to hold together.

Scoop with half cup measure or number 8 scoop, of black bean burger mixture onto plastic wrap.

Fold plastic wrap over burger mixture and press into patty. Repeat this process until all black bean burgers are formed.

Let black bean burgers chill in the refrigerator for at least 2 hours to over night.

Place black bean burgers onto heated grill pan sprayed with oil over medium heat. Cooking on one side for 3 to 4 minute.

Flip the black bean burger with spatula and cook on other side until crisp light brown color. Note adjust temperature if the griddle becomes too hot and doesn't allow burgers to cook totally through. Remove burgers let rest on platter, covered with foil.
Plating Black Bean Burgers
Cut bun in half horizontally, lightly toast bun on griddle. Place bun onto plate open, on bottom slice put special sauce or mustard. Then place black bean burger on top of the bottom bun. Next arrange leaf lettuce over black bean burger, then place good dollop of guacamole. Finally place top bun to complete sandwich.

Garnish plate with radishes slices and sweet pickles. Enjoy

Alternative is to top black bean burgers with cheese and sriracha sauce, guacamole. With side of Mexican corn, nice way to have bread less dish.
Nutrition Facts
Air Fryer Black Bean Burger
Amount Per Serving
Calories 488
Calories from Fat 90
% Daily Value*
Total Fat 10g 15%
Cholesterol 32mg 11%
Sodium 1363mg 57%
Potassium 787mg 22%
Total Carbohydrates 83g 28%
Protein 17g 34%
* Percent Daily Values are based on a 2000 calorie diet.
Hits: 654
Griddled Black Bean Burger