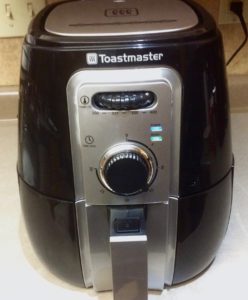 Using a Air Fryer can greatly reduce the fat in foods, this is accomplished by the latest kitchen tool. The Air Fryer uses creative way in harnessing power of convection action of hot air, commonly used with convection ovens. The beauty of this new gadget is circulating very hot air in a small space in a very special design to maximize it's efficiency.
The possibilities of uses for Air Fryer is endless, it's like having a "Mini Me Convection Oven". It has its limits, the amount of food that you can put into it's basket to cook. The Air Fryer pictured has only two and half quart capacity basket. This doesn't me you can put two and half quarts into Air Fryer and get great results, but reflects more on the space of fryer basket. I found that placing one to two size small servings gets best result quickly. So this size of a Air Fryer works well for one to two people. Larger families will need a extra large Air Fryer, which can go up to a five quart basket. These type of Air Fryers wattage is important too, the XL models often go up to 1800 watts which is the maximum power for most kitchen tools. Air Fryer prices range from just under $100 up to $500. The cheaper ones often have many reviews that state the non stick comes off the baskets quickly. Sadly most all of small electronic appliances are made in China these days, they often use lower quality parts to meet the price point. So if your going to be an occasional user of Air Fryer the $100 ones will be fine. If you plan on using Air Fryer every day, I consider purchasing more expensive one. I always look at the reviews see what other people think of that product. The key to successful Air Frying is not overloading fryer basket, and stirring fries or turning chicken pieces over, half way through process for best results.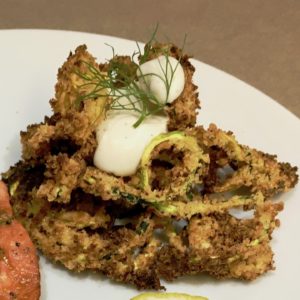 One of the more popular Air Fryer foods is Zucchini Fries, they are lower in carbohydrates and only needs a very small amount of oil to achieve crispy fries. Check out my blog on Zucchini Fries, they are addictively good with some low fat Ranch Dressing.
The Air Fryer also does a wonderful job in the preparation making fish, a good substitute for pan frying fish or broiling fish. I have Air Fried salmon with wonderful results. It comes out perfectly in about 10 minutes at 400°F setting. With a dollop of Ranch Dressing and a sprig of dill it tastes outstanding.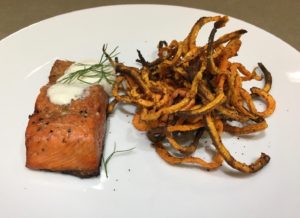 I love sweet potatoes these are one of my all time favorite starches. How do you make sweet potatoes into really good crispy fries? I used spiralizer larger blade to make sweet potatoes into curly fries, which will make them nice and crisp when using the Air Fryer. It only takes a few sprays of food release spray, to achieve good crispy texture. Caution don't Air Fry sweet potato fries too long, only 10 minutes max at 400°F. The sweet potato fries are crispy, golden brown with some edges dark brown and nice and sweet. My favorite way is to dip them in low fat Ranch Dressing. The recipe to make Sweet Potato Curly Fries Air Fried. The Air Fryer Salmon is so good and healthy way to make salmon filets. Topped with Garlic Lemon Dill Yogurt or Low Fat Ranch dressing will make you yummy tummy happy and healthy too.
The Air Fryer could very well be the greatest kitchen gadget, why because you didn't have to heat up convection oven, easy clean-up and most of all it's turbo charging convection air process. Depending on capacity of the Air Fryer, they are not much larger then a slow cooker or new electric pressure cookers.  So start frying with far less oil then deep-fat fryer and eat healthier too. More recipes to come as I continue to Air Fry more foods.
Hits: 503