Chicken Breast en papillote (paper parcel):
Chicken breast en papillote is extremely easy and tasty way in which to prepare a chicken breast. The paper parcel technique keeps the meat very moist and tender. The key to this is using parchment paper, sealing in the nutrients and holding moisture into the food. But still getting the benefit of dry heat cooking. To make paper parcel cut 24 inch length parchment paper, then fold in half. Trim the parchment paper to form heart shape.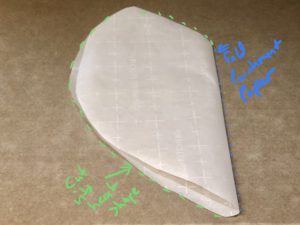 The beauty of this cooking method is the easy clean up that can be prepped in advance for quick preparation. Bake the Chicken Breast en papillote in 400 degrees oven for 20 to 25 minutes depending on chicken breast size and amount. Be sure to use instant read thermometer to check the internal temperature of chicken breast. The chicken breast needs to be cooked to 170°f internal temperature. Timing of cooking is only guide line. The amount of vegetables and size of chicken breast will determine cooking time along with oven temperature.
Trim chicken breasts: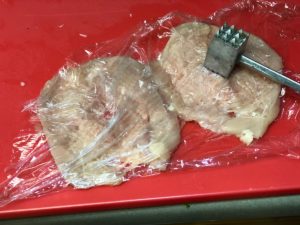 The chicken breast that I was using was so thick that they needed to be butterflied and pounded with meat mallet. A simple trick use plastic wrap over chicken while you pound the breast flat. Be careful not to pound too hard and punch holes into chicken breast. The goal is just to flatten breast and slightly tenderize breast. This also increase surface area for the chicken to cook quickly.
Keeping the carbohydrates to minimum: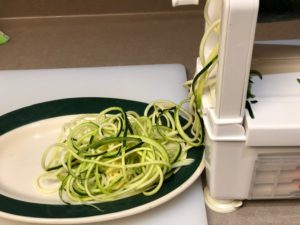 The goal is to reduce carbohydrates by using zucchini that has been spiralized. The zucchini spirals is wonderful replacement to spaghetti noodles. To build supporting flavors by adding some onions, sweet peppers and cherry tomatoes complements the Italian profile.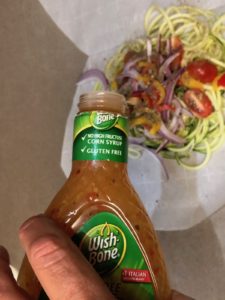 Adding some Wish Bone Fat-free Italian dressing to season vegetables and chicken boosts flavors and without sacrificing too many calories. The key to building successful flavors is to build layers seasoning each layer. Using Wish Bone Fat-free Italian Dressing works very well only 15 calories per serving. This keeps the whole process simple and very flavorful. Pouring only 1 tablespoon of dressing over the vegetables works wonders.
Chicken Breast en papillote (foil parcel):
The foil parcel chicken breast perfect for grilling without a big mess of grilling and not heating up kitchen. By using foil will have less chance of having over cooked chicken. By grilling at about 350 degrees indirect heat techniqe for about 25 minutes.
Trim and remove excess fat and skin from chicken breasts and butterfly with knife.

Tenderize chicken with meat mallet (optional) This reduce cooking time by making chicken breast thinner. Do not over pound out chicken breast just flatten some. Place chicken in zip lock bag and pour the Italian Dressing over chicken. Marinate for 15 to 20 minutes.

While chicken is marinating in Italian Dressing peel and slice onion, spirlized zucchini or slice. Remove stem and seeds from sweet pepper then slice. Wash and halve the cherry tomatoes.

For each package cut 24 inch strip of foil. Spray one side of foil with vegetable spray. Optional use 24 inches of parchment paper spray with vegetable spray.

Spray foil or parchment paper with vegetable spray.

Place foil or parchement paper with vegetable spray side up on clean counter. Next layer onions, zucchini, sweet peppers on top of sprayed foil stip right in center of foil. Season vegetable with salt and pepper. Optional herb seasoning like Italian Herb Blend.

Next place chicken breast on top of vegetables and garnish top of chicken with cherry tomato halves. Drizzle a little extra Italian Dressing over all food.

Foil the foil over vegetables and chicken to make a backage crimping foil to seal

Bake in 375 degree oven for 30 minutes or until internal temperature is 170 degrees. Note this is important that you cook chicken to 170 degress to be safe. Note the baking time is just estimating, depending on the amount of vegetables thickness of meat and type oven baking will determine cooking time. A convection oven or air fryer will be faster then conventional oven and some toaster ovens. I would advise checking internal temperature of chicken breast.

Optional Grilling Chicken Package, suggest grill temperature of 350 to 375 indirect heat. So if you have gas grill turn burner on side of grill and place Chicken Backage on the other side of grill and shut the lid. This could take a little longer might be 45 minutes but flavor wonderful. The last 10 minutes could be uncovered to give more Smoky flavor.

Carefully remove chicken breast from foil package onto plate and arrange vegetables around chicken in attractive manner. Enjoy. Just dispose of foil that food cooked on with very little clean up.

Plated Chicken Breast en papillote.
Hits: 819
Chicken Breast en papillote