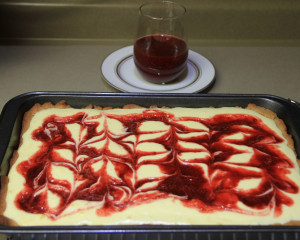 June is when the strawberries are so fresh and flavorful, they are perfect for making all types of desserts and salads. One of my favorite desserts is cheesecake, coming from Wisconsin where cheese was a whole way of life for me, why not put together both available fresh strawberries and my love for cheese. There is a vast amount of strawberry cheesecakes, but how can I make them even better? The answer is the ability to cut them into many portions in a easy manner, not necessarily using the classical wedge shape cut, from a spring pan mold. Making this recipe using a sheet pan which could be cut into many portions quickly and still look like a tasty cheesecake.
To make a better creation, a good starting point would be the crust. a key important part of a wonderful cheesecake. Classic cheesecake uses a graham cracker crust, so why not make your own graham crackers.  Again my light bulb of ideas comes on, make a graham cracker cookie crust, using traditional ingredients in making a graham crackers but adapt it into a cookie. By pressing this cookie dough mixture onto sheet pan and bake, will be the makings of a wonderful base for the cheesecake bars.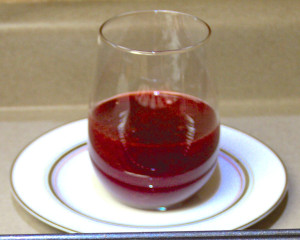 The strawberry swirl is a key flavor building part to the cheesecake bar. By smashing the fresh berries, adding just enough sugar to extract natural pectin, with just enough lemon juice to balancing acidic flavors makes a perfect flavorful swirl to put into cheesecake. Cooking the strawberry jam to just the right amount of time, to achieve perfect consistency. I suggest testing it with a chilled bowl on a ice bath, to achieve the perfect viscosity, the jam should mound just right on a spoon. Depending on ripeness of strawberries, you might have to use some pectin powder to provide extra thickening power. I also found by adding strawberry concentrate this boosted flavor and color too. This provided strawberry swirl more color, flavor the boost but didn't compromise flavor profile of the jam.
For the cheesecake following a classic formula for most cheesecakes, using cream cheese, eggs, sugar, sour cream and vanilla to get that perfect creamy and tangy flavor. Using a food processor to make perfectly smooth cheesecake mixture in just minutes, the only drawback is amount of cheesecake batter make in at one time is limited to size of the processor. My 14 cup processor will do a half sheet pan, in one mixing that only takes 90 seconds to process. Coming out perfectly smooth every time without over whipping too much air into the cheesecake mixture.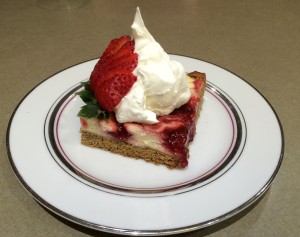 The strawberry swirl cheesecake bars is a two stage process, first make the graham cracker cookie base, which takes about 20 minutes. Then pouring cheesecake batter to cover the whole pan with about three quarter of an inch of filling. Next is to pour the strawberry swirl filling by drizzling back and forth over cheesecake filling. Following up by running a toothpick through cheesecake filling and strawberry swirl to create the desired artistic design. Then finish baking until cheesecake bars are cooked perfectly about 30 minutes in 350° oven. Making one very tasty cheesecake bar that can be cut into lot's of wonderful mouth watering portions.
---
Strawberry Cheesecake Bar Recipe: Yield 18 portions
Ingredients:
CRUST:
2 cup whole wheat flour
½ cup ounces all-purpose flour
⅓ cup ounces brown sugar
3/4 teaspoon aluminum-free baking powder
1/2 teaspoon baking soda
1/2 teaspoon kosher salt
1/8 teaspoon ground cinnamon
3 ounces unsalted butter, cut into 1/4-inch cubes and chilled
2 tbsp molasses
3 tbsp honey
1 1/2 ounces whole milk
1/2 teaspoon vanilla extract
CHEESECAKE BAR FILLINGS:
16 oz cream cheese, softened
2 large eggs
⅔ cup sugar
⅓ cup sour cream
½ tsp salt
1 tsp vanilla extract
STRAWBERRY SWIRL:
1 qt strawberries, cored & mashed
1 cup sugar
1 teaspoon lemon juice
2 tbsp strawberry concentrate
GARNISHING:
18 medium strawberries
2 cups Whipped Cream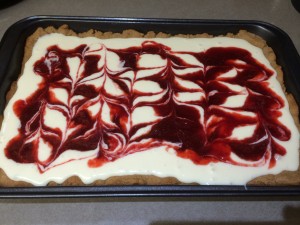 Directions:
Place both flours, sugar, baking powder, baking soda, salt and cinnamon into the bowl of a food processor and pulse several times to combine.
Add the butter and pulse until the mixture resembles cornmeal. Add the molasses, honey, milk and vanilla extract and process until the dough forms a ball, approximately 1 minute.
Press the dough onto greased 9 by 13 sheet pan and poke with fork to prevent bubbling up of crust.
Bake in 350°F oven for 10 minutes, or until crust set. Remove from oven and cool.
Mean while combine, strawberries, sugar, lemon juice, strawberry concentrate and bring to boil in heavy duty saucepan, stirring often to prevent scorching. Smash strawberries as they cooked with heavy wire whisk or potato masher.
Continue cooking until mixture thickens about 10 to 15 minutes. Check consistency by place strawberry mixture into bowl chilling on ice bath. If strawberry jam mixture is very thick and holds it shape like thick jam it's ready to be cooled.
Next make the cheesecake mixture by processing the cream cheese, and sugar until creamy about 45 seconds, continue running processor adding one egg at at time until smooth. Add to mixture vanilla extract, salt and sour cream process for 45 seconds until smooth, scrap side and bottom of processor and continue processing for another 30 seconds. The cheesecake batter should be very smooth and creamy.
Pour the creamy cheesecake batter over the top of cooled graham cracker cookie crust spreading cheesecake batter evenly over the sheet pan.
Swirl the prepared strawberry jam over cheesecake batter making attractive patter. Then take toothpick and drag through cheesecake batter and strawberry jam swirl to create fancy swirl design.
Bake strawberry cheesecake bars for 25 to 30 minutes in 350°F oven or until toothpick comes out clean. Remove from oven and cool on cooling rack for 1 hour. Refrigerate for 4 to 12 hours before cutting into portions.  3 by 6
Garnish with whipped cream and strawberry fan.
Hits: 818