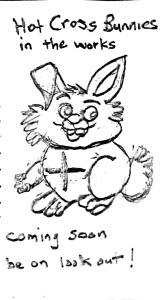 Good Friday is hear, the aroma of Hot Cross Buns filling my memories of Mom making these tasty fruited sweet rolls every Easter. This was a tradition that was shared with family all through my youth, which sparked the thought do I still have her recipe? Searching all over my Mom's recipes there was nothing to be found. How can I duplicate that wonderful smell and taste I remembered so well.
Researching the internet and making a few trips to the library, looking for that best recipe. I found some similarities and sound techniques in making these specialty rolls. All the recipes had dried fruits, many called for dried currants or raisins. In this recipe I chose to soaked the dried fruits in Apple Brandy, for at least 2 hours to infuse the flavor and soften the fruits.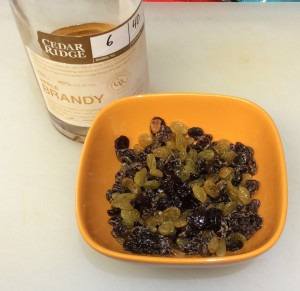 Another commonly used ingredient was the flavoring of the rolls, all had used cinnamon, nutmeg and some used cloves. Hot Cross Buns traditionally is a rich sweet dough which means sugar, eggs and butter, the key factors in duplicating my Mom's rolls.
The final consideration what is the best technique in mixing the rolls? Being a rich sweet dough with lots of dried fruits the sponge technique would be an excellent choice. Developing good yeast growth for a better and quicker rise, producing a much more lighter and fluffier roll.
The classic finishing of the roll has a cross mark cut across each roll then has a distinguished garnishing with flat icing. "By George, I think I have it!" "I will be back!!" More recipes in using Hot Cross Buns and will it be able to beat Chocolate Babka?
Hot Cross Bun Recipe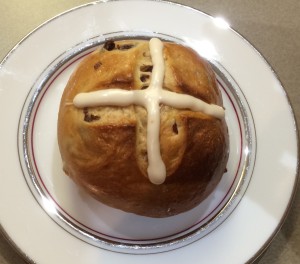 Ingredients:

Dough:
1/4 cup Apple Brandy
1/2 cup mixed dried fruit
1/2 cup golden raisin
1 1/4 cups milk, 100°F
2 cups King Arthur Bread Flour
1 teaspoon sugar
3 teaspoons dry active yeast
3 large eggs, beaten
6 tablespoons butter, room temperature
1/4 cup honey
1/4 cup light brown sugar, firmly packed
1 teaspoon ground cinnamon
1/4 teaspoon ground cloves
1/4 teaspoon ground nutmeg
1 3/4 teaspoons salt
2 1/2 cups King Arthur Bread Flour
Egg Wash:
1 large egg
1 tablespoon milk
Icing:
1 cup + 2 tablespoons confectioners' sugar
1 tablespoon, drained liquor from dried fruits
4 teaspoons milk, or enough to make a thick, pipe-able icing
Directions:
Soak in small bowl dried fruits, raisins with brandy covered with plastic wrap for 2 hours.
Hydrate dry active yeast with warm 100°F milk and 1 teaspoon of sugar. This should take about 2 to 5 minutes to get yeast really activated.
Make a sponge dough with activated yeast mixture, first amount of bread flour, mixing until dough is formed. Cover dough and let rise for 1 hour.
Drain dried fruit reserving liquid off fruit, to make flat icing.
To make the Hot Cross Bun dough mix together in mixer bowl the sponge mixture, three eggs, honey, brown sugar, cinnamon, nutmeg, ground cloves, salt and second amount of bread flour. Mix with hook attachment on stand mixer on medium low speed for 10 minutes.
Add the drained fruit and mix on low speed until incorporated, add some additional flour if needed to combine fruit into dough. Cover with plastic wrap and let rise until double in volume, about 1 1/2 hours.

Proofed Hot Cross Buns with cut cross markings

Cut into 14 equal pieces about 3.5 ounces each. Shape into round balls by hand. Place on greased sheet tray and cover with plastic wrap. Allow to rise for about 1 hour or until double in size. Cut a cross on top of each bun. Brush with mixture of 1 egg and 1 tablespoon milk.

Cool on wire rack. Mix together powdered sugar, milk and reserved liquid from fruit, to make flat icing. Place flat icing in zip lock bag, cut small hole in corner of bag.
Cover after icing has set with plastic wrap. These rolls should be good for 3 days. Freeze for up to a month in tight container.
Hits: 392