Whole grains are so important in your diet, all to often we forget about oats and it's healthy properties. Thinking about oats brings memories of porridge that was cooked with rolled oats, milk or water. It was so thick, not very tasty, the only way I could get a whole bowl down was lots of raisins, topped with mounds of brown sugar and a chunk of butter then drizzled with cream. So much for eating a healthy breakfast, but with all those extra toppings it tasted pretty good. Now what can be done to make this whole grain taste good, without having to add so many carbohydrates and fats so it would be palatable.
One of my most favorite recipes using rolled oats, is Buttermilk Oatmeal Pancake with Applesauce Topping. I love this recipe because of it's sustainable energy, keeping you powered up for hours. Where a simple bowl of cereal might last one hour and your hunger pains start up again. Why is this recipe so good? Because there are more complexed carbohydrates, which releases more energy over time, which is perfect for a long day of hard work. I highly recommend this recipe because it simply can be mixed in a blender for 10 minutes or less, using just common ingredients.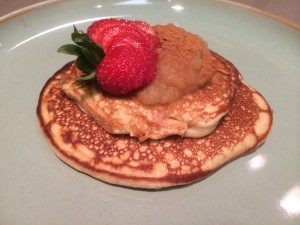 Buttermilk Oatmeal Pancakes with Applesauce Topping
Ingredients:
1 cup Old Fashioned Quaker Oats
1/2 cup King Arthur White Whole Wheat Flour
4 tbsp Buttermilk Powder
1 tsp Baking Powder
1/2 tsp Baking Soda
1/4 tsp Cinnamon, ground
1 dash Nutmeg
1 dash Cloves, ground
1 tbsp SPLENDA® Sugar Blend
2 tbsp Canola Oil
1 large Egg
1 cup skim milk
8 oz Applesauce, unsweetened
1/4 tsp Cinnamon, ground
6 pkts SPLENDA® No Calorie Sweetener, Packets
Directions:
Blend in Vitamix blender the Old Fashioned Quaker Oats, King Arthur White Whole Wheat Flour, buttermilk powder, baking powder, baking soda, cinnamon, ground cloves, ground nutmeg and Splenda Sugar Blend on medium high speed until oats is ground into a flour consistency about 60 seconds.
Add to the dry ingredients mixture the canola oil, egg and skim milk. Then blend for 30 seconds on medium speed. Scrape down ingredients with a spatula and blend again for 30 seconds until all is well combined.
Heat griddle to 325°F, coat the griddle with oil spreading oil evenly of griddle. Pour 1/2 cup pancake batter onto the griddle and cook until bubbles start forming. When a good golden brown color forms on the bottom of the pancake, then flip over and cook the other side until firm.
Hold the cooked pancakes on a sheet tray in a warm oven as you finish making the remainder of the pancakes.
Mean while in a small mixing bowl combine the applesauce with splenda sweetener and cinnamon, stirring thoroughly.
Serve 2 warm pancakes with 4 oz of applesauce topping and garnished with fresh berries.
Note that 2 buttermilk oatmeal pancakes with applesauce topping is about 7 weight watcher points.
References:
Quaker ® Oats Old Fashioned http://www.quakeroats.com/products/hot-cereals/old-fashioned-oats.aspx
King Arthur White Whole Wheat Flour http://www.kingarthurflour.com/shop/items/king-arthur-white-whole-wheat-flour-5-lb
SPLENDA® No Calorie Sweetener, Packets https://www.splenda.com/products/packets
SPLENDA® Sugar Blend https://www.splenda.com/products/sugar-blend
Vitamix https://www.vitamix.com/shop/C-Series.aspx
Hits: 383