Is it time to use up those freshly picked tomatoes? Then it's time to make some Cream of Fresh Tomato Soup. Campbell Tomato Soup move over, for this fresh tasting creamy soup, that doesn't take too much time to make. Better yet a nicely grilled cheese sandwich to accompany this classic soup. This recipe should get those tastebuds going in a tasty snap.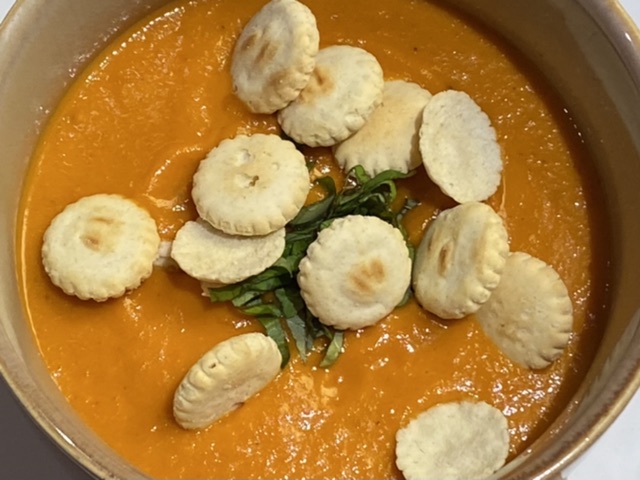 Processing fresh tomatoes:
Processing fresh tomatoes doesn't have to be labor some. Having the right tools really helps, here are a few essential tools that make fresh tomato processing a snap.
Tomato Shark to remove core of the tomato.
Sharp knife to do basic tomato cutting.
Boiling water in 2 to 4 quart saucepan blanch tomatoes and to make the soup.
Spider or slotted spoon to remove tomatoes from boiling water
Food processor with knife attachment or VitaMix Blender my favorite processor
Good large cutting board that's NSF certified
Disposable Vinyl Gloves
Wire Whisk
High Temperature Silicon Spatula
Fine mesh Strainer help keep Soup nice and Smooth.
Making Tomato Soup Base:
After time spent pressing fresh tomatoes into puree, this mixture needs to infused with flavor. Start this process by cooking tomato puree with bacon bites, onions, carrots, celery and garlic. By simmering this tomato soup base mixture for good hour turns it into wonder soup base. Then after cooking process it needs seasoning adjustment, start by adding salt, sugar and pepper. If the flavor profile still needs a little extra boost add some chicken base and cayenne powder for extra zip. Optional flavor enhancement add some chopped fresh basil to soup base.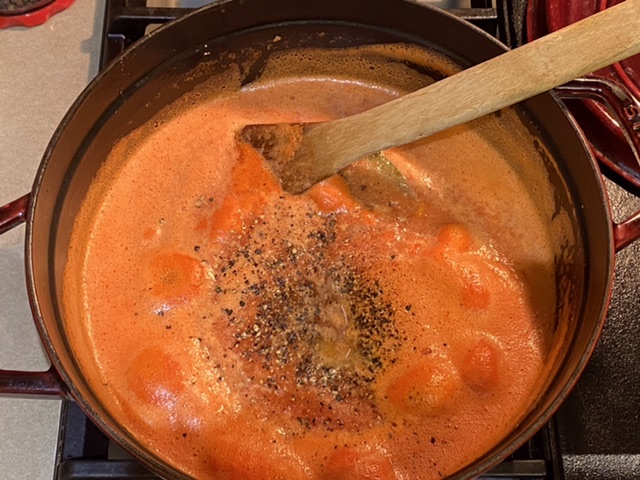 The final step is to process this soup base again in blender until smooth texture. Then this tomato soup base can be poured into sterilized canning jars, processed in a hot water bath for 15 to 20 minutes to achieve a good seal. Now Tomato Soup Base is good to make your own hot soup when needed. All that is needed is adding some cream or whole milk to soup being careful not to over heat 165°F. Adding dairy product to tomato soup base which is acidic will curdle milk proteins easy if heated too high. Enjoy soup with fresh sprigs of dill or chiffonade basil leaves.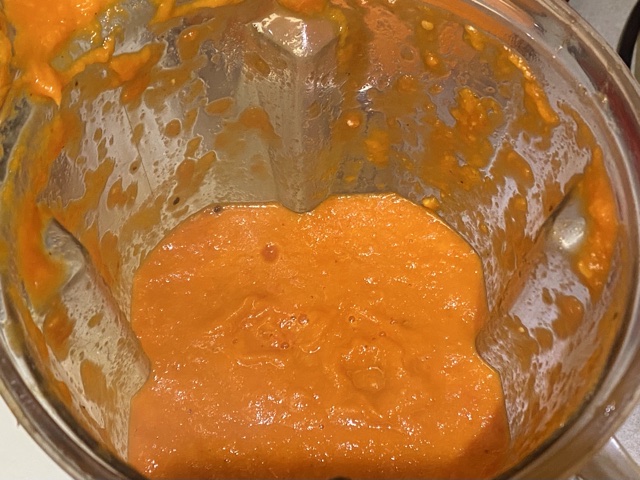 It's Tomato Soup Time:
Making a wonderful tasting soup from Tomato Soup Base is very simple task. Opening up jar of homemade tomato soup base and heating gently over low heat. Is key to successful cream of tomato soup not to get the base soup over 165°F. Then adding warming milk or cream to same temperature 165°F and adding to tomato soup base. This process is tempering to ingredients so soup doesn't curdle. Key to having nice cream texture that is smooth with no flex of dairy protein in the soup. Now to enhance the flavors by adding herbs like dill weed or fresh basil. Another good addition is sharp cheddar cheese, with some American Cheese to keep soup nice and smooth.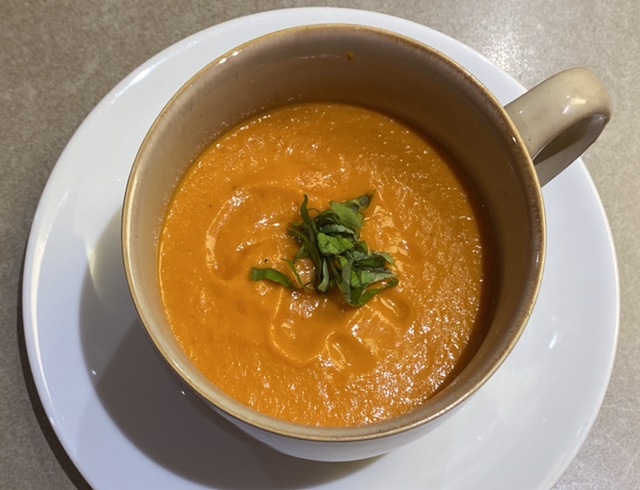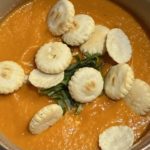 Fresh tomato soup made with homemade tomato soup base and heavy cream enhanced with fresh basil and lots of soup crackers.
Servings

Prep Time

8

servings

2

hours
Servings

Prep Time

8

servings

2

hours
Fresh tomato soup made with homemade tomato soup base and heavy cream enhanced with fresh basil and lots of soup crackers.

Servings

Prep Time

8

servings

2

hours

Servings

Prep Time

8

servings

2

hours
Wash, remove core and peel tomatoes. Then process tomatoes in blender for about 30 seconds, to course puree.

Chop onions, carrots, celery, mince garlic, and dice bacon strips.

Heat heavy duty pot add bacon and cook until the bacon is crisp. Remove some of the excess bacon fat.

Add the minced garlic and cook until fragrant.

Add the chopped onions, carrots and celery to cooked bacon. Cook aromatics until tender about 5 minutes on medium heat.

Add the course puree of fresh tomatoes to cooked aromatics. Bring tomato soup base to boil. Reduce heat to low boil.

Add salt and black pepper to cooking tomato soup base. Continue cooking.

Add tomato paste stirring well into the tomato soup base, continue cooking for 5 minutes. Adjust seasoning with salt, pepper and Turbinado sugar.

Blend tomato soup base in VitaMixer or blender until smooth. Pour pureed tomato soup base back into heavy duty pot.

Bring the puree tomato soup base back to boil.

Pour tomato soup base into sterilized jar seal with sterilized lids and rings. Process in hot water bath for 15 to 20 minutes to get good seal. Store in cool dry place with low light.
Finishing Cream of Tomato Soup:
To make cream of tomato soup heat the tomato soup base in sauce pan to 165°F. Warm heavy cream to 165°F then add to warmed tomato soup base. Stirring until combined to warm creamy soup. Do not over heat it will curdle. Keep cream of tomato soup about 165 to 170°F.

Add favorite add-ins like fresh basil, fresh dill or cheddar cheese. Garnish with sprigs of dill weed or basil.

Top cream of tomato soup with soup crackers and enjoy.
Hits: 185
Cream of Fresh Tomato Soup