Hungarian Goulash is perfect cooler weather comfort food. This Goulash is similar to beef stew but has a rich red sauce made with lots of paprika. This recipe used Leutschauer Pepper from garden that dried and ground into a bright red powder. The flavor and color of garden fresh chilies makes big difference from store bought brands of paprika. The paprika is used to make a special vegetable paprika roux with oil and flour, giving the Goulash a deep red color and flavor.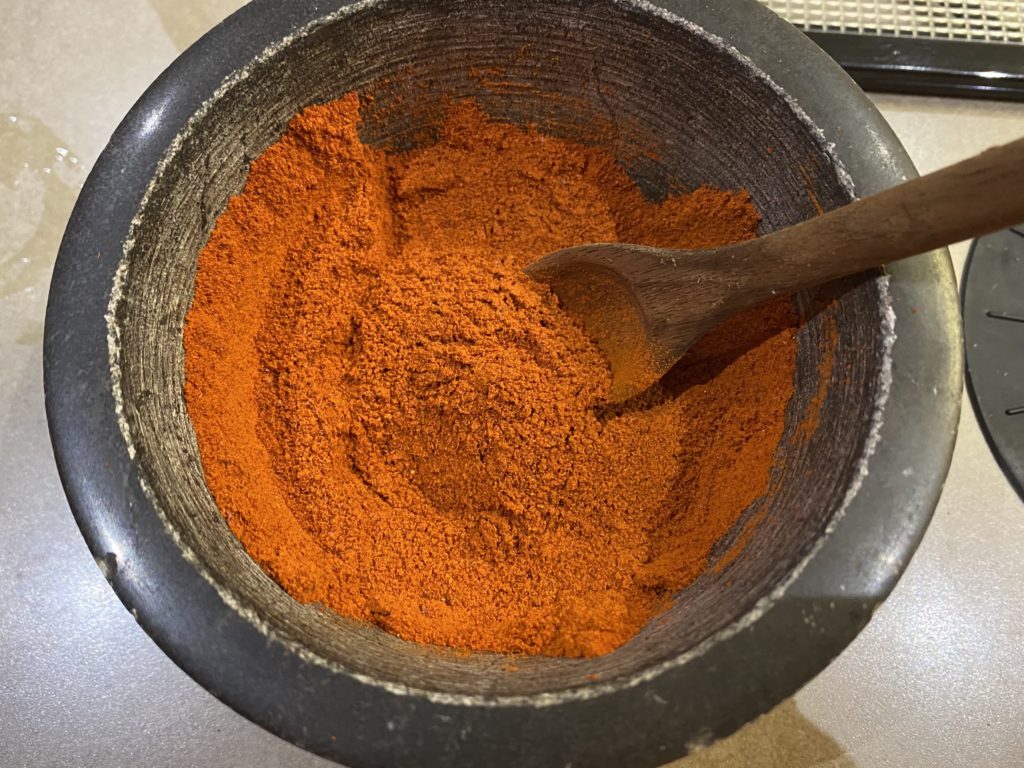 Finding the right pepper for Hungarian Goulash:
Planting over 3 different varieties of peppers from Pepper Joe's the Leutschauer Pepper had best yield and flavor. Their large bright chilies dried and ground into beautiful bright red color, full of flavor perfect for a Goulash.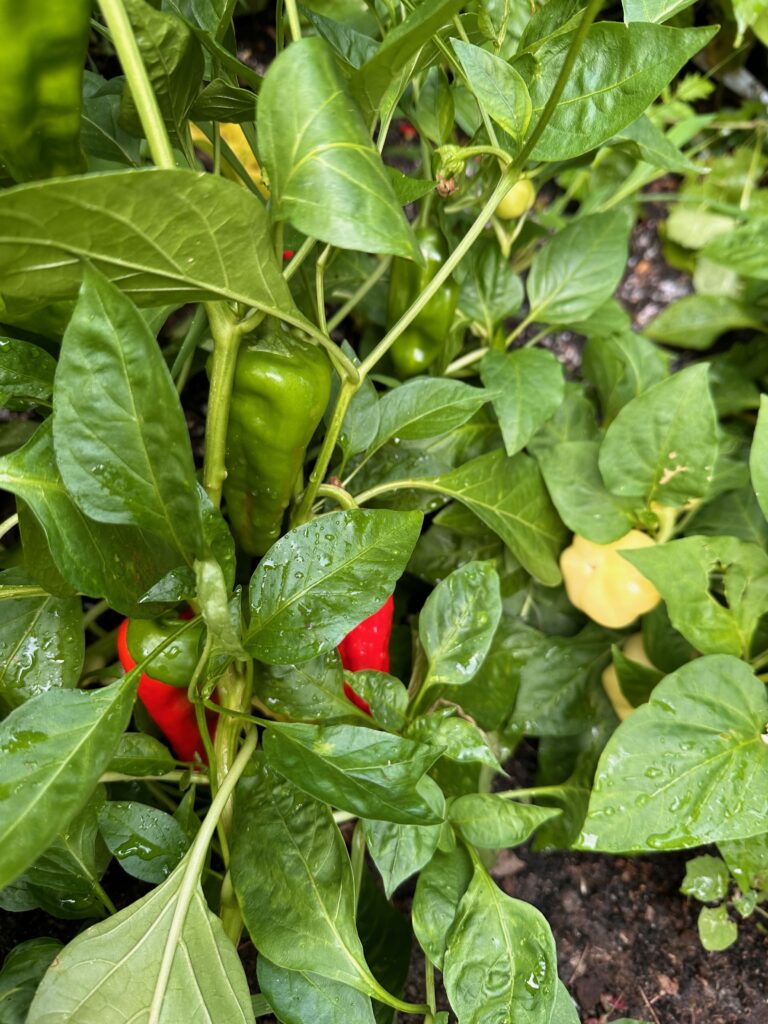 Hits: 8
Description
Hungarian Goulash made from homemade paprika, lean beef chunks, carrots, celery, onions, and potatoes slow cooked for hours. Red rich beef stew.
Goulash Ingredients:
Garnish
Hungarian Goulash
Meat Preparation
Cutting & Seasoning Beef

Cut lean beef chuck or bottom round into 1 inch cubes. Season with kosher salt and fresh ground black pepper.

Seasoning the beef cubes with kosher salt and fresh ground black pepper for 5 minutes before start searing the meat.

Browning beef cubes in dutch oven

Heat the dutch oven with some canola oil until the oil starts to smoke. Then add the beef cubes evenly distributed.

Turn beef cubes over to brown on all sides. Then remove beef and place into holding bowl. Set aside until needed.

Add extra canola oil, paprika, flour, to dutch oven. On medium heat stir ingredients together start cooking spice and flour mixture.

Cook the spice flour mixture for good 2 to4 minutes. Adjusting heat so spice flour mixture doesn't burn.

It's important to stir often the mixture as it cooks. Watching closely the paprika with flour will burn easy. So adult heat as needed to prevent burning.

Add the onions, celery and carrots to spice flour mixture, right after flour mixture cooked out about 4 minutes.

Stir the vegetable well to evenly disturbed vegetable with spice flour mixture.

On medium low heat cook the vegetable mixture for about 4 minutes. Stirring often to prevent burning.

It's important to stir constantly the vegetable and spiced flour mixture. The paprika burns easy, so watch carefully if starts to burn turn down heat to low.

Add the beef to the vegetable and spice flour. Stir the browned meat into mixture so evenly distributed.

After beef cubes are evenly distributed add stock and stir the goulash.

Add the bay leaf to goulash.

Stir the goulash to evenly distrusted and increase heat to medium low. Bring to simmer.

When the goulash is to nice simmer cover with lid and cook for about 3 hours.

It's important to stir once and while checking that goulash doesn't scorch. Adjust heat if need

The Hungarian Goulash is finished cooking when becomes nice and thick stew like consistency. Adjust the seasoning with salt and pepper. 

Caution don't over salt as the goulash cooks the liquid evaporates thous becomes more salty.
Plate and Garnish
Place about 1 to 2 cups of Hungarian Goulash into  wide rimmed bowl. Garnish with dollop of sour cream. Top sour cream with dill

If you have fresh dill sprigs works best as garnish. But dill weed will do to give extra flavor to overall dish.
Hungarian Goulash, homemade paprika, cooler weather comfort food