There's nothing like Bacon wrapped chicken with broccoli Swiss Cheese combination for dinner. This classic combination is a winning favorite based on chicken cordon blue concept. Rather then ham and cheese stuffed chicken, the bacon wrapped around chicken stuffed with broccoli and Swiss Cheese. By wrapping bacon around chicken replacing the three step breading that traditionally goes on Chicken Cordon Blue. Then replace ham with blanched broccoli florets and sliced Swiss cheese filled chicken breast. Sounds hard to do but really not any harder then making Chicken Cordon Blue.

Why wrapping bacon around chicken breasts?
Bacon is perfect moisture barrier to maintain juicy flavorful chicken breast as it is being cooked. Use thinly sliced bacon so as chicken breasts cooks the bacon becomes nice and crispy. Towards the end of the cooking process increase the cooking temperature to a higher heat. If using a Air fryer start at 350 degrees for 15 minutes, then set to 400 degrees for 5 minutes to crisp the bacon. Suggesting brushing bacon with maple syrup mixture to give the bacon wrapped chicken broccoli Swiss Cheese a glossy golden brown look.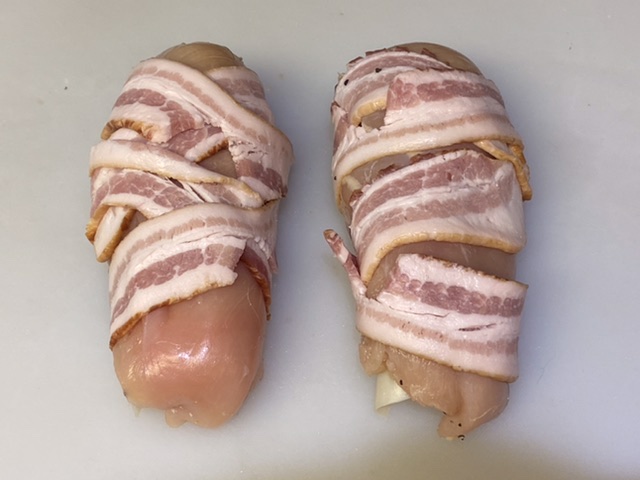 Butterflying Chicken Breasts:
Boneless Chicken Breasts need to be trimmed and butterflied. The chicken breasts need to be big enough to wrap around the broccoli and Swiss Cheese. Using a boning knife to split chicken breast through middle almost all the way through leaving just enough chicken in tact. Then open split breast open like butterfly, cover with plastic wrap. Next pound chicken breast with meat mallet to flatten breast evenly. Caution not not to pound chicken too hard punching holes into meat.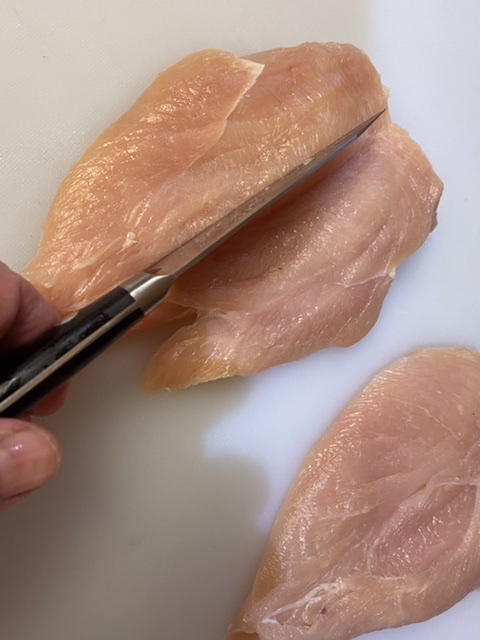 Something to go with Bacon wrapped Chicken with Broccoli Swiss: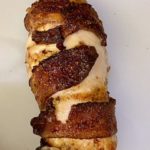 Bacon wrapped around chicken breasts filled with broccoli and Swiss Cheese, perfectly cooked in air fryer. It's like Cordon Blue and Marco Polos combined together.
Servings

Prep Time

2

Portions

20

Minutes
Servings

Prep Time

2

Portions

20

Minutes
Bacon wrapped around chicken breasts filled with broccoli and Swiss Cheese, perfectly cooked in air fryer. It's like Cordon Blue and Marco Polos combined together.

Servings

Prep Time

2

Portions

20

Minutes

Servings

Prep Time

2

Portions

20

Minutes
Cut broccoli into small florets, trim excess stem off each floret.

Bring 1 quart water to boil in saucepan, put the trimmed broccoli florets into boiling water. Cook florets for about 2 minutes until broccoli bright green. Remove broccoli florets immediately onto plate too cool.

Trim chicken breasts remove all excess fat and cartilage. Next butterfly chicken breasts through middle of breast opening like butterflies wings.

Place plastic wrap over butterfly chicken breasts and pound out with meat mallet. Pounding Breasts to even extra big size. Remove plastic wrap and discard.

Next grid black pepper over each breast evenly.

Sprinkle kosher salt over each breast evenly.

Place two thin slices of Swiss Cheese on top of each seasoned breast.

Next place 3 small par cooked broccoli florets over slices of cheese. Then roll chicken breast up to completely encased broccoli and Swiss cheese.

Place two strips of bacon underneath roll up chicken breasts.

Wrapping bacon in cress crossed manner around chicken breasts, to cover and secure bacon too be around stuffed chicken breasts. Sprinkle seasoning salt all over stuffed chicken breast.

Place stuffed chicken breasts into Air Fryer basket. Set the temperature to 350 degrees and timer to 20 minutes.

Open air basket at 15 minutes brush maple syrup over each breast. Check the internal temperature of stuffed chicken breasts. It should be near 160 degrees. Close basket back into air fryer and continue cooking, until timer goes off. Remove basket from air fryer and check internal temperature again it should read 165 to 170 degrees. Let rest in the basket for 4 to 5 minutes.

Place bacon wrapped chicken with broccoli Swiss Cheese onto cutting board. Cut stuffed chicken on bias in half, place on plate with seasoned rice. Pictured is curry rice with peppers and onions. Enjoy
Hits: 255