Air Fryer Chickpeas:
This a wonderful crunchy high protein snack full of flavor and has lots of crunchy texture. Using the Air Fryer to make these tasty snacks that's low in Weight Watcher Points and less expensive then buying store bought.
The recipe all starts by using dry garbanzo beans aka Chickpeas. The cost of pound of dry garbanzo beans is about $1 a pound. That's enough to make 2 to 3 batches of Air Fryer Chickpeas. But it does take a little time to make, but oh it's totally worth the extra effort. The recipe can be custom revised to your taste preference. This is concept recipe with almost infinite possibilities.
How to prepare Chickpeas:
The dry garbanzo beans need to be soaked for at least 1 hour. The recommendations is to soak the dry garbanzo beans overnight for best results. But they can be speed soaked by boiling them in water for 1 minute. Then covering the pot with lid and let the beans soak in hot water for hour, off the heat. Next drain soaking liquid from the beans and rinse with cold water to remove any excess starches. The beans are now ready to be cooked.
Cooking the chickpeas with stock is best flavor result, but just plain water with lots of seasoning will produce good results also. So no worries if you don't have stock, water will work fine. Just be sure to have over 1 inch of cooking liquid over the beans as they cook. The first round of Air Fryer Chickpeas used Cajun Seasoning and Bay Leave. This produced a slightly spicy and super crunchy chickpeas, but caution they then to burn quickly, because of the paprika in Cajun Seasoning.  Testing them out on fellow Weight Watchers some said they where way too spicy other totally love the spicy crunchy taste.
To speed up the cooking process by using Instant Pot set for 30 minutes saving a lot of time. Making cooking process of the Chickpeas aka garbanzo beans set-it and forget it task done in short order.
Using the Air Fryer to Fry the Chickpeas:
After the chickpeas are cooked they need to be fried in the Air Fryer. Set Air Fryer to 400°F or as high as your Air Fryer goes. Next set the timer for 12 minutes, place one batch of cooked seasoned chickpeas in Air Fryer and spray the cooked chickpeas with oil. I use EVO sprayer with canola oil, every pull of sprayer only sprays a quarter teaspoon of oil. Depending on size of Air Fryer and amount of chickpeas that you are going to fry 2 to 4 sprays is all you need to achieve crunchy texture. The reason for using a small amount of oil is that the oil acts as carrier of heat to chickpeas. This is why the chickpeas comes out super crunchy.
About half way into the Air Frying remove basket of Air Fryer and give the chickpeas a good shake. This moves chickpeas around so they brown more evenly. After 12 minutes test chickpeas they should be nice and crunchy. If they seem to have a little moisture, give them good shake and Air Fry them 2 to 3 minutes longer. Caution they do burn easy so don't air fry too long.
Wash dry garbanzo beans with cold water, then place in sauce pan and cover with cold water. Option is to cover beans and let soak over night at room temperature.

Or quick soak the beans by bringing the garbanzo beans to a boil for 1 to 2 minutes. Remove from the heat cover with lid and let rest for 1 to 2 hours.

Drain the soaking water from the garbanzo beans and place in Instant Pot. Add to Instant pot bay leaf and cajun seasoning.

Add enough water to cover the beans and seasoning with cold water. About 1 quart of water will is about perfect.

Place the lid on the Instant Pot and push the pressure cooking button. Set the time to 30 minutes by adjusting the plus and minus buttons on control panel. Adjust the valve on top of Instant pot lid to closed position. Make sure its set on High to do this press pressure level and adjust to high. Note it takes about 5 minutes to get up to full temperature before it starts the timer to cook.

Release the pressure from Instant Pot by adjusting valve on top of the Lid to open position. Keep your hand away from the steam that comes out of the valve. It's very hot and can burn your hand is second.

Drain off all the cooking liquid from Garbanzo Beans with strainer. Discard the bay leaf.

Place the drained Garbanzo Beans aka Chickpeas on paper towels to absorb excess water and dry out a little.
Air Fry Chickpeas aka Garbanzo Beans:
After Chickpeas air dry for 5 minutes place beans in bowl, add extra cajun seasoning, try 2 teaspoons first see if it's spicy enough to your taste. Adjust amount to your liking. Finally spray oil with EVO sprayer at least 4 times to coat all the beans well. Each spray is 1/4 teaspoon of oil. Shake the mixture well to get every beans coated well.

Put the seasoned Chickpeas into Air Fryer basket and place it into Air Fryer. Set Air Fryer to highest temperature 400°F. This is preset to French Fries. Set timer to 18 minutes using Plus and Minus buttons.

At about half way through the Air Fryer cooking remove basket from Air Fryer and give the basket good shake. This is important to move beans around to brown more evenly. When timer goes off check the Chickpea and see if they are Air Fried enough. Depending on Air Fryer it could take a little longer give it another 2 minutes.

Remove the basket from the Air Fryer and dump the Air Fryer Chickpeas onto sheet pan lined with paper towels to cool.

Transfer the Air Fryer Chickpeas top serving bowl or covered container. Enjoy them right away or store the Tasty Air Fryer Chickpeas in tight fitting sealed container. They will last a good week at room temperature. Mine never lasted more then a day because they where so good.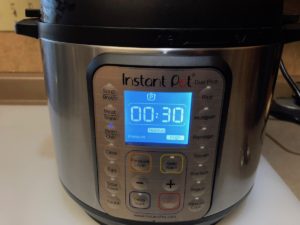 Note I used the Instant Pot to cook the Garbanzo Beans this works quickly and takes very little effort. It's a set it and forget it cooking. This frees you up to do other tasks.
Hits: 1370