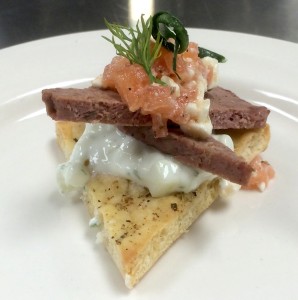 Terrines is a very classical European cold food, most commonly made with forcemeat cooked in a water bath using a narrow loaf pan. Over 32 years of making terrines, most students didn't care for the taste and textures. So the quest to find a terrine that everyone might like. The idea of Gyro Terrine was sparked by commercial on TV. Advertising Gyro's  I noticed they where not even using traditionally made Gyro Meat.
First question which comes to thought what goes into Gyro Meat? Is a Greek meat made into a cone shape consisting of ground lamb, spices and herbs grilled on spit, then sliced thin and served on pita bread with tomato salad and Tazatziki Sauce.
To transform this idea into a terrine need to establish the key component  which is the forcemeat. The dominate flavor profile needs to be lamb and and backed up with beef as a secondary component. Then seasoning the forcemeat with high quality greek spice mixture, some oregano, minced garlic, salt and pepper with very small amount of #1 curing salt.
Gryo Terrine Recipe:
Ingredients:
Gyro Meat: Terrine
1 medium onion, finely chopped
1 pound lamb, cubed
1 pound beef, cubed
1 tablespoon finely minced garlic
2 tablespoons Greek Seasoning
2 teaspoon dried oregano
2 teaspoons kosher salt
1/4 teaspoon TCM Curing Salt
1/2 teaspoon freshly ground black pepper
Tzatziki Sauce:
16 ounces plain yogurt
1 medium cucumber, peeled, seeded, and finely chopped
Pinch kosher salt
4 cloves garlic, finely minced
1 tablespoon olive oil
2 teaspoons lemon juice
5 to 6 dill sprigs, finely minced
Greek Tomato Salad:
2 medium tomatoes, peeled, seeded and finely diced
1/4 medium onion, peeled, finely diced
2 cloves garlic, minced
1 tablespoon Olive Oil
3 ounces Feta Cheese, crumbled finely
1 teaspoon Greek Seasoning
6 Pita Bread cut into 1/6ths
1 tablespoon Olive Oil
1/4 teaspoon Greek Seasoning
Directions:
1. Process the onion in a food processor for 10 to 15 seconds and turn out into the center of a tea towel. Gather up the ends of the towel and squeeze until almost all of the juice is removed. Discard juice.
Return the onion to the food processor and add the lamb, beef, garlic, marjoram, oregano, rosemary, TCM Curing salt, Salt, and pepper and process until it is a fine paste, approximately 1 minute. Stop the processor as needed to scrape down sides of bowl.
To cook in the oven as a meatloaf, proceed as follows:
Preheat the oven to 325 degrees F.
Place the mixture into a terrine pan, making sure to press into the sides of the pan. Place the loaf pan into a water bath and bake for 60 to 75 minutes or until the mixture reaches 165 to 170 degrees F. Remove from the oven and drain off any fat. Place the loaf pan on a cooling rack and place a brick wrapped in aluminum foil directly on the surface of the meat and allow to sit for 15 to 20 minutes, until the internal temperature reaches 175 degrees F.
To grill meat:
Preheat the grill to high.
Slice meats and grill until golden, place on pita chips topped with Greek Salad mixture of diced tomatoes, finely diced onion, garlic, feta cheese crumbs, minced garlic, and olive oil garnished with cucumber shreds with dollop of tzatziki sauce.
Tzatziki Sauce:
Place the yogurt in a tea towel, gather up the edges, suspend over a bowl, and drain for 2 hours in the refrigerator.
Place the chopped cucumber in a tea towel and squeeze to remove the liquid; discard liquid. In a medium mixing bowl, combine the drained yogurt, cucumber, salt, garlic, olive oil, vinegar, and mince dill. Serve as a sauce for gyros. Store in the refrigerator in an airtight container for up to a week.
Yield: 1 1/2 cups Tzatziki Sauce
36 Gryo Terrine Canapes
Hits: 841