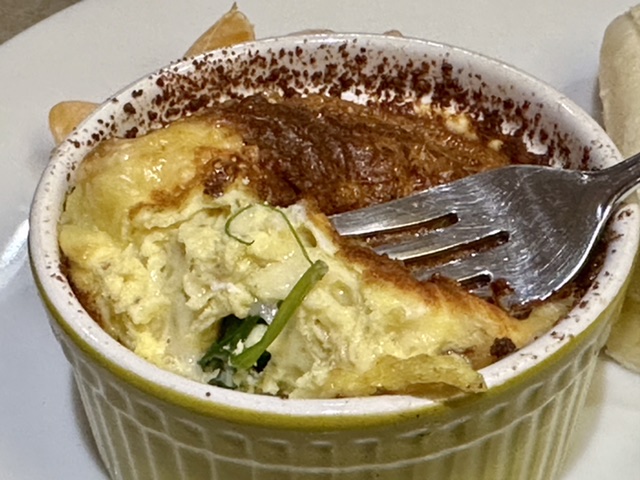 This Fluffy Baked Eggs is like making a simplified individual soufflé using an Air Fryer. Using a basic egg mixture with just a small amount of heavy cream, egg, salt and pepper, well beaten. Taking ramekins and spraying heavy with food release and coating the inside of ramekins with Parmesan Cheese. Adding some fillings like sautéed mushrooms, fresh spinach and bacon bits and grated cheese. Then pouring the egg mixture over the fillings.
Using Air Fryer to make fluffy baked eggs:
The Air Fryer is perfect to make a couple of ramekins to bake eggs. Each of the ramekins filled with fluffy eggs and your favorite breakfast ingredients, topped with cheese and a dash of nutmeg. Setting the Air Fryer to 350 degrees for 12 minutes, comes out a perfect light fluffy Egg Dish ready to enjoy.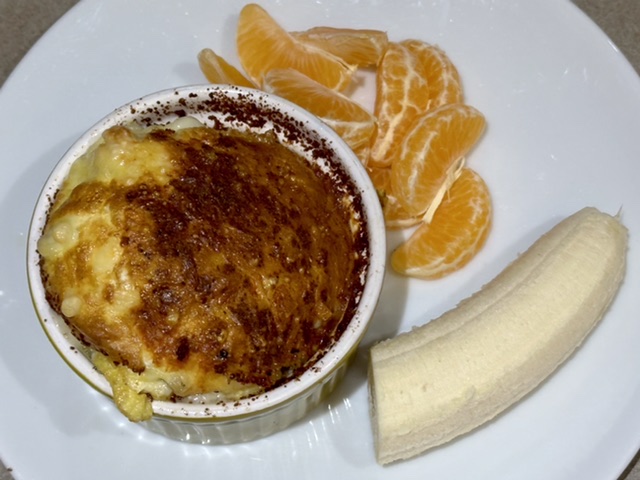 It is in the prep work:
First prep the ramekins by spraying with food spray like PAM coating the inside of each ramekin. Next coating the inside of sprayed ramekins with ground Parmesan cheese. Making sure all sides and bottom of each ramekins are well coated with Parmesan cheese.
Select type of breakfast ingredients, like mushrooms sliced, sweet peppers, chopped onions, washed baby spinach leaves, cooked bacon bits, cheddar cheese. Be sure to sauté the mushrooms or sweet peppers or onions first, then add spinach to wilt. Then add cooked bacon to crisp up. Divide the fillings equally into each prepared ramekins.
Next make fluffy egg bake mixture beat egg, heavy cream, fresh ground black pepper and pinch salt in small bowl. Beat with fork vigorously until blended. Pour egg mixture into ramekin sprinkle dash nutmeg on top of egg dish. Repeat and do again for next egg ramekin. Doing this way each ramekin will have one egg exactly. Most Air Fryer will only fit 2 to 4 ramekins.
Spray each ramekin with food release, coating well each ramekin.

Sprinkle grated parmesan cheese into each ramekin. Rotating each ramekin to make sure the all the sides and bottoms are completely coated with parmesan cheese.
Crack egg into small bowl, add 1/2 tsp heavy cream to egg, couple dashes of salt, and few grinds of black pepper.

Beat the egg mixture with fork until well blended.
Select additions to egg dish. Sliced mushrooms, cooked bacon bits, fresh spinach, grated cheese.

In hot skillet sprayed with olive oil sauté meat and vegetables first, then add spinach last. stirring with spatula until all the spinach is wilted.

Add the sautéed vegetables to prepped ramekins, then top with shredded cheese.

Pour the beaten egg mixture over the vegetables and cheese. Sprinkle nutmeg over top of each egg ramekins.
Place the ramekins of egg dish into the air fryer basket, place basket into air fryer and set the temperature to 350°F. Next set the time for 12 minutes, start air fryer.

After timer alerts you, remove Fluffy Eggs in ramekins with oven mitten or pot holder. Place on a plate because the ramekins are very hot. Serve at once.
Nutrition Facts
Fluffy Baked Eggs
Amount Per Serving
Calories 89
Calories from Fat 54
% Daily Value*
Total Fat 6g 9%
Cholesterol 93mg 31%
Sodium 220mg 9%
Potassium 72mg 2%
Total Carbohydrates 3g 1%
Protein 6g 12%
* Percent Daily Values are based on a 2000 calorie diet.
Hits: 32