Sugar free cheesecake that taste just as good as regular cheesecake. This is wonderful tasting Lemon Sugar free Blueberry Swirl Cheesecake, made in the Instant Pot. Oh no this is too much work! Not really using food processor and the Instant Pot makes preparation quick and easy. It takes some time to cook and rest. Oh it's worth every minute.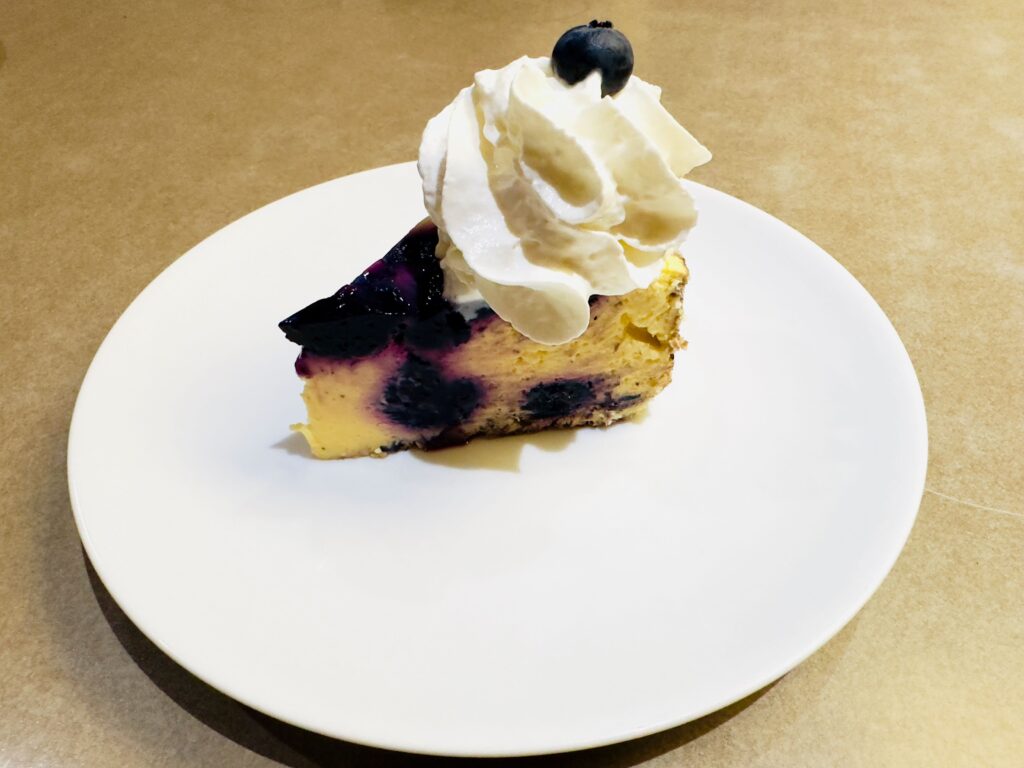 Steps in making Sugar Free Cheesecake: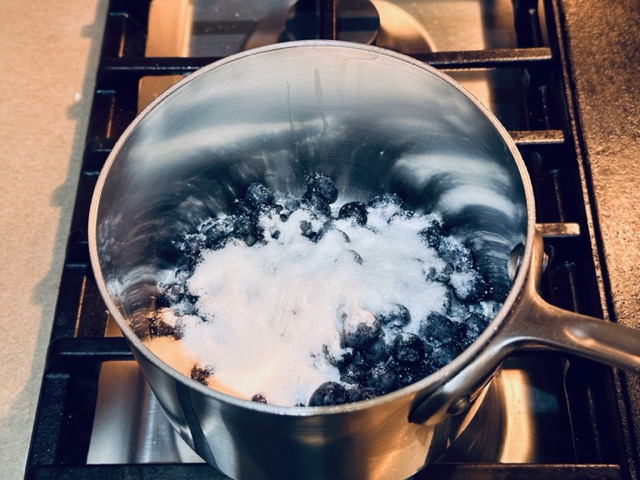 Hits: 12
Lemon Sugar free Blueberry Swirl Cheesecake
Description
Totally Sugar Free Lemon Cheesecake with sugar free Blueberry Jam swirl. This time saver recipe uses food processor and Instant Pot to make preparation quick and easy. The cooking time and cooling time does take good 8 hours. But the finished sugar free cheesecake is so good that never taste difference to regular cheesecake. 
Lemon Sugar Free Cheesecake with Blueberry Swirl
Crust:
Blueberry Swirl Jam
Serving and Presentation
Lemon Sugar Free Blueberry Swirl Cheesecake
Crust
Process the pecans finely using food processor with knife attachment. 

Be very careful handling knife attachment when using and cleaning it's very sharp. Do not put knife blade in dishwasher, hand wash only.

Coating 7 inch barrel pan

Spray generously the 7 inch barrel pan with baking spray. Then put the finely chopped pecans into the pan an rotate the pan to coat the bottom and most of the sides of the pan.

The pecans might not go all the way to top of the pan.
Making Lemon Cheesecake
Processing Cheesecake mixture

Add the softened cream cheese, cornstarch and lemon zest to food processor filled with knife attachment. Process the cream cheese until nice and smooth texture.

Next add the sugar substitute and cornstarch to the smooth cream cheese. Process until incorporated, then scrap down the work bowl with spatula. 

Add to the cream cheese mixture one egg and process until combined. Scrape down work bowl with spatula. Then add the other egg to mixture and process until combined. Scrape down the work bowl.

Continue making the cheesecake filling by adding vanilla greek yogurt to mixture and process until combined.

Finally finishing the cheesecake filling by adding lemon extract and vanilla extract to cheesecake mixture. Process until incorporating, scrape down bowl with spatula and process one last time.

Pour the lemon cheesecake filling mixture into pecan coated barrel pan. 
Making Blueberry Jam Filling
Cooking Blueberry Jam

Add washed blueberries to 2 quart saucepan, next add sweetener to blueberries. Cook the blueberries over medium heat for about 5 to 10 minutes. Smashing blueberries as they cook. Cook the blueberry jam until very thick, might have to reduce heat as it thickens to prevent scorching bottom of the pan. Cool the filling down before swirling into lemon cheesecake filling.

Test the cooked blueberry jam on cold saucer, The jam should not be runny. If you drag a spoon across jam it should not run together.

Swirling Blueberry Jam into the Cheesecake

Take the cooled blueberry jam and fill quart zip lock bag. Squeeze as much air out of zip lock bag as possible. Snip the corner of zip lock bag.

Using zip lock bag makes easy to swirl the blueberry jam into cheesecake. Less messy process.

Push the snipped end of the blueberry jam bag into lemon Cheesecake starting from center making swirling motion around cheesecake filling. As you come to the top lift the bag up a little to make a nice swirling design on the top of the cheesecake. Using a tooth pick add extra design to cheesecake.
Cooking Cheesecake
Covering cheesecake pan:

Using sheet of aluminum foil cover the top and bottom of the whole pan. Pressing all the way around pan to make sure no moisture gets into cheesecake.

Make a long sheet of foil and fold it two times length wise to from at scrape to go under and up the side of Cheesecake pan this acts as sling to help pull the cheesecake out of the Instant Pot.

Instant Pot set up

Place wire rack on bottom of Instant Pot container. Then put 1 cup of water in bottom of the container.

Place the cheesecake into to the Instant Pot with help of foil to help lower into the container. Put the lid onto Instant Pot and lock into place. Make sure the pressure valve is shut.

Set mode and time on Instant Pot

Press pressure mode, select normal low pressure. Then set time to 60 minutes. Cook full 60 minutes, then let pressor go down normal and leave lid on for 60 more minutes count down. This lets finish cooking slowly.

Remove the lid and lift the cheesecake out using foil handles to help pull Cheesecake out of the Instant Pot. Place on wire rack and let cool for one hour. Then refrigerate for at least 4 to 8 hours. Best to let cool over night in refrigerator.
Cutting, Presentation
Cutting Cheesecake

Remove foil wrapped around barrel pan to uncover cheesecake. Place barrel pan with cheesecake over low heat burner. Moving barrel pan around in circles to heat bottom of the pan. The goal is to warm bottom to help release cheesecake from the pan. Do not want to heat bottom too much just enough to have warm feeling on the bottom of the pan. 

Remove the Cheesecake from barrel pan

Next invert the cheesecake onto flat plate lined with plastic wrap. Tapping barrel pan lightly to help release cheesecake onto plate. The cheesecake will be upside down. So next is to turn it right side up onto Service platter or plate. 

Holding both plate and platter together turn the Cheesecake right side up carefully. Then remove plastic wrap from top of the Cheesecake.

Cutting Cheesecake

Using large utility knife or chef knife cut into 8 wedge portions. Wiping with damp cloth for each cut.

Cutting the Cheesecake with damp knife makes clean cuts. Be sure to wipe clean the knife with each cut.

Place Cheesecake onto dessert plate. Top with whipped cream and fresh blueberries. Drizzle design onto the plate with dessert sauce to make decorate pattern.
Sugar Free Cheesecake. Lemon Sugar Free Cheesecake, Lemon Sugar Free Cheesecake with Blueberry Swirl