Beets with greens along with boneless pork chops is perfect match for braising. A deep dutch oven or in Instant Pot is perfect for braising. Braised Beets & Pork chops is a great simple summer meal that so tasty and healthy also. Picked fresh from the garden washing the greens and beets 4 times to remove any dirt is essential. Using golden beets or red beets is up to your taste choice. The golden beets tend to be a little sweeter and not as strong flavor profile as red beets. Either way you choose it's a winner dinner meal.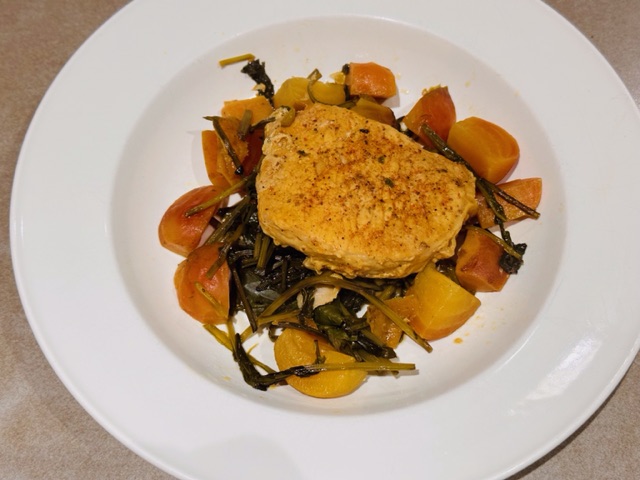 Garden Fresh Beets:
Freshly picked beets right from the garden or from local farmers market makes the best Braised Beets & Pork Chops. Finding the smaller beets about 2 to 3 inches in size gives tender leaves, stems and sweet beets. The smaller beets have more tender skins so don't need to be removed. Keeping the skins on have more nutrients and fiber. Picking beets and washing off beets is important to remove all unwanted leafs and soil.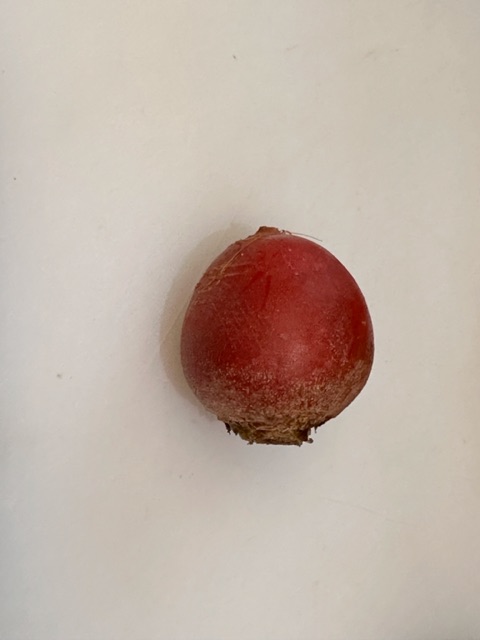 Trimming the beets greens and removing the small roots first step. Nexted scrubbing each beet with brush or scrubber to remove all dirt and washing them well, to make sure soil is removed.
Hits: 5
Braised Beets & Pork Chops
Description
Braised Beets & Pork Chops is perfect summer meal that is comforting, filling and healthy too. Braising can be done in deep dutch oven or Instant Pot for quick easy meal. Using the Instant pot is easier doesn't require lots of attention then using dutch oven.
Braised Beets & Pork Chops Ingredients
Dutch Oven Braising:
Braised Beets & Pork Chops Instructions:
Mise en place
Beet prep

Trim beets and wash with cold water scrubbing well with brush.

If the beets are smaller leave beet skins on.

Trim off both ends of beets removing long root and stem.

Cut the beets into quarts or half depending on size of beets. Make sure chunks of beets are similar in size.

These are golden beets but red beets work great too.

Rough Chop the beet green tops, this make easier to cook and enjoy eating.

Trim and seasoning

Trim off excess fat and season both sides of pork chop with season salt.

Any season salt that you enjoy works fine.
Braising with the Instant Pot:
Searing

Add garlic oil and set the Instant Pot to sauté mode.

Add the garlic oil to cold Instant Pot then heat.

Sear Pork

Add the pork chops to hot Instant Pot pan, the garlic should be fragrant and starting to brown slightly.

Turn the pork chops when golden brown.

After chops are seared to golden brown on both sides add the chunks of beets over the top of the pork chops.

Add the wine to pork chops and beets and deglaze bottom of the pot.

Allow a little time to loosen up fond on bottom of the pot.

Place the chopped beet tops over pork chops and beets. 

Don't over fill Instant Pot container allow a little head room.

Season the beet tops with salt and pepper.

If you enjoy sweeter greens and beets add some sugar in the raw to boost sweetness.

Place the lid onto Instant Pot and shut the valve. Set the time to 30 minutes on normal pressure mode.

After the 30 minutes are up, allow steam to come down naturally. Remove the lid.

If you're in a hurry move the steam valve to open to quick release steam. Then open lid.

Plating Ideas

Place the greens in middle of wide rim bowl, in nice pile. Put cooked beets all around greens. Then place pork chop on top of the greens. If like ladle a little of cooking liquid in bottom of the bowl. Enjoy this awesome healthy meal.
Braised Beets & Pork Chops, Instant Pot Beets and Pork Chops, Braised Beets with greens & pork chops.