The blog is about making Homemade Chili Sauce Recipe using fresh tomatoes, peppers from garden. The CD70 stands for Chef Dave's 70 years old with over 47 years of culinary experience. Heinz 57 Chili sauce is staple for making cocktail sauce, salad dressings, appetizers to condiments for hotdogs and burgers. Homemade Chili Sauce Recipe has awesome sweet slightly spicy tomato and chili profile, that want more.
Garden Fresh Ingredients:
Freshly picked ripe tomatoes are full of flavors that you can not get from store bought variety. Brandywine Tomatoes from Pepper Joes is variety displayed below.The ripe just picked tomatoes have so much extra juices that builds Chili Sauce profile. Taking a little extra time to wash, core and peel tomatoes before processing.

Vine ripened chilies brings the excitement to Chili Sauce, using a variety of sweet mild chilies along with hotter chilies to the super hot chilies. Blending just the right amount of mild to hot chilies is all a matter of tastes. Start off with far more mild sweet peppers and balance with hot chilies.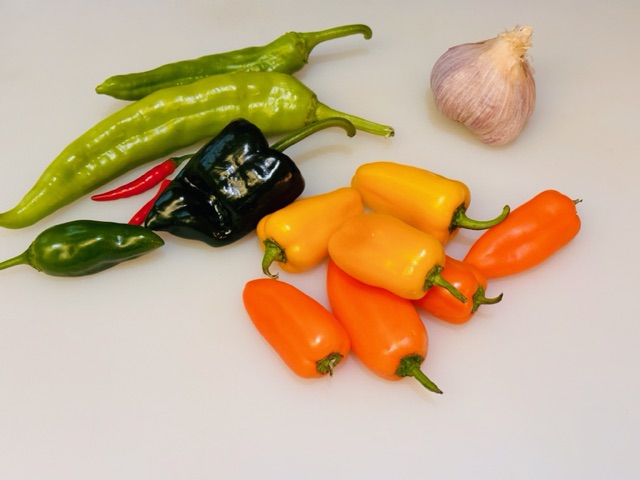 Homemade Chili Sauce Recipe:
The homemade chili sauce is great way for canning those extra garden fresh tomatoes and chilies. By using food processor or powerful blender like VitaMix makes quick work chopping tomatoes and processing. The whole process of making this sauce takes about 3 to 4 hours depending on amount of tomatoes and jars of sauce. Enjoy
Hits: 11
Homemade Chili Sauce Recipe CD70
Description
Garden fresh ingredients is key to making good chili sauce. Balancing the tomatoes with sweet peppers and hot chilies. Cooking the sauce for good 2 to 3 hours concentrating flavors into thick rich spicy sauce. Perfect for burgers, hot dogs, brats and dressing, marinates to sloppy joes. 
Instructions
Vegetable Prep
Remove the stems and seeds from chilies and medium chop.

Mince the garlic and chopped onions, remove stems of hot chilies and chop them with gloves on.

Be sure to ware gloves when chopping hot chiles.

Wash tomatoes in colander, remove the core of tomatoes.

Blanch tomatoes in boiling water for 60 seconds remove them. Cool and peel them. 

Place peeled tomatoes into blender and process them on low speed.

Add the chilies, sweet peppers, onions, garlic and processed tomatoes to stock pot. Start simmering over low heat.

Add to processed tomatoes and vegetables, cider vinegar, brown sugar, mustard seed, chili powder, all spice, kosher salt. Bring to simmer.

Simmer for good 1 to 2 hours until starting to thicken.

Process the cooked chili sauce on slow speed at first then increase speed to medium high. Blend until medium sauce constantly. 

Do not over process in blender the chili sauce into smooth puree. The chili sauce should have some texture

Pour the blended chili sauce back into heavy duty pot and simmer good 30 minutes to thicken more.

When the sauce starts to make big bubbles it's ready to can.

Fill jars with chili sauce and wipe rims with damp towel with vinegar 

Place lid and ring on each chili sauce jar and lift with jar holder. Place in boiling hot water bath.

Boil filled chili sauce jars for 15 minutes to 20 minutes for pints and 20 to 30 minutes for quarts. 

Using jar lifter remove processed Chili Sauce Jars and place on wire rack to cool.

Place labels on each jar name and date 
Homemade Chili Sauce Recipe, Chili Sauce Recipe