Quinoa Vegetable Pilaf is perfect starch replacement for rice, packed with more proteins. Quinoa for long time was getting bad rape for tasting like bird seed. To prevent those off flavors wash the quinoa well with cold water, and cook the quinoa in flavorful chicken stock. Putting vegetables into quinoa pilaf adds more flavor, textures and colors, building a wonderful flavor profile.
Selecting the right ingredients: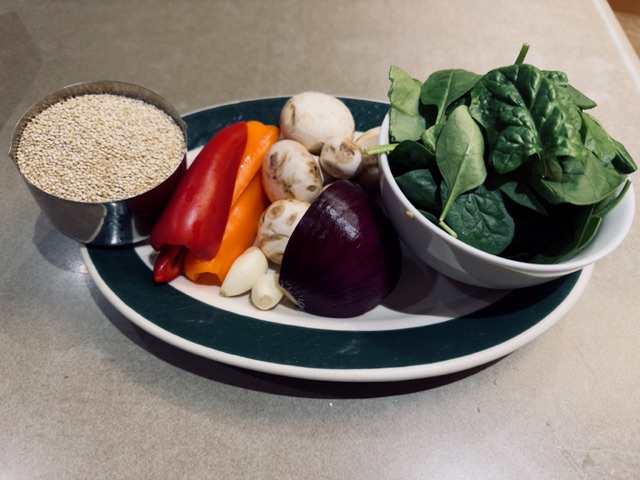 If this is the first time making Quinoa Pilaf choose basic white Quinoa found in almost all grocery stores. Once eating quinoa a few times try medley of quinoa containing basic white, red and black varieties. The black quinoa has stronger flavor profile takes some getting use to flavors.
Using a variety of vegetables in Quinoa Pilaf really builds targeted flavor profile. Start off with basic vegetables most often in pantry and refrigerator. Examples that work well are onions, sweet peppers, mushrooms, spinach, chard, kale, broccoli rabe, carrots, and celery. Add some aromatics like fresh, garlic, thyme, basil, oregano, parsley, cilantro and rosemary. Start off simple with favorite vegetables and aromatics.
The cooking liquid in Quinoa Pilaf is key to successful flavor profile. Start with good bone chicken stock if possible, store bought works but watch salt content often store bought stocks or broths have lots of salt added. Best homemade chicken stock made from whole boned out chickens. Always can find good deal on chicken legs or thighs use them to make stock. The Instant Pot is good quick way to make stock in hour. Making homemade stock only takes minutes, chicken parts, onion, celery, carrot, bay leaf and thyme and cold water about 2 quarts in Instant Pot. Select the Instant Pot soup/broth button, and make sure the valve is closed on older models.
Hits: 24
Description
Quinoa Vegetable Pilaf  with healthy vegetables, packed with protein. Perfect recipe to replace high carb starch sides.
Instructions for Quinoa Vegetable Pilaf
Heating olive oil and minced garlic
Sweating ingredients

Heat half of the olive oil in saucepan over medium heat, add to hot oil red onion, sweet peppers, and garlic. Stirring often to prevent burning, sweat vegetables until translucent in color.

Sweating Quinoa with vegetables

Next add the quinoa to sweated vegetables stirring well coating quinoa with vegetables and oil. Cook for about 1 minute.

Adding seasonings and chicken stock

Continue making pilaf by adding chicken stock to sweated vegetables and quinoa stirring the stock into mixture. Then add salt, chicken base and chili flakes, stirring well to evenly distribute ingredients. 

Cooking Quinoa Vegetable Pilaf

Cover the saucepan with a lid, and reduce heat so just below boiling, on low heat. Cook the pilaf ingredients for 20 to 25 minutes.

Wilting spinach into Quinoa Pilaf

Finishing Quinoa Vegetable Pilaf by adding chopped spinach to top of cooked quinoa pilaf, place lid back on saucepan to wilt spinach leaves. Let cook on very low heat for 5 minutes. Then stir in the wilted spinach leaves.

Adjust seasoning

Adjust flavors of Quinoa Vegetable Pilaf by adding kosher salt, black pepper.

Portion Quinoa Vegetable Pilaf

Portion about 1 cup of Quinoa Vegetable Pilaf
Note
Quinoa Vegetable Pilaf is wonderful accompaniment for chicken, fish and beef entrees. Add any vegetables to the Pilaf that's available, especially garden fresh vegetables. This recipe is perfect starch replacement and does hold well for couple days in refrigerator. Reheat in microwave for 5 to 6 minutes on 50% power. 
Quinoa, Pilaf