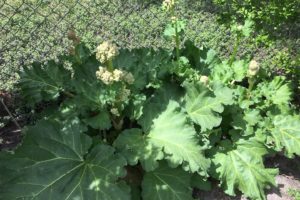 Rhubarb is now ready to be pick in my garden. It's a wonderful way to enjoy something very healthy, but it's so tart that my mouth would pucker for day's. My wife would be happy, with more kisses, but my lips and taste buds would not enjoy the duration. So the quest is on to achieve zero Weight Watcher Smart Points per portion. This is almost impossible with a crust, so by removing crust, it's achievable.
To improve the color by adding equal amounts of strawberries with rhubarb, this will also help improve the flavor and sweetness, cutting down on the pucker power. So I started with 2 cups diced rhubarb and 2 cups of slice strawberries. I used fresh organic strawberries and my rhubarb which is organic too.
At the last Weight Watchers meeting our leader posted Strawberry Pie that was crustless, this would be my starting point. It's a very simple recipe only using a few ingredients, Jell-o sugar-free cook and serve vanilla pudding mix and Jell-o sugar-free strawberry gelatin, strawberries and water. That's simple with not too many ingredients, but didn't use rhubarb.
[caption id="attachment_1300" align="alignleft" width="300"]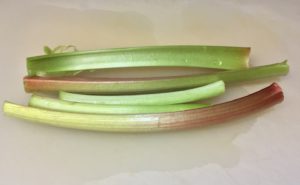 Freshly picked rhubarb trimmed of leaves and washed with cold water[/caption]
Off to garden and picked some fresh rhubarb, and trimmed off all the leaves. Note it's extremely important to remove all leaves they are poisonous. We don't want anyone to go to the emergency room because of a simple mistake. The stems are fruit but not the leaves, they go into the compost. After they are cleaned with cold water washing all dirt, trim ends off there ready to cut into medium dice pieces, this will help cooking process, making a nice pie filling consistency.
Next wash whole strawberries in cold water before they are hulled. Then place on paper towel to absorb excess water, before hulling tops off strawberries. I learned this the hard way, my berries where getting soggy and mushy, because I hulled the berries first then washed them. This caused moisture to get into center of berries, rendering them less then desirable state. I learned quickly, wash first hull after. Finally slicing the strawberries evenly so that they cook into the rhubarb filling evenly.
Now that the mise en place is done, let's get cooking! This is a simple process, just put the diced rhubarb, sliced strawberries, some cold water and a package of Jell-o cook and serve vanilla pudding mix into saucepan. Stirring often over medium heat until all the rhubarb is soft. This was about 7 to 8 minutes. So I did a taste test for sweetness of the filling. My mouth puckered up, unfortunately my wife wasn't home. Oh well she missed her chance. Sweetness is needed to achieve right balance by adding some sweetener. So you need a sweetener that can be cooked, Splenda has been around for long time it works well as cooking sweetener. I added a cup of generic Splenda sweetener that really helped, the only thing better would be adding granulated sugar, but that would add way too many Smart Points.
The last thing to add is the gelatinization ingredient, Strawberry Jell-o sugar free mix. This needs to be whisked in quickly so gelatin melts into mixture evenly. So I whisked and whisked until bright red strawberry color was achieve. Again I tasted the Strawberry Rhubarb filling and it was really good, the rhubarb masked the sweetener, and had good tartness, yet not too much pucker power. I found that original recipe did not form strong enough gel when cooled. So by adding a packet of unflavored gelatin hydrated in cold water for 5 minutes, then added it with strawberry sugar-free gelatin provided a good sliceable pie.
This is a great start, I am thinking it needs something with a really good crunch to make it more pie like. That's in the works for now, it's two thirds of a pie, because it does not have a crust. The good news is it's Zero Smart Points, and taste good too.
[caption id="attachment_2435" align="alignleft" width="300"]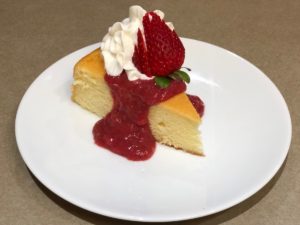 Strawberry Rhubarb Sauce on Lemon Chiffon Cake.[/caption]
Looking for great Strawberry Rhubarb Sauce with very low points it's so good on Lemon Chiffon Cake or over Frozen Homemade Yogurt.
To be continued, I am working on a crunch element for the top crust with very little Smart Points.
Enjoy!
https://chefdavedettmen.com/recipe/strawberry-rhubarb-riesling-jam/ [wpurp-searchable-recipe]Strawberry Rhubarb Crustless Pie - Crustless Strawberry Rhubarb Pie that has 0 Weight Watcher Smart Points using fresh strawberries and rhubarb and only has a few ingredients. - , ; - [/wpurp-searchable-recipe]