Time to make some fresh Strawberry Rhubarb Sauce using Instant Pot.
After a late spring starting the Rhubarb is growing quickly with good rain and warmer weather on our side the Rhubarb will be ready to pick. Waiting patiently for stems to become longer and thick ready for picking. Remember only use the stems.
The Rhubarb leaves are poisonous, compost leaves and use flavorful stems. Cooking the rhubarb and strawberries sauce should be quick and easy using the Instant Pot. The goal is to make this sauce only worth 1 Weight Watchers Smart Points.
Why are Strawberries are used in the sauce?
Rhubarb by it's self is very tart, for some too tart, needing lots of sugar to balance the tartness with some sweetness. Strawberries adds natural sweetness and boost flavors with bonus of bright red color. The sauce takes less sugar with added benefits of strawberries. Making strawberries a perfect marriage with Rhubarb.
How much sugar is needed to make the sauce?
Sugar would be the natural choice, but if your watching carbohydrates might look at other possibilities. The key to successful sauce is balanced sweet and tart taste. This depend on sweetness of the strawberries, will determine amount of sugar or sweetener will be used. Quick fix would be to use sugar free strawberry gelatin. This works but you have to be careful of cooking time. The sweetener breaks down and becames bitter if cooked too long. Some types of sweetener can not take long periods of high heat. Aspartame is one sweetener that cannot stand long heat cooking. Stevia is good natural sweetener if using baking blend works very well. But Stevia baking blend has some sugar as a carrier. So there is lots of trade offs, cooking sauce to right consistency then adding sugar free strawberry gelatin or sweetener, might give good results.
The right consistency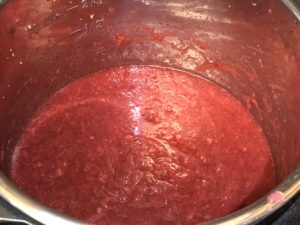 One last consideration is sugar helps with extraction of pectin, a natural thicker in fruits. To achieve right viscosity some sugar really helps. Reduction of moisture also contributes to achieving nappe consistency. Timing the cooking process is important cooking too long can produce too thick and heavy sauce. Undercooked Strawberry Rhubarb Sauce will be thin and runny. The goal is to have just the right clinging to back of a spoon. When tasting the sauce will have a pleasant feeling on the palette.
Cooking In Instant Pot
The nice thing about the Instant Pot is that you can set it and forget about it while you're doing something else. I am thinking that it will only take 20 minutes pressure steaming mode. This breakdown Rhubarb fibers and infuse strawberry flavors into sauce.
The final cooking for 5 to 10 minutes in sauté mode with lid off to reduce some of the moisture off sauce. Then added sugar free strawberry gelatin and sweetener to adjust sweetness and flavors.
Finishing sauce by blending or whisking until the desired texture is achieved. The Strawberry Rhubarb Sauce can be put into Jars sealed and labeled. I recommend refrigerating the jarred sauce rather then canning the sauce.
Serving Strawberry Rhubarb Sauce
My very first thought was to serve over Sweet Biscuits or Lemon Chiffon Cake. Wow it be wonderful topping for Waffles and whipped cream. Even better serve the sauce over Ice Cream or Frozen Yogurt. I could eat the sauce right out of the jar it's so good.
Hits: 1375