Salisbury steak is American Classic hamburger steak with rich brown sauce, gaining popularity after World War 1. This brings back fond memories making 1000's of them in the 70's and 80's. Working in a College Cafe' and Younker's Tea Room as a Chef. Todays tastes and life styles changes so this is an updated and refined recipe. This is a classic food that will never go away, by reinvented, and modernized by using the Air Fryer and some super market shortcuts.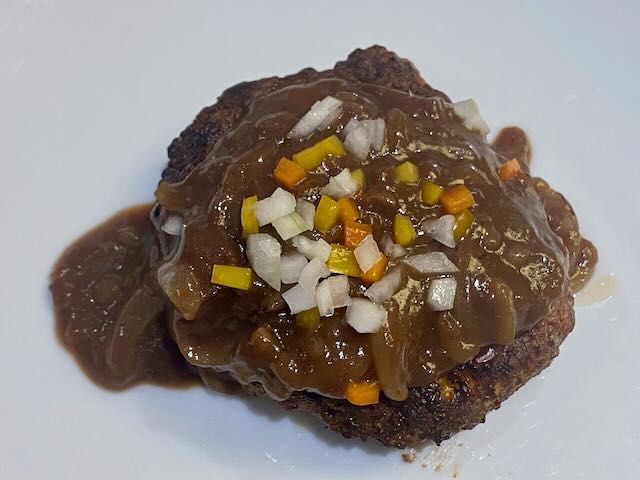 Choosing right Salisbury steak meat:
Choosing the right ground beef is important, 85/15% makes a very tasty steak. But if your preference is lower fat version 93/7% lean meat will work with this recipe. This version uses 93/7% lean ground beef with no flavor loss. Using leaner meat and adding extra egg, soy sauce, Worcestershire sauce, bread crumbs, onions, garlic and spices helps keep the flavors.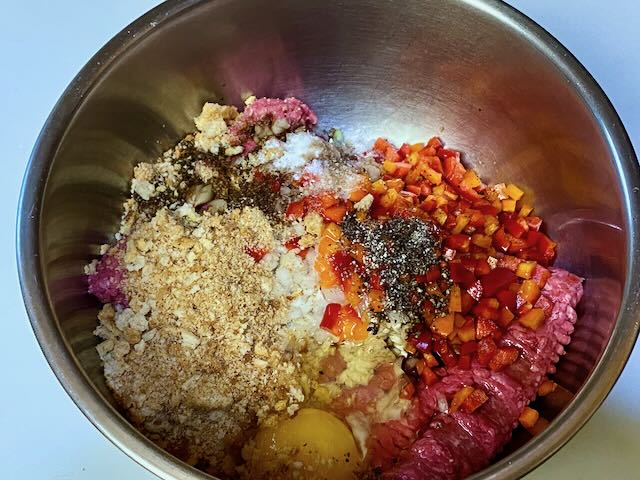 Mixing technique:
Mixing the ground beef ingredients is important step and achieving the proper hamburger steak texture. By using a hand mixing technique insures that the meat mixture is mix properly. The steak mixture should have just a slight sticky feeling. This helps bond the proteins together properly, so that the steaks hold together.
Divide the meat mixture into equal portions, form uniform size round ball of meat mixture. Next divide the meat into quarters using knife to portioning the meat. Continue to round each portion of meat into ball, then flatten into oval shaped patty wrapped in plastic wrap. These patties can be made ahead and kept in refrigerator for 2 days or frozen for 1 month.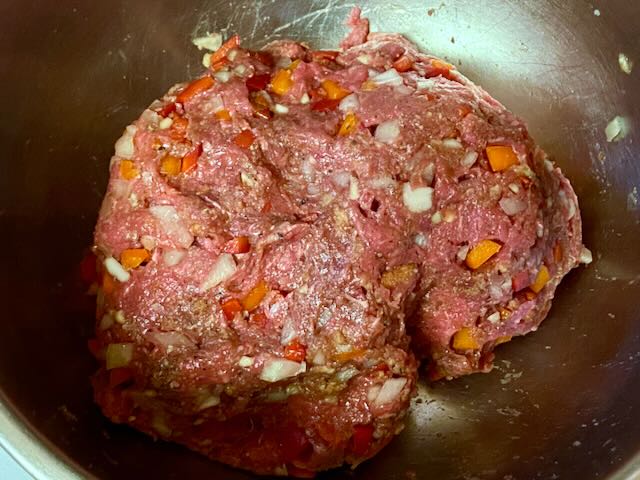 Using the Air Fryer:
The air fryer is great way to cook the Salisbury steaks, this reduces the heat in the kitchen. Making the whole cooking process quick and easy that can have food ready in under 30 minutes. Setting up the air fryer to 400°F for 15 to 16 minutes, and food is ready to enjoy.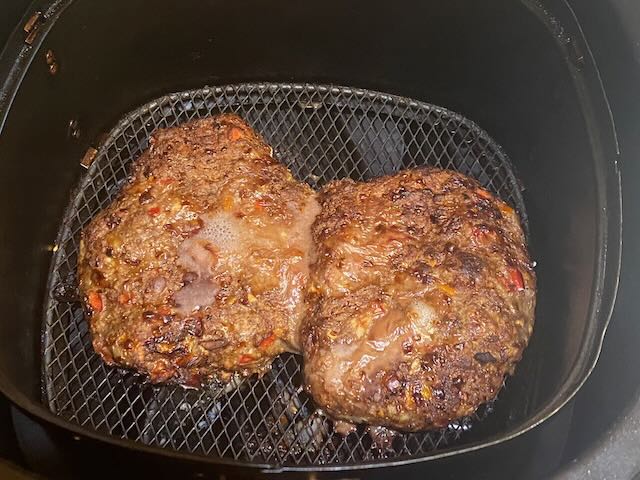 Red Wine Onion Sauce:
Using supermarket short cut this sauce can come together in minutes. The Lipton French Onion Soup mix makes a perfect seasoning for this sauce. By adding some julienne onions, red wine, butter and flour along with French Onion Soup mix to make a simple sauce.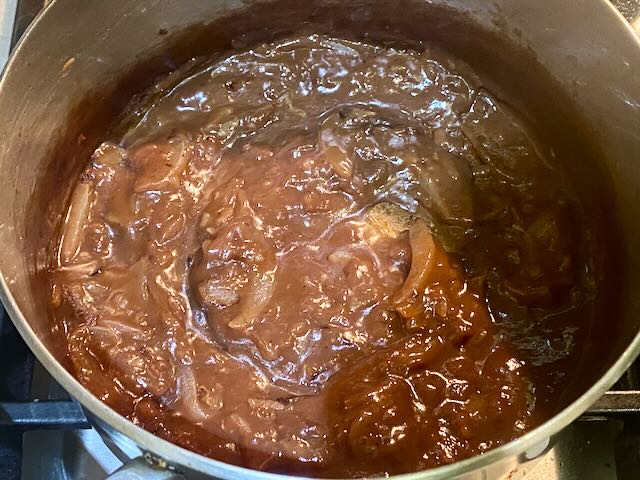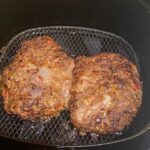 Using Air Fryer to make moist tasting Salisbury steak with modernization using super market shortcuts.
Servings

Prep Time

4

portions

15

minutes
Servings

Prep Time

4

portions

15

minutes
Using Air Fryer to make moist tasting Salisbury steak with modernization using super market shortcuts.

Servings

Prep Time

4

portions

15

minutes

Servings

Prep Time

4

portions

15

minutes
Measure all the ingredients out before mixing Salisbury Meat mixture.

In a large mixing bowl but the ground beef, bread crumbs, egg, garlic, onions, sweet peppers, soy sauce, Worcestershire sauce, parmesan cheese, pepper and salt into the bowl.

Mixing by hand the Salisbury steak meat mixture. Working all the ingredients together until evenly mixed. The Salisbury meat mixture should be slightly sticky. But do not over mix the Salisbury meat.

Portion Salisbury meat into 4 balls. Place balls between two sheets of plastic wrap and flatten into oblong patty. Chill the Salisbury steak meat patties for 60 minutes or more in the refrigerator.

The portioned meat patties can be refrigerated 2 days or frozen for 1 month. This is great to have steaks prepped ready when needed.
Brown Onions in saucepan with butter until golden in color, stirring often.

Next add flour to golden brown onions, stirring until combined. Cook on low heat for 2 minutes.

Add the onion soup mix and beef stock and whisk well to prevent any lumps of flour in the sauce. Bring sauce to boil and reduce heat, so sauce is just simmering.

Simmer Salisbury steak sauce for 10 minutes to develop flavors.

Add red wine to sauce as it simmers to build flavors:

Adjust Salisbury steak sauce to achieve the right consistency, by adding more stock if needed. And adjusting flavor with pepper, salt if needed.

Keep the Salisbury steak sauce on very low heat while completely cooking steaks.
Place the Salisbury steaks in the Air Fryer Basket.

Set the Air fryer to 400°F and timer for 15 to 16 minutes. Place drawer with basket into air frier and start oven.

Remove the basket from air fryer when time is finished. Check temperature of Salisbury steaks. They should read 165°F internal temperature.

Carefully remove Salisbury steaks from basket with spatula, place on dinner plate. Then ladle Salisbury steak sauce over top of the steaks and some extra sauce on plate. Or ladle Salisbury sauce on plate first into nice pool of sauce and plate Salisbury steak oven sauce. Then garnish with diced onions, and peppers.

The Red Wine Onion Sauce can be made and refrigerated for 1 week. Be sure to place on container labeled and dated.
Hits: 409
Air Fryer Salisbury Steak