Brine Curing Corned Beef is a tradition for years especially right around Saint Patrick's Day, it's time to make the brine cure for the beef. The technique that will be used shortens the curing time by tenderizing the meat, providing little channels that are cut into the meat for the brine cure to penetrate.  The second technique is just as effective by injecting larger cuts of meat with the curing solution using a meat syringe.
This brine cure solution is a highly spiced salt and water solution, with a small amount of TCM curing salt added to help preserve the cure corned beef. The TCM curing salt will maintaining the red color of the meat when fully cooked. This curing solution is often called a pickle, kind of like solution used to pickle vegetables, a similarity but different formula for a totally different outcome.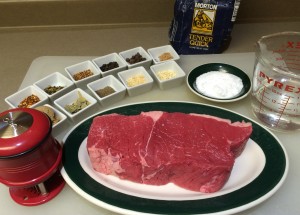 Key ingredients to Corned Beef Brine Solution is salt, water, spices and TCM salt. If you have hard time finding TCM Salt or Insta cure #1 a good substitute is Morton® Tender Quick.® 1 
Looking for a formula to base a recipe, I found the Morton® Tender Quick® Deli Style Corned Beef2. Adjusting this recipe considerably  to make it spicier having a lot more zip and just a touch of sweetness.
Note if you want quick easy store short cut use good pickling spices to eliminating need for all dry spices. This produces good results might not be quite as spicy but still very good.
Curing Corned Beef Recipe
Ingredients:
1/4 cup Morton® Tender Quick.® 1

1 cup Water
Dry Spice Blend:
1 tsp Garlic, dry minced
1 tsp Onion Flakes, dry
1/2 tsp Celery Seed
2 tsp Bay Leaves, crushed
2 tbsp Brown Sugar
1/2 tsp Hot Chile Flakes
1 tsp Jalapeño Flakes, dry
1 tsp Coriander Seed
1 tsp Black Peppercorns
1 tsp Allspice, whole
1 tsp Yellow Mustard Seeds
30 oz Beef Bottom Round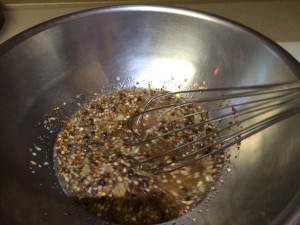 Directions:
In a large stainless steel bowl combine the following ingredients Morton

®

 Tender Quick.

® 1

, water, brown sugar, all dry spices, chiles, garlic and onion flakes together whisking well. Stir well making sure all salt mixture is dissolved into the brine.

Using Demi Meat Tenderizer on Beef

Cut little channels into the beef using a meat tenderizer. This technique allows the brine cure to penetrate into meat quickly.

Place tenderized beef into vacuum bag, pour brine into bag and seal removing as much air as possible.
Refrigerate for 3 to 5 days depending on size of beef to allow meat to properly cure. Note when beef is curing the meat often looses some of it's bright red color, this is just part of the curing process, it is not spoiled.
To be continued with creative Corned Beef recipe for St Patricks Day.
References:
Morton® Tender Quick®1
http://www.mortonsalt.com/for-your-home/culinary-salts/meat-curing-and-pickling-salts/178/morton-tender-quick/
Morton® Tender Quick® Deli Style Corned Beef2
http://www.mortonsalt.com/for-your-home/culinary-salts/recipes/228/deli-style-corned-beef
Hits: 1162